Peppery leaves and stalks packed with nutritious goodness, the great watercress. It truly is a Super-food. Placed in a bright area of your home, you can grow watercress indoors and enjoy the benefits in easy reach. Watercress is very adaptable to in-home growing. You have several options to achieve successful results. Read on to find out How to Grow Watercress Indoors and start enjoying this great green.
Why Grow Watercress Indoors?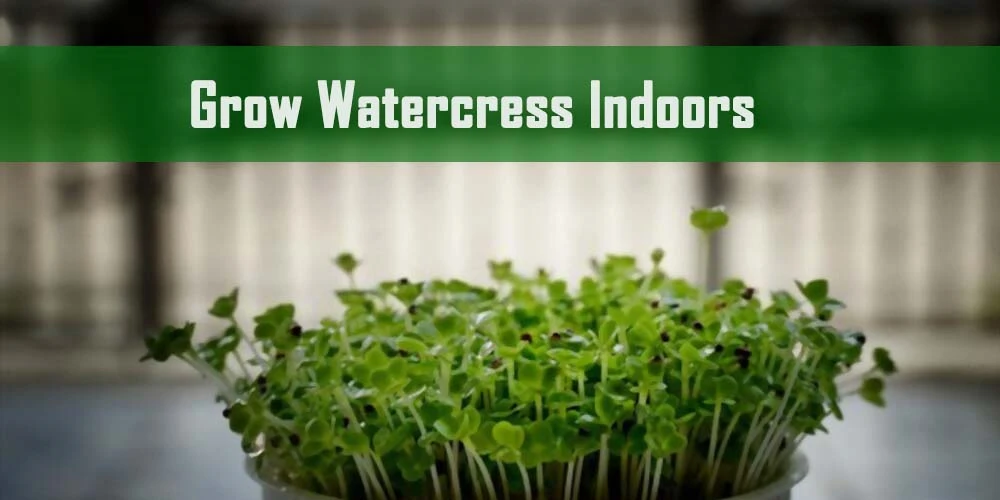 Cost
It is crazy expensive in the store! At least where I am. I do not know about you.
Locally it could be anywhere from 1 to 3 dollars in the US for a small bunch. That may not seem like much, but that is not going to last very long. It may be enough to add to 2 salads or garnish a couple of sandwiches.
Deciding to add that to a regular diet could add high costs to a grocery budget. Seed prices are low. They grow to harvestable in 4 weeks and keep producing even after trimming. Thereby making it much more budget-friendly to grow your own. Watercress garden takes up very little space and will even work in an apartment.
It is A Powerhouse Super-food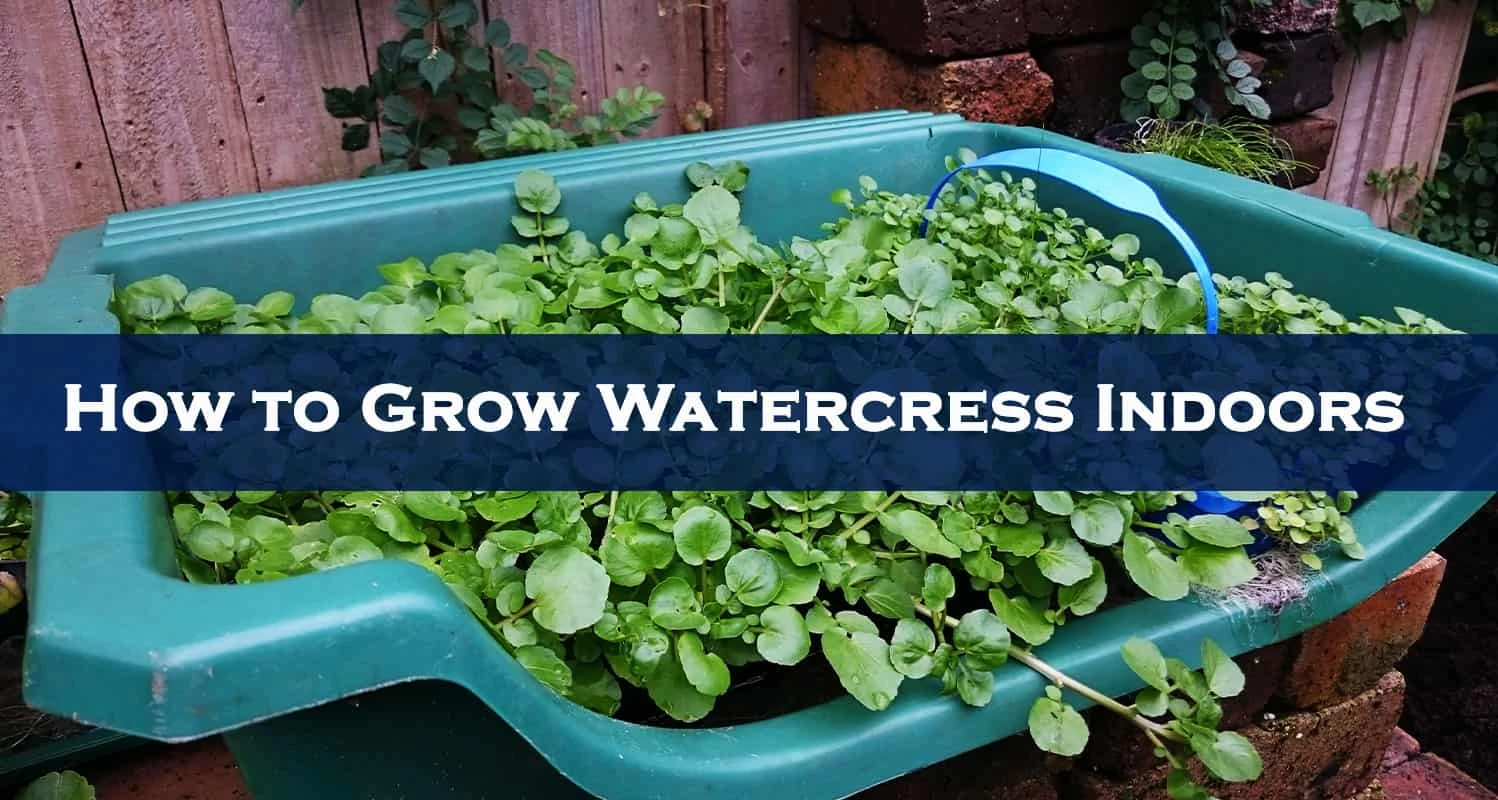 Watercress is often used as a lovely, fresh garnish, but there's a lot more to it than that. It packs more Vitamins A, B1, B3, C, K. Plus iron, potassium, and calcium than any other veggie! Now That is No Joke.
Breaking it down further > 1cup of watercress
Equals 60% of the recommended daily intake of Vitamin C!
Vitamin K equivalent to 312% of the daily recommended value!
& 64% of Daily Vitamin A!
A Small List of Adding Benefits of Watercress in Your Diet
Improves Brain Health
Protects and Improves Eyesight
Cold and Virus prevention
Folate-rich foods aid risks of congenital disabilities, depression, strokes, cognitive decline, and certain cancers.
Better Bone Health
Aids Thyroid Function
Two Methods for Growing Watercress at Home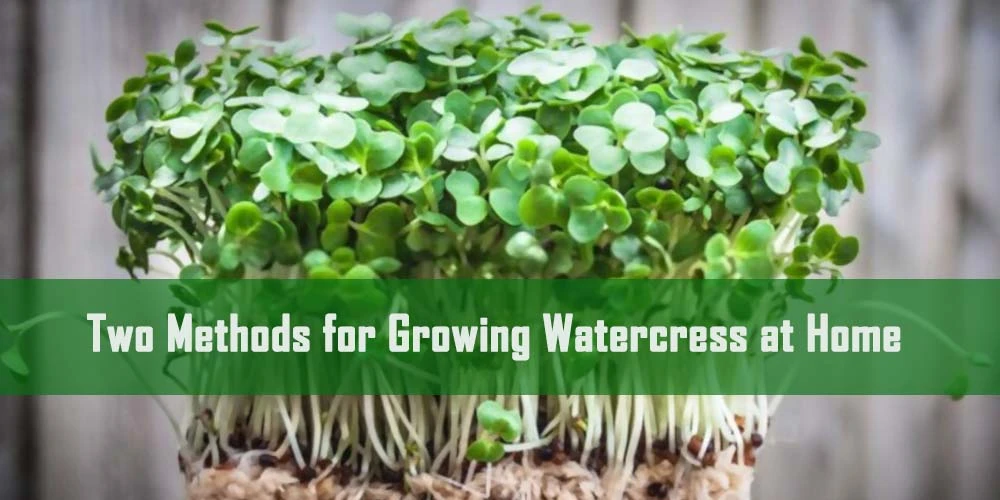 In all the methods listed, there is always one crucial factor. MOISTURE.
Watercress is typically found growing along the shallows of creeks and streams. They thrive on the excellent moisture of flowing water. Can duplicate this indoors by providing a new watering method that keeps a consistent moist growing medium.
There are additional methods to grow watercress indoors, including using capillary mats and cotton. These work great for keeping watercress at a small micro-green stage. For mature growth, these methods are often not the best ways to go. I will not be sharing the specifics of these methods here, but they are planted similarly to the soil method.
1. Traditional Soil
You will need
2 Trays or pots that fit inside themselves. 1 with holes, one without. Recycled plastic containers can work great for this. Besides, 10/20 flats and seed flats with drainage holes also work well.
An excellent rich soil ideal for absorbing water yet still allows for airflow. A perfect rich seed starter or favorite organic potting mix, Fox farm ocean forest works fantastic. You can see a review for this soil here.
A Bright window or grow lights to allow 6 to 8 hours a day of sunshine. The direct hot sun is not recommended, so avoid hot sunny windows that have excess heat.
Planting Steps:
Fill the tray that has holes with your Potting mix. Spread evenly and remove any lumps.
Moisten the soil very well.
Sprinkle the watercress seeds on top of the soil
Press them gently on top of the soil but not too deeply. Just set them on the surface.
Cover with plastic wrap or plastic dome cover if available.
Place the planted container in the solid flat or larger solid bottom box.
Pour water in the bottom flat to about ¾ inch up the planted pot or flat.
Place in a brightly lighted area or under grow light.
You will begin to see sprouts, usually within 3 to 5 days. You will be able to start harvesting microgreen sprouts within four weeks—larger nodes within a couple of weeks after. As you trim your cress, it will grow bushier and new growth will form.
Important! Change the water in the bottom tray every three days. Freshwater is essential to keep watercress healthy and prevent bacteria.
2. Soil-less Growing: Hydroponics or Aquaponics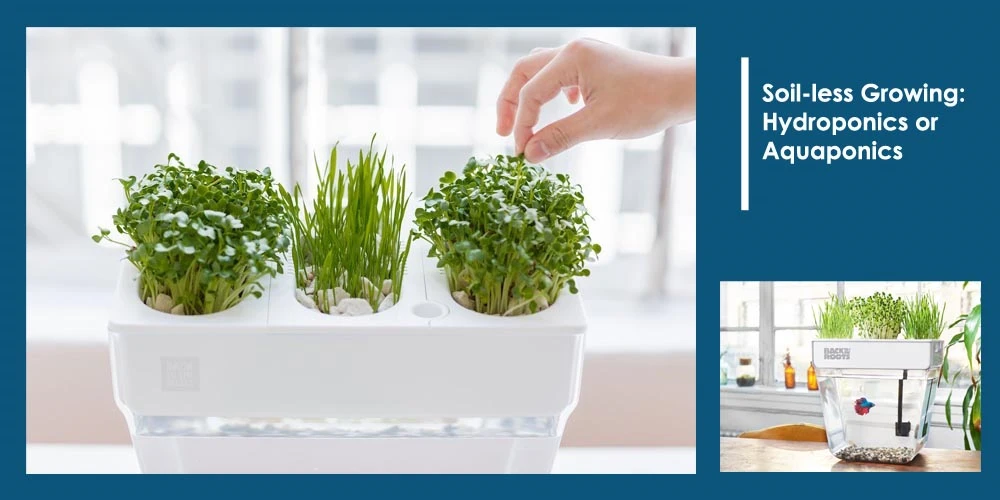 This could be the most straightforward hydroponic plant you could grow. It is perfectly adapted to the water environment. Using hydroponic nutrients will benefit growth but not 100% necessary for watercress if you frequently change it. Besides, an air stone will ensure the water stays oxygenated and prevent bacterial growth.
If you grow in aquaponics, water changes are unnecessary, but extended rinsing before eating is recommended.
For Hydroponics, I use:
Simple steps:
Moisten the rapid rooter plugs
Sprinkle seeds around the top of the rapid rooter plug
Place the plugin in the basket and secure it with clay pellets or other stones.
Fill grow box to proper water level, add nutrients if desired.
Place basket in Grow box
For aquaponics:
Systems vary, so it is hard to be specific. I use the rapid rooter plugs like above. Please place them in my flat aquaponic tray surrounded securely by clay pellets. That is it! All the nutrients and water are added to the existing aquarium aquaponics set-up.
If this is your first-time hearing about hydroponics or aquaponics learn more here. The Difference Between Hydroponics and Aquaponics – Alternative Gardening Methods
The shared video shows a straightforward hydroponic type method of growing watercress. If you are starting and have no other hydroponic or aquaponic equipment, this may work for you.
How to Use Watercress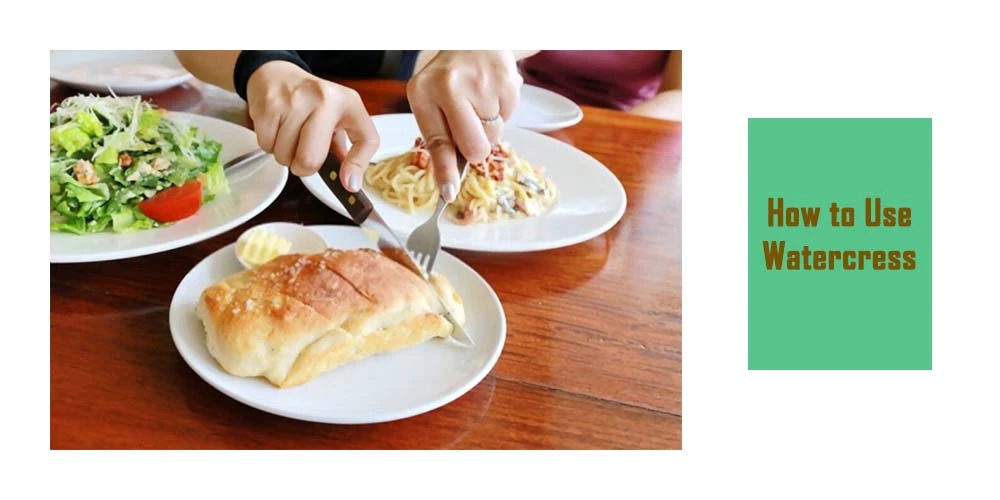 I love salads and greens. They are some of the best things on earth, in my opinion. If you are anything like me, you have probably already had a taste of watercress. It has a clean, crisp light peppery taste.
Besides salads, it goes on about everything like a garnish with "bang." I like to think of it as anywhere I can put pepper; why not watercress. An excellent finish on top of any meat, seafood, or vegetable dish. Works well on eggs and beautifully on sandwiches of all kinds.
Small delicate young cuttings are great fresh, but the mature plant and stems taste lovely cooked. Watercress soup is a trendy dish that is bursting with unique flavors.
Important Tips to Remember
√ Always rinse watercress thoroughly before eating. Standing water can build bacteria that can quickly rinse away.
√ Keep trimming to get excellent bushy growth.
√ Too much to use right now? Watercress stores best in the refrigerator with the cut end in a glass of water.
√ If you are going to add pepper to a dish, add a garnish of watercress instead. It will fit just as well and add a nutritional boost!
√ There are many types of cress. Garden cress varieties are similar but considered more salad cress and do not have stand-up power for the watercress varieties.
Are You Ready to Start the Watercress Trend?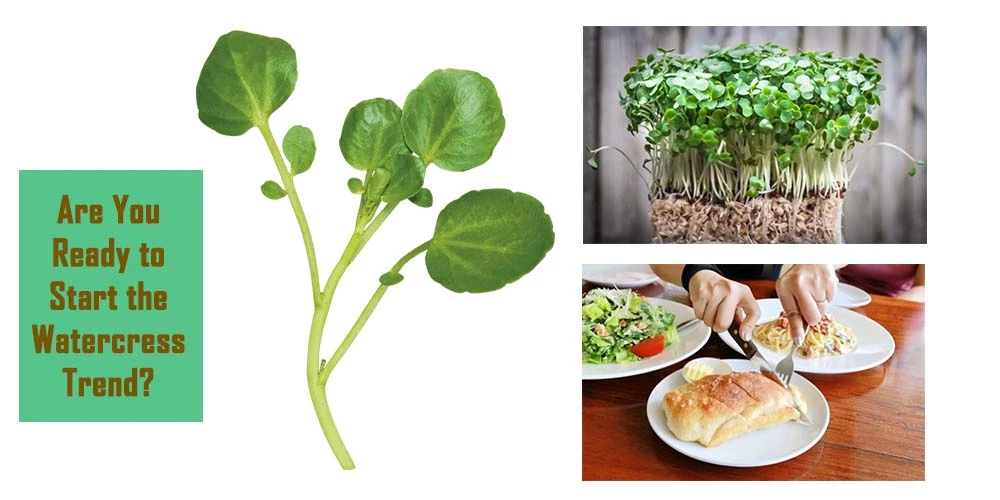 With all the boom in natural health care and holistic approach to healing. Introducing a superfood that is so rich in nutrition and benefits seems only to make sense. Since it is so easy to grow watercress indoors, there is no better time to start than now!
Honestly, I love the flavor. It's great that it is good for me too! Bonus!
Watercress is also known as Nasturtium Officinale. My first experiences with a related herb were flowering Nasturtiums. I grew them in my outdoor garden initially as a tremendously beneficial companion plant. I soon fell in love with the peppery taste of its leaves.
Have you had any experiences with any other cress plants or nasturtiums? Perhaps you already added watercress to your diet. I would love to hear from you and get your thoughts. Leave a Comment Below!
Happy Growing!