Gulmohar is a flowering tree belonging to the family Fabaceae is commonly known as the legume, pea, or bean family. It is charted in the subfamily Caesalpinioideae, also known as the peacock flower family.
Each of nature's work has an individuality, yet its diversity is in unity. Nature has multiple appearances. It changes from season to season.
The sky has a pale pink hue at dawn that changes to a glorious bright blue as the day overpowers, only to turn orange at the start. Similar is for the gorgeous trees, their breathtaking facets with beautiful hues of green all spring become orange-yellow during the fall.
The diversity and characteristics of these botanical families give a clue of the melange of Gulmohar.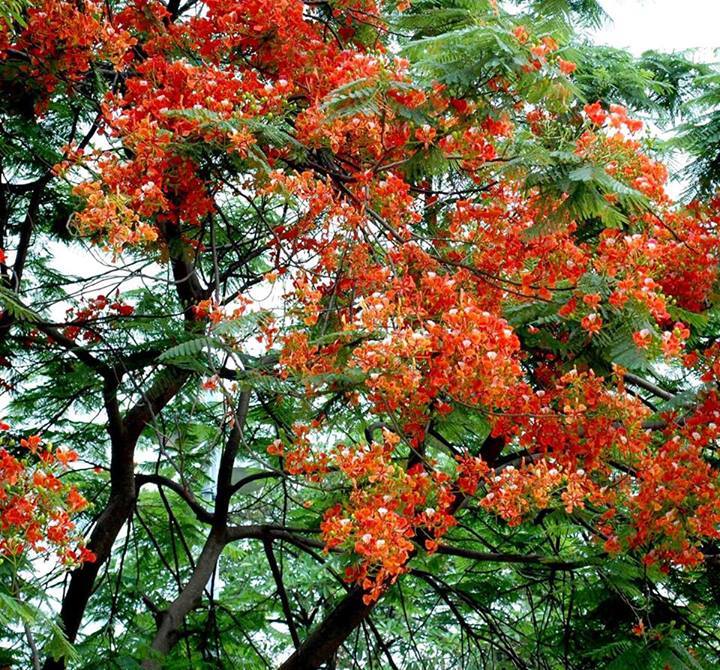 Scientific Name: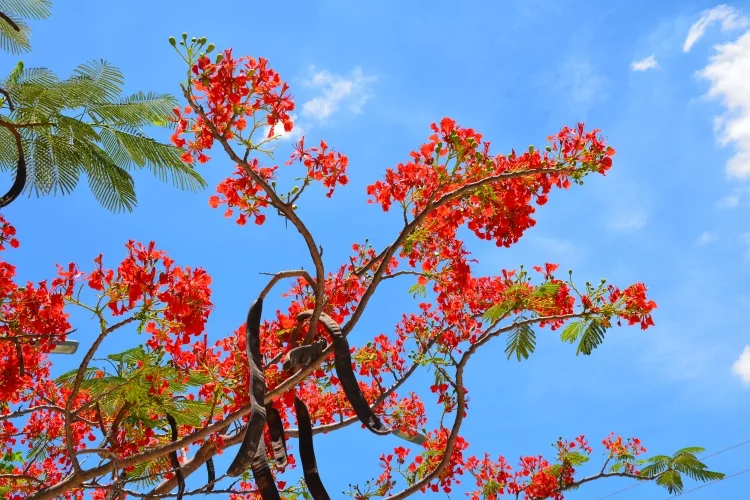 The scientific botanical name of Gulmohar is Delonix regia. Commonly it is known by names as Royal Poinciana, Flamboyant, Flame of the Forest, Krishnachura, and Peacock Flower. Gulmohar is native to Madagascar.
It is mostly found in tropical parts of the world and is naturalized in India. It grows well in regions where the sun is brutal, and soaring heat ensues, for example, Basavanagudi, Malleshwaram, Indiranagar, Jayanagar, and Cubbon Park, etc.
Gulmohar Tree: Leaves & Flowers
The tree is an ornamental display of conspicuous scarlet flowers and mimosa-like leaves. The flowers are about 8cm long, with four petals spreading outward and the fifth, standing upright with its yellow and white shaded hue. The flowers are arranged in the form of corymbs at the branches.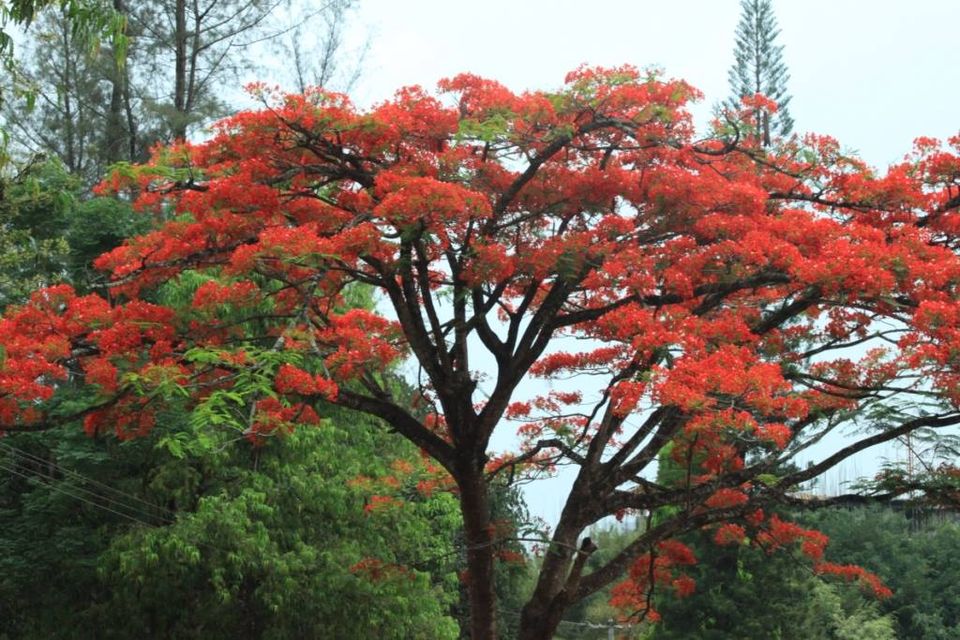 The leaves are arranged in the way of individual leaflets supporting the clusters of flowers-the leaves fold-up during the evenings. The tree is mighty and grows to a height of 30 to 40 feet tall. The spread of the tree is fast and forms a flat-topped umbrella-like crown. The branches spread out far to build an awning.
The only drawback is that the spreading crown may be too big for patios and individual lots.
How to grow Gulmohar Trees
Gulmohar trees are large, evergreen trees that can grow up to 30 meters tall. They have beautiful, bright red flowers that bloom in the spring and summer. Gulmohar trees are native to India and Pakistan, but they can be found in many other countries as well. Growing Gulmohar trees is not difficult, but there are a few things you need to know.

The first thing you need to do is find a good spot for your tree. Gulmohar trees need plenty of sunlight and room to grow, so make sure the spot you choose has plenty of both. You should also make sure that the soil is fertile and well-drained. You can improve the soil quality by adding compost or organic matter to it.

Once you have found a good spot for your tree, it is time to plant it. Choose a day when the soil is wet, and dig a hole that is twice as wide as the root ball of the tree. Be careful not to damage the roots when you are planting the tree. Water the tree well after planting, and keep the soil moist but not soggy.

Gulmohar trees need very little care once they are established. They are drought-tolerant and can even survive in poor-quality soil. However, you should still water your tree during extended periods of drought. Mulch the soil around the tree to help keep it moist and to prevent weeds from growing. Fertilize your tree once a year with a balanced fertilizer.

If you follow these simple steps, you will be able to grow beautiful Gulmohar trees in your own backyard!

History of Gulmohar Trees:
The mighty Gulmohar trees are the same work of art of nature. This beauty was discovered in the 19th century Madagascar by botanist Wesnel Bojer. Since then, admirers of its magnanimity have only increased.
Gulmohar has come from a dry deciduous region of Madagascar.
However, it grows sustainably in the tropical and subtropical areas of the world now. The areas of the world where Gulmohar bestows its celestial belle include North America, Caribbean, and Central America, Europe, Middle East, Southeast Asia, East Asia, Australia, and Micronesia.
Roots:
The wood of the Gulmohar tree is weak due to which they have buttress roots for reinforcement. Because of the thin roots, the dog breed barbets frequently make holes in the rotting branches of Gulmohar.
Gulmohar Tree Uses:
Gulmohar achieves its limelight from April to June. It is widely cultivated for ornamental purposes, seen mostly on the sides of roads and pavements giving off its delicate aroma and cooling the eyes with its orange-red colors, not to forget its excellent shade.
But, it is not only the angelic charm of this glorious tree that garners attention. The tree, its leaves, flowers, and trunk have exceptional advantages that even surpass its beauty.
Delonix regia or Gulmohar has an unusual anti-diabetic activity. The methanol extract of its leaves significantly lowers the blood glucose levels. The leaves are also potent anti-diarrheal.
These leaves contain flavonoids that provide hepatoprotection, which means that they protect the liver from toxins. D. Regia also possesses anti-bacterial and anti-microbial activities.
It also includes beneficial phenols, sterol compounds, and triterpenoids.
Cultural & Commercial Importance:
Gulmohar is also sacred in terms of cultural importance. Its wood is used for fuel, and the flowers are used to produce bee forage. The tree produces thick water-soluble gum, which is used as a binder in the manufacture of tablets and the textile industries.
Its seeds are hard and elongated, which are used to make beads. These seeds are engineered to manufacture oil known as Karanga or Pangam oil. It is utilized in the tanning industry.
Besides its vast uses and commercial importance, Gulmohar does pose a threat, especially in storms where its weak wood can not handle the turmoil, and it either rots or becomes unstable to present more significant problems.
Gulmohar is also one of the fastest-growing trees in India.
Maintenace & Disadvantages:
The wood is also vulnerable to insects and animals, making its maintenance a bit tough. It is a tree of the heat. Extreme winters are not suitable for planting Gulmohar.
It also consumes a lot of space if cultivated in home gardens, and the crown spread is hard to control. Gulmohar is the city flower of Selangor and Malaysia. It is sacred in the state of Kerala.
Recommendation:

Trees Suitable for controlling dust pollution in India
20 Profitable Trees for Farming in India