The grow light industry is booming, with more and more people deciding to develop their gardens. Led lighting has emerged over the past few years as a reliable lighting option to supplement a lack of natural sunlight. This boom on the market warrants a review of the best led grow lights to help you get a look at what is out there to help in your indoor garden.
The top-led grow lights that make your list will be significantly impacted by two factors-what you intend to grow and the size of your indoor growing space. I am going to break down these reviews into sections to fit these special needs better. We'll explore small space LEDs to full large panel lights for larger spaces.
One of the main reasons I rated these ten lights the best is that I did not need to "break the bank" to find lighting for your indoor garden. You can indeed find a lot more extreme and more expensive light options out there. I may even review some higher-end ones upcoming in a future article for my radical friends, but these fit nicely within a budget most of us can manage and still provide top-quality options that work.
Top Led Grow Lights by Editors

What is an LED grow light, and why do I want it?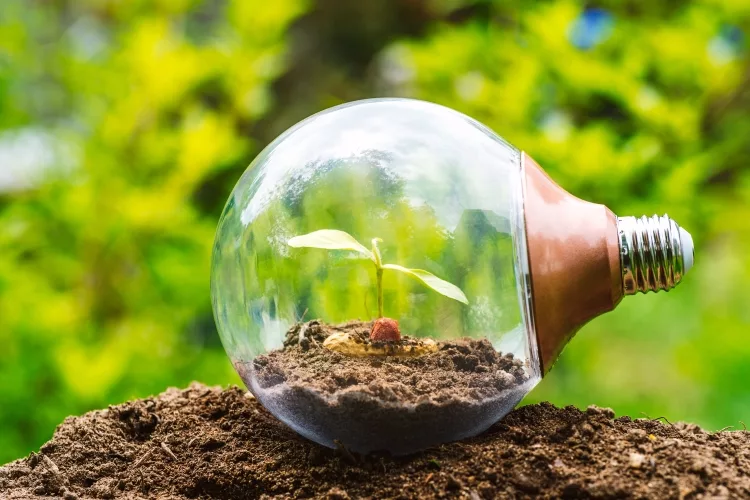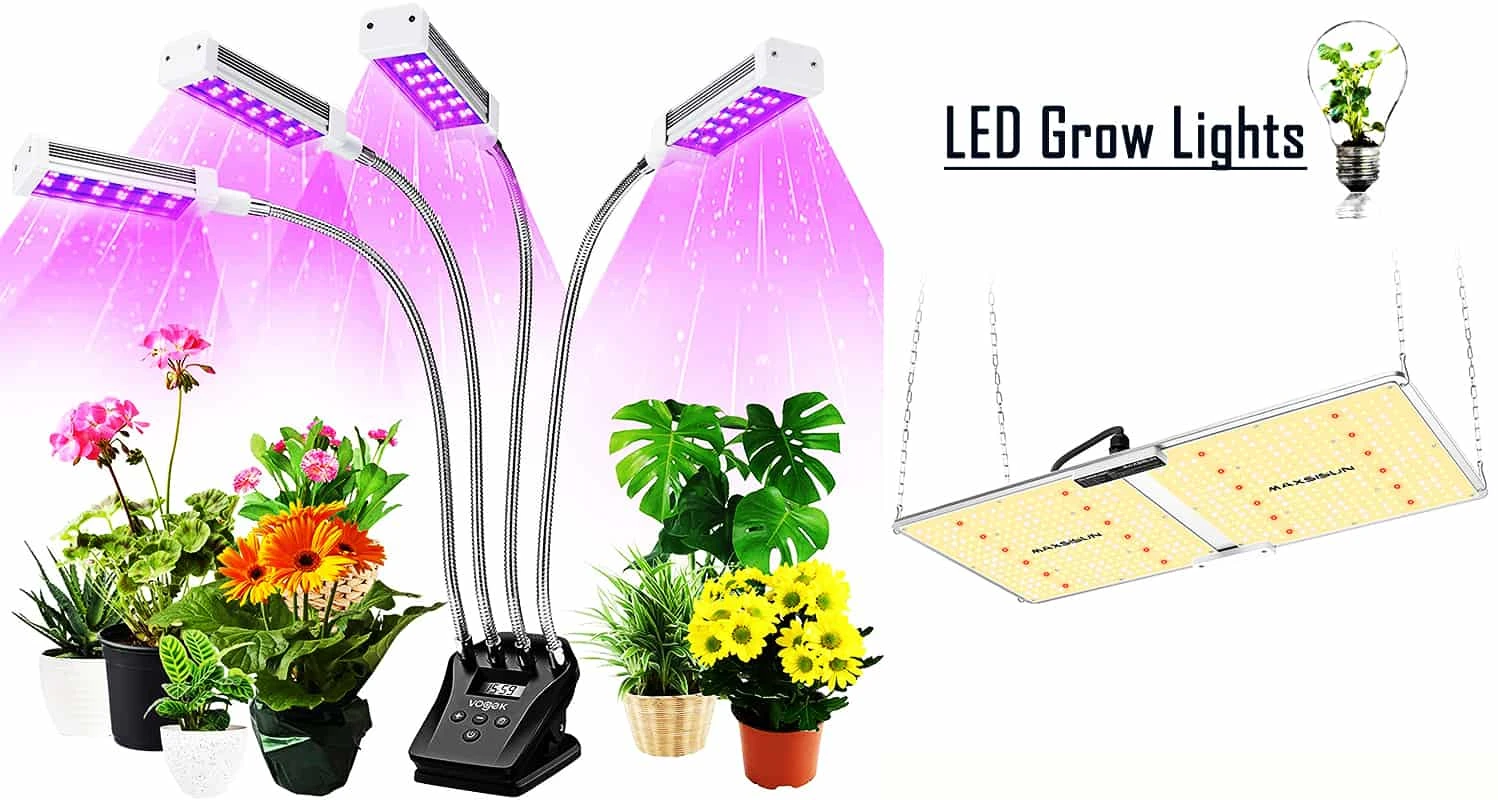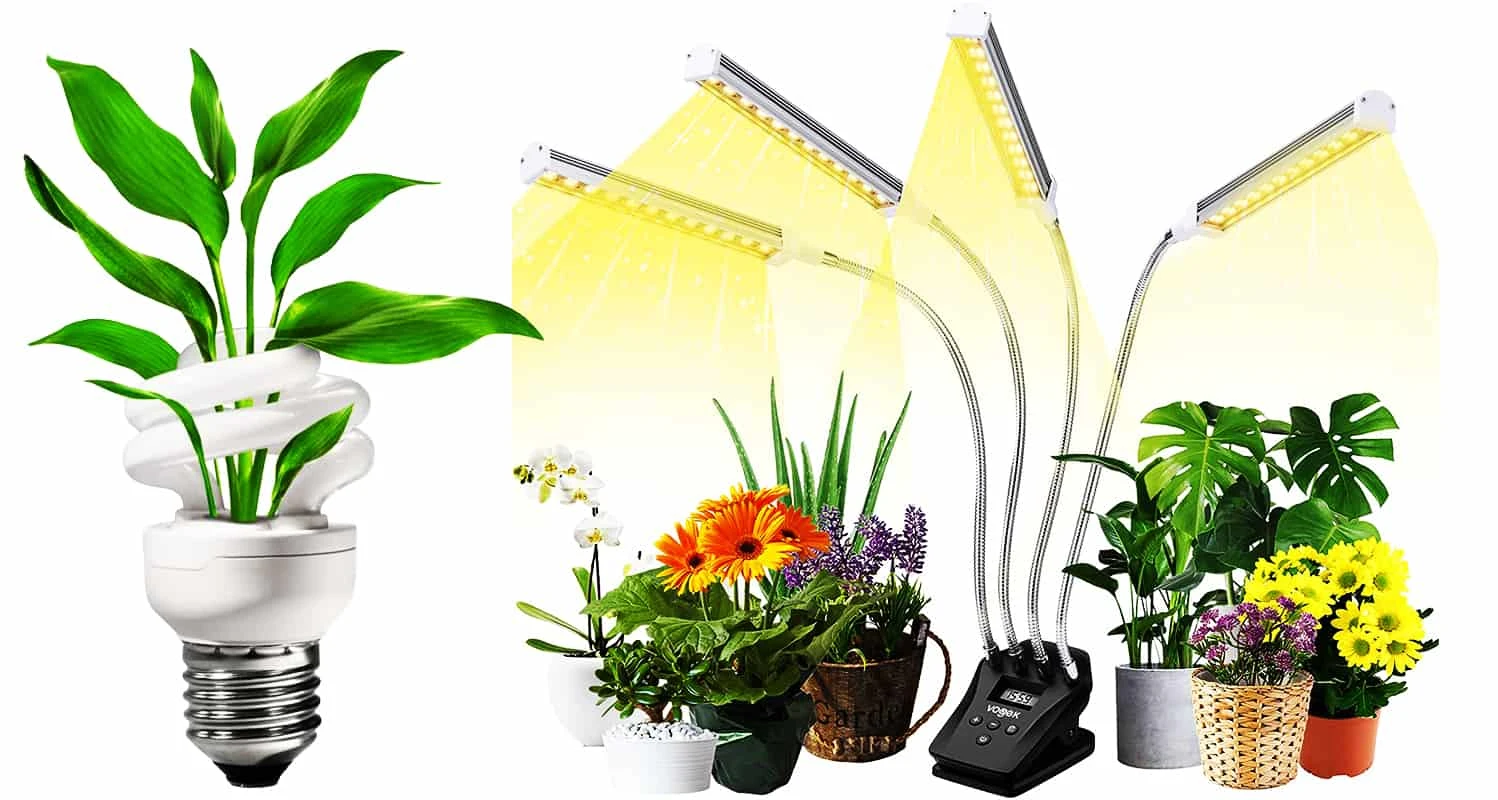 Grow lights at the base definition are lights designed to supplement a lack of sunlight or produce light energy plants need to survive and create photosynthesis. In a previous article here, I broke down the basics of different grow lights and how they work.
Light Emitting Diodes or LEDs look like small chips on a board vs. the traditional filament style incandescent light bulbs. These small chips emit red and blue light that matches the color spectrum required for healthy plant growth. These lights also feature white and UV spectrum light output to increase effectiveness and protect plants from viruses.
Advantages of LED Grow Lights
Design flexibility gives many layout options to indoor gardening.
Significant Energy savings over other types of grow lights
Less heat output that can damage your plants
More light and targeted wavelengths for healthy plant growth
Longer lifetime value, on average, lasts 5 to 20 years, depending on use.
The Best Small LED Grow Lights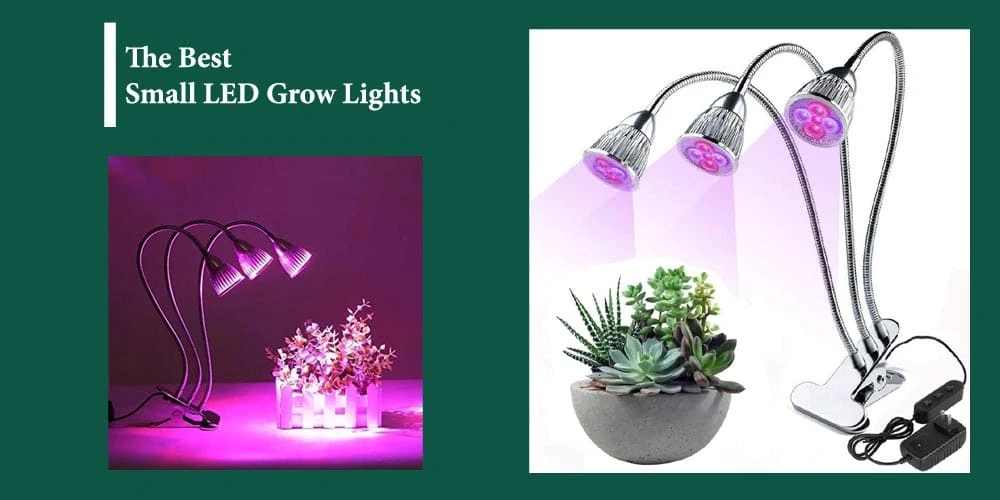 If you are growing just a small indoor garden or need to supplement light on houseplants, a small LED grows light may be the perfect place to start. These will provide enough light individually to aid 1 to 6 plants, depending on the light you choose and your growing plants' size.
Do not let the size fool you. Led lights here are powerful bright fixtures explicitly designed for your indoor plants.
1. ACKE LED Grow Light, Full Spectrum Plant Light (SMD with Switch)
This is a great small led panel type light for your smaller indoor garden or focused lighting on your garden area. Don't let the size fool you; this little guy puts out full spectrum light power with only 12watts of energy. It will help you with all plant growth stages from seedling to maturity and will work excellent for growing herbs.
This light was designed to help reach maximum chlorophyll production by your plants using red 630nm and 660nm, blue 460nm, and white spectrum output of 2700k. It also has low heat output, so you do not need to worry about your tender leaves and seedlings damaged by heat.
This light fixture also has the convenience of being waterproof, so you do not need to worry about overspray when you water or mist your plants. The outer cover is strong and not easily damaged or broken.
My favorite feature of this light is the versatility of setting it up with multiple ways to hang and stand. This fixture can be hung or fixed to the wall by the attached bar or placed on a counter or table using the bar as a kickstand. If you are looking for something that mounts easily beneath a cabinet or cupboard, this could be a good option for you.
Best Points
Easy to Install
Low Heat Output
Waterproof
Full Spectrum Output
Adjustable Angles

2. Lovebay Timing Function Dual Head Grow light with
You are going to love the flexibility in this gooseneck LED light for your smaller garden spaces-a pair of lights that easily maneuver up, down, and from side to side. The sturdy clamp makes mounting easy, clips to a counter, desk, or table-top easily.
I like that this light has a built-in timer that can set for 3, 6, or 12 hours with a simple button click. A lot of digital timers can get a bit complicated. This one is easy enough to do and only takes seconds to program.
You can also set this light to run both lights at once or for individual operation, and they are adjustable for brightness. They have 36 LED blocks with 5 Dimmable Levels; 24 red and 12 blue lights are divided between the two light bars.
This USB plug-in type light uses 18watts of power and plugs into any adapter under 110volts. If you do not want to use the clamp, you can also stick or screw the base down, offering you more placement options.
I think you would get a lot of use of this type of light to supplement natural light deficits in smaller garden spaces or darker shaded areas indoors that do not get a total of 6 hours of sunlight a day. The convenient clip, lightweight design, and universal adapter will allow you to move it around your home to supplement were needed quickly.
Best Points
Easy Push Button Built-in Timer
Adjustable 360-degree Flexible Gooseneck Design
Red and Blue Light Balance for Chlorophyll production and flowering
5 Dimmable levels for precise lighting adjustments

3. Atralife 15W LED Grow Light Triple Head; Desk Clip LED Plant Lamp
Another great light with flexibility in this trio of lights in one unit can be controlled and moved individually. Three light heads with three switches for lighting only the lamps needed.
Even with the nine red and six blue LEDs for full spectrum illumination, the 15 watts of power consumption on this little unit will not any noticeable increase in your electric bill. There is no ultraviolet light emitted and no infrared radiation for you to be concerned with. This LED also utilizes an aluminum shell for superior heat dissipation, extending its life to reach 50,000hrs.
Each gooseneck of these lamps stretches 15 inches, giving you room to spread and maneuver your lighting to fit your plants and garden space best. I love that the clip on this fixture is sturdy enough to support it as a base and spreads wide enough to clip easily to a table or other flat surface.
Best Points
Three head with individual controls for each
Adjustable gooseneck arms
No UV or Infrared radiation
Low Power consumption at 15W

4. TaoTronics Led Grow lights Bulb (E27 12w 3 Bands)
This simple bulb-style LED light will fit into any of your standard household light fixtures like a desk lamp or floor lamp. I am recommending this bulb because the company behind them has an enormous reputation for quality. They have been selling these bulbs for over six years.
The company offers you a 12-month warranty, a 6-month extendable warranty, and excellent 24/7 customer service. There are plenty of "look-a-likes" available, but they do not meet the same quality and reputation the Taotronics bulbs do. Do not be fooled by the duplicates.
I love that these bulbs barely put off any heat at all, so I know that there is no worry about my plants being damaged by heat. The light is very bright and projects well onto your plants with 12 LED panels' of 9 red and three blue lights for healthy plant growth.
You will love that it is convenient not to buy any additional light fixture or special cord to make this grow light work for you. You can screw this into a standard E27 socket and switch it on; it is that easy to use.
Best Points
The seller has six years of high rated business, showing reliability
Your plants can fully absorb the light output
It fits a standard E27 socket, so no extra equipment to buy
Generates no Noticeable heat even after 17 hours of continuous use
Best Tube or Strip LED Lights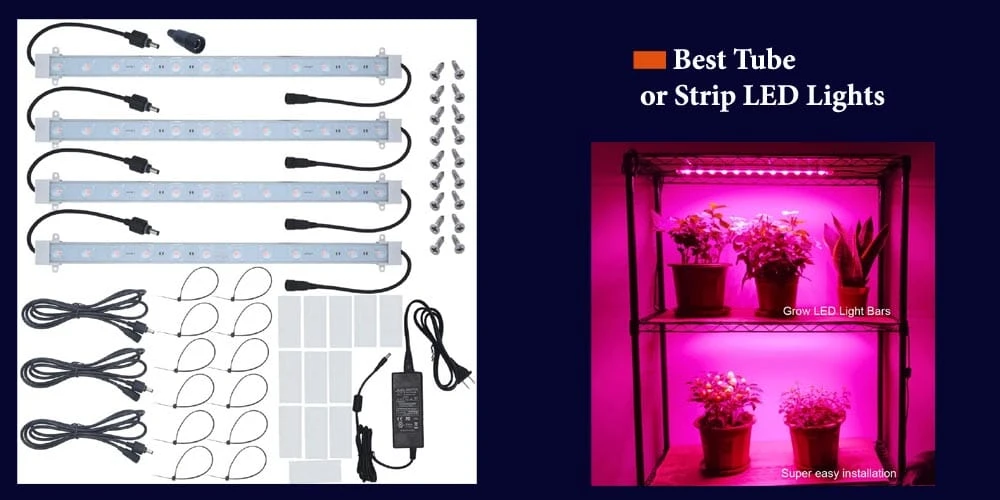 The length and versatility of tube-style lights often give more versatility in how auxiliary light can be laid out and arranged to suit your indoor garden space. These lights will often fasten to the underside of shelves or cabinets, providing you with ease of setup. Like the smaller LED, they usually require multiple lights to cover larger areas but work well for smaller, tightly spaced indoor garden setups.
I find tube lighting to be one of the best led grow light options for my garden spaces. I have fixed slots for my plants that are not often moved around from area to area.
5. Galaxyhydro Led Grow Plant Light, Waterproof Bar
This tube-style bar light from Galaxyhydro comes in two lengths to fit your needs, 22 inches or 45 inches. They easily mount and adjust with 180-degree adjustable brackets. High-efficiency 3W chips cover this bar with a top-quality secondary focus lens. This provides high lumen and light penetration that is needed for your plant's health and growth.
A waterproof design is something you will love for your indoor garden use. No need to worry about overspray or relocating plants to water them safely. It is not submersible in water but will stand up to regular use and care.
I like that for a tube-style light; it has a wide-angle of light output. In many other lights designed in this layout, I have noticed that this layout can be too narrow and not cover enough of your indoor grow space. The aluminum housing keeps it nice and cool, and it has a low energy footprint at 52w±5% operation. That is a lot of light for little wattage.
There is a 12-month warranty on these lights, which is a real benefit for you if something goes wrong in the first year. Plus, a 30-day money-back guarantees if you get it and decide it is not the right light for your space. Customer service for Galaxyhydro is good, so you will have an easy time getting answers to questions or resolving issues.
Best Points
180 Degree adjustable brackets
Waterproof design makes it suitable for multiple growing environments
Better heat dissipation ensures cool operation
Wide-angle lighting increases output

6. Grow Lights for Plants 45W, 4 Strip Kit
Four top led grow lights for a great price and a 3-year warranty add to this light set-up value. This light pack is a great way to change your light formation to fit your indoor garden spacing needs.
You could easily place these under cabinets or shelves in a chain format, doubled up, or all four under a wide area for maximum intense lighting in one location. They easily mount and move so that the flexibility will be an added value to you. They come with 3M pads and screws, so you will not need any additional hardware to get these set up.
The exciting thing about these lights is there are no clearly defined red and blue lights as you typically see on LED grow lights. They are designed with a unique optical lens for plant growth without divisible colored chips and still provide focused and concentrated light for growing. I find the glow of these lights a little easier on the eyes.
You can also enjoy that these bars are waterproof and have waterproof connectors and cables. You can use them in wet environments or even in your plant aquariums, making them even more versatile.
Best Points
3 Year Warranty
4 Lights at great value
Specially-designed LEDs with the optical lens for high par value and better lighting
Waterproof fixtures, connectors, and cables

The Best Large Panel LED Lights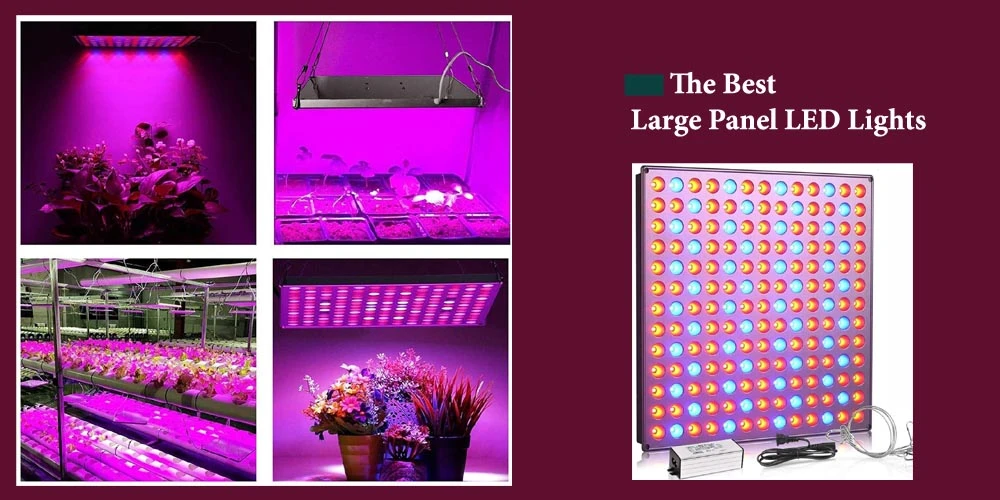 Larger LED panel lights can vary significantly in price and use. These light giants can be for bigger indoor garden spaces, greenhouses, and grow tents. The more compact varieties can be used anywhere in the home for supplemental plant light. The picks here illustrate that variance and give you options to increase your garden space, yield, and what you choose to grow in the future.
7. Roleadro Panel Grow Light Series,45W
Low power consumption with the high luminous efficiency of 117 red led lights and 52 blue lights for excellent growth results in your plants at any stage. This panel LED light is lightweight and will work in almost any application you can think of to use it. It could easily hang or even mount underneath shelving or cupboards.
It uses a thick aluminum alloy plate for optimum heat dissipation to keep your plants and herbs from being burnt. 95% of the light emitted from this fixture can be utilized by the plants preventing you from have very little waste. They are also 80% more energy-efficient than high sodium lights of lesser output.
If you have ever thought of moving into LED panel lights as a lighting option for your indoor gardens, this may be a great lighting option for you as a starter. Depending on the light hanging distance, this light could cover a 4×4 to 6×6 square ft space.
They are priced right, so adding more of these lights for an increased garden growing area will not break the bank. They are priced at $26.99USD a panel.
Best Points
Your plants use 95% of light
Long service life up to 50,000 hours
Great price on a high-powered panel light
2.25:1 Spectrum ratio suitable for healthy plant growth
This Roleadro panel carries a 12-month warranty and 30-day money-back on your purchase.

8. VIPARSPECTRA Dimmable Reflector Series, 300W LED
This larger panel LED features a great full spectrum layout that is dimmable to allow for full spectral control. This model has a reflector design and upgraded aluminum cooling heat sinks. The cooling fans operate quietly to dissipate any heat produced through use.
These lights allow you to daisy chain together, helping free up outlets and quickly expanding your indoor gardens' growing area. In a grow tent or a small indoor garden space, these lights work well for keeping the grow space cool and quiet while providing superior lighting.
I love how bright these lights are. I must put on a pair of glasses if I intend to be working with them for any length of time. The dimmable feature is excellent for adjusting plants to the power of these lights. It is still possible to burn under powerful rays, so transitioning them to this lighting's higher strength was a great feature.
These lights are scientifically engineered to keep a balanced output and coverage, so you can rely on the morning from one end being the same as the light output in the center. This is an important feature, and something to look for in quality LED grows light as an imbalance can cause slight burning or bleaching on specific areas of your plants or poor growth in other areas.
Best Points
The dimmable feature allows precise spectral control.
Quiet, high-speed fans and aluminum heat sinks for cooling
3-year warranty
Optimal Full Spectrum output

9. Dimgogo LED Grow Light Full Spectrum Grow Lamps
Dimgogo's newest technology in LED grows lights with dual chips at 10W (2pcs with 5w chips in every led). This means they are much brighter than before and even more efficient than traditional 3W and 5W LEDs. Actual Power Consumption on these larger panels' is only about 354W for this monster's outputs, making them energy efficient over equivalents.
The color spectrum output of these lights is close to that output by the sun itself as it includes red, blue, white, IR, and UV not seen in every light on the market. It is excellent for the growth and development of all plant types, including your herbs, vegetables, or even cannabis growth.
You will like that even with all this light power, it still runs fantastic. 4 cooling fans are used for better heat dissipation and ensure your grow light investment's long lifespan. The fans operate quietly and smoothly from start-up to shut down.
If you are thinking about expanding your indoor growing or even getting into greenhouse growing, this is a great light to invest in. It is a powerful horse for producing sunlight without producing massive heat. It comes with a 3-year warranty which is a great reassurance that you invested wisely in a reliable product.
This light can be controlled by a timer for easy on and off at set intervals. It comes well packaged with the light you chose (2000W or 2400W), the power cord, and a hanging kit for easy setup.
Best Points
High brightness and Long lifespan
Four fans for efficient, quiet cooling
3 Year Warranty
High-Efficiency Powerful 10W Epiled double chips design
As of today, the reviews are impressive! The initial investment in this light is a bit higher, but the quality and usability are top-notch.

10. Growfast LED Grow Light, Lights Kit
Boasting raving reviews is a shining example of this panels' reputation for excellence. The complete and efficient light spectrum output provides indoor plants all of what they need in any growth stage, from seedling to flowering.
Grow fast, the manufacturer has upgraded fans, vents, and aluminum heat sinks to ensure even more high efficiency, heat dissipation with low noise, greater strength, and stability to extend the light's lifespan. What does this do for you, the end consumer? It adds value. LED lights can be a more significant initial investment upfront. Everything that a manufacturer can do to continue improving and supporting the investment's reliability is a bonus and a return.
I like how well-made this light is. You can tell by the feel that a lot of thought and suitable materials went into the construction. I was surprised by the dollar's value in this light construction on the price scale of quality LED panels'.
I have seen similar lights tips the scales at double this initial cost. A 30-day hassle-free guarantee on these lights and an extensive 3-year warranty on the lifespan create another advantage.
Best Points
3 Year Warranty
Ultra-efficient spectral output
Durable, well-made construction
High-Efficiency cooling system

A Final Note on LED Grow Lights
Choosing the best led grow lights for your garden is now that much easier! LED will help your plants and get your garden growing to its max potential!
The color and brightness of LED lights can cause some people to have eye irritation, especially when looking directly at them. I would advise that you consider specialized glasses if you intend to use them in enclosed spaces or need to work with them for prolonged periods.
Protect Your Precious Eyes. Grab a Pair of These
No matter what light you choose, always examine your packaging thoroughly when they arrive to inspect for visual damage. Do an inventory of the contents to ensure everything that was to be included arrived in the box. Lastly, do a function test before affixing anything to its permanent position. Contact customer support right away if there are any issues with an item you purchase.
If you love it or hate it, you should always try to write a review if you can. There are many other consumers just like you and me out there looking to be informed buyers. Our thoughts and suggestions can help the next person to make wiser decisions.
If you have tried any of these or have an LED grow light you want to roast or rave about, let us know. Share below, and let's start a conversation that can help others. Leave a comment below!

Thank you & Happy Gardening!
Related Articles
Buy on Walmart
MARS HYDRO TS 600W LED Grow Light 2x2ft Coverage Sunlike Full Spectrum Grow Lamp Plants - Walmart Link
SPIDER FARMER SF-1000 LED Grow Light Use with Samsung LM301B LEDs Daisy Chain Dimmable - Walmart Link
VIVOSUN Latest VS1000 LED Grow Light with Samsung LM301H Diodes & Sosen Driver Dimmable - Walmart Link
MARS HYDRO TS 1000W Led Grow Light 3x3ft Coverage Upgraded Daisy Chain Dimmable Full - Walmart Link
SPIDER FARMER SF-4000 LED Grow Light 5'x5' Coverage with Samsung LM301B Diodes & MeanWell - Walmart Link
LED Grow Light for Indoor Plant, Fauna Auto ON/Off Timer Full Spectrum Plant Lights - Walmart Link
MARS HYDRO FC-E4800 LED Grow Light 4x4ft UV IR Full Spectrum Grow Light Bar with 2646pcs - Walmart Link
Buy on eBay
MARS HYDRO TS 600W LED Grow Light 2x2ft Coverage Sunlike Full Spectrum Grow Lamp Plants - eBay Link
SPIDER FARMER SF-1000 LED Grow Light Use with Samsung LM301B LEDs Daisy Chain Dimmable - eBay Link
VIVOSUN Latest VS1000 LED Grow Light with Samsung LM301H Diodes & Sosen Driver Dimmable - eBay Link
MARS HYDRO TS 1000W Led Grow Light 3x3ft Coverage Upgraded Daisy Chain Dimmable Full - eBay Link
SPIDER FARMER SF-4000 LED Grow Light 5'x5' Coverage with Samsung LM301B Diodes & MeanWell - eBay Link
LED Grow Light for Indoor Plant, Fauna Auto ON/Off Timer Full Spectrum Plant Lights - eBay Link
MARS HYDRO FC-E4800 LED Grow Light 4x4ft UV IR Full Spectrum Grow Light Bar with 2646pcs - eBay Link