As a snack, in salads, or a surprising variety of both savory and sweet recipes, cherry tomatoes provide a burst of flavor.
They are technically a sort of fruit since they arise from flowers, but they are commonly consumed as a vegetable. The cherry tomato originated in South America and ultimately made its way to the gardens in Europe and Israel. During the twentieth century, they were ultimately popularized by the British grocery giant Marks & Spencer. To lure consumers, the store's proprietor desired a unique twist on marketed tomatoes. Cherry tomatoes are one of the most popular forms of vegetables in grocery shops today, serving as both a snack and the main dinner element.

But, why worry about buying the cherry tomatoes heaven when you can grow them at the ease of your home garden?
Fun Fact
You don't have to be a professional farmer to grow your very own cherry tomatoes!
Because, in this guide, we are going to tell you all that you need to know about growing the cherry tomatoes all by yourself!
How to Grow Cherry Tomatoes?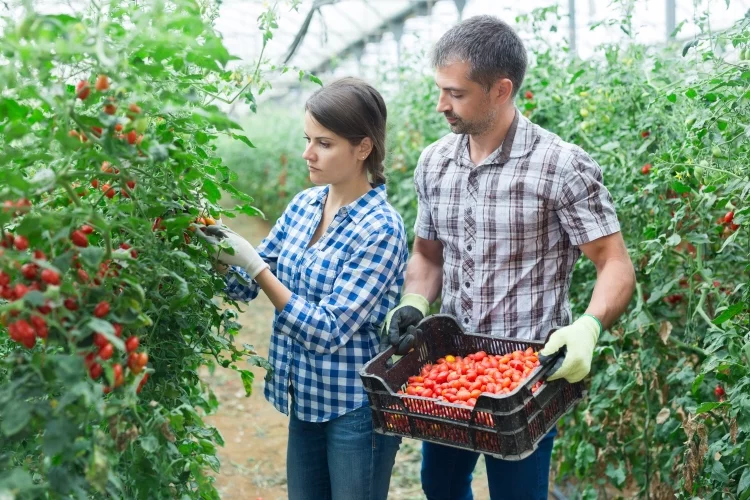 Biting into a plump, ripe tomato is a delicious reward of gardening. There are many different varieties of tomatoes to select from, bust most gardeners include at least one bush of delicious cherry tomatoes in their planting plans.
Cherry tomatoes come in a variety of colors, including red, orange, yellow, and even black, and when ripe on the vine, they are sweet and tasty, and you can grow them in your favorite variations by following some of the easy steps that we have brought to you.
Let's get started! Beginning with the basics:
Basics to Remember
Whether you have planted your seeds inside or bought seedlings, make sure that there is no risk of freezing on planting day in early spring, because if it gets to chilly, tender seedlings will expire. Wait until your tiny seedlings are 6 to 10 inches (15-25 cm) tall before planting them, and leave at least a few feet among holes.
Cherry tomatoes have the potential to become large and bushy.
Remember that tomatoes thrive in well-draining topsoil with a pH balance of 6.2 to 6.5, and they demand four to six hours of exposure to sunlight every day as you plan your garden.
Start by looking at your cherry tomato sprout in its little pot.
From the root of the seedling's core stem up to a few inches well above soiling, remove all the tiny stems and shoots. Gently flutter the present roots while removing them from its container.
To Plant:
To plant, lay the naked stalk all the way up to the first surviving stem in the earth.
This will allow the plant to produce a large number of additional roots as it grows, allowing it to become stronger and more robust.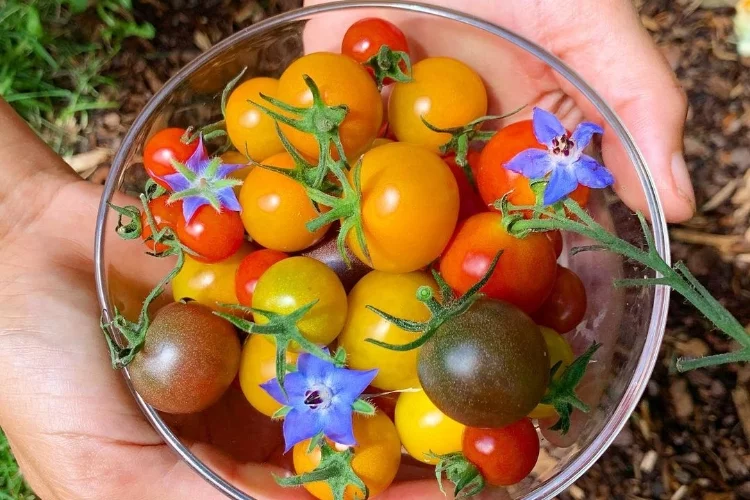 Drop a spoonful of lemon zest into the base of each hole and add a little tomato fertilizer to give your plants a good start to avoid some frequent difficulties when producing cherry tomatoes.
Well-rotted cow dunk also performs well.
Depending on your soil quality, you may fertilize them on the side with homemade compost or a 10-20-10 plant food once they have established themselves.
Post-Planting To-Do Reminders:
It will take a number of months for your cherry tomatoes to ripen, depending on the weather.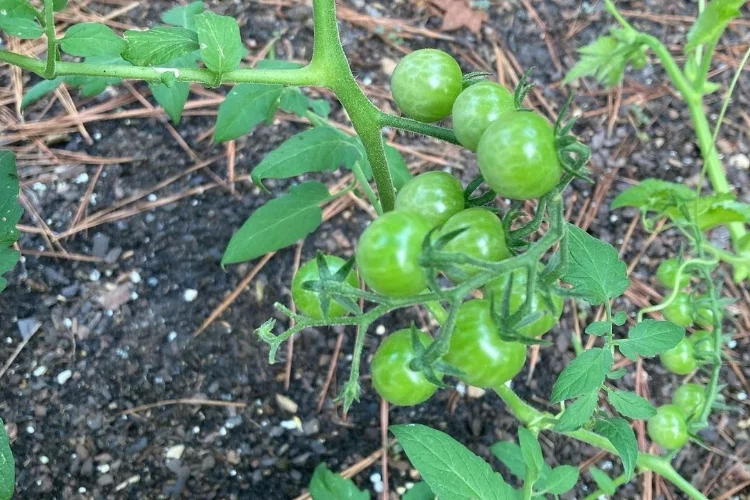 When they've changed the color you're looking for, pick them up.
They'll pull away with the softest pull when they're ready.
During high season, you'll have far more ripe cherry tomatoes to pluck every day or two.
Health Benefits of Cherry Tomatoes
Not only cherry tomatoes are tasty, but they also have a lot more health benefits than you think. Let's discuss some of them below:
Nutrition
Cherry tomatoes are high in carotene, a powerful antioxidant that fights disease-causing free radicals.
Antioxidants can also protect your skin from the sun's UV rays and improve your heart health.
Anti-Carcinogenic
Cherry or regular, tomatoes are believed to be enriched in ascorbic acid. Ascorbic acid is widely popular for curing cancer by killing cancer cells in the human body. There are also some other chemicals such as Carotene, Lycopene, Melatonin that are also popular for their anti-cancer properties.
Blood Pressure Control
Since they are potassium-rich, these little tomatoes are especially useful to people with high blood pressure.
It contains a variety of vitamins that assist prevent cardiovascular disorders like arrhythmia and sustain a strong heart.
Weight Loss
Rather than just munching on fried foods and sweets, reach for cherry tomatoes the next time you're hungry!
Cherry tomatoes offer just 20-30 calories per 100 g (depending on size and quality) and are low in salt, animal fats, and cholesterol.
This is great for people who wish to maintain a healthy weight since the high fiber and water content helps one burn fat while consuming the least number of calories.
Vitamins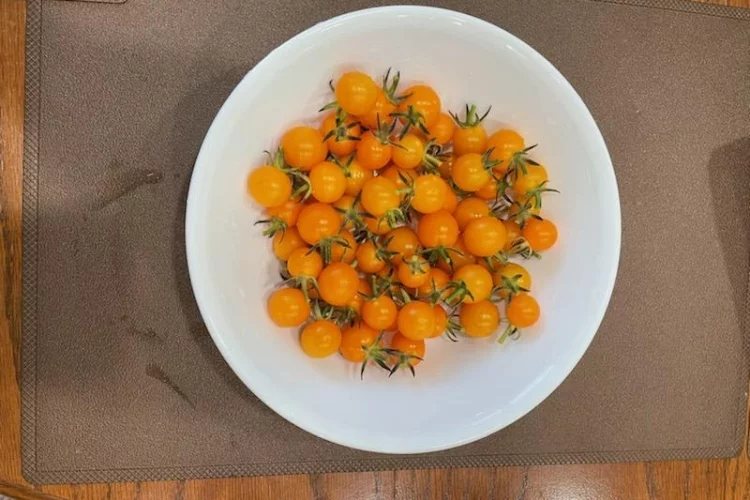 It's a great illustration of how nutritious and healthy cuisine can also be tasty.
This vegetable (literally a fruit) is an excellent source of Vitamin E, thanks to the presence of Alpha-tocopherol, as well as B6, Folate, Manganese, Phosphate, and Zinc, not to forget Potassium, Vitamins A, C, and K.
Beauty and Immunity
A cherry tomato, which is high in vitamin C, improves immunity and works as an antiseptic.
It's also utilized in feminine hygiene products.
Cherry tomato's Lycopene serves as a natural sunscreen and protects the skin from the sun.
Those with combination skin can use it to avoid skin blemishes on their faces.
How is Cherry Tomato Different from Regular Tomatoes?
Tomatoes are the essential component in all Indian cuisine, and they serve as the foundation for all stews and soups, and sauces.
Tomatoes come in a variety of shapes and sizes, but cherry tomatoes have a particular place in our hearts and diets.
Cherry tomatoes are well-known for their distinct flavor and high nutritional value.
The difference in size between ordinary tomatoes and cherry tomatoes isone of the most significant.
Usual tomatoes are clearly larger in size, unlike cherry tomatoes.
They have a tangy taste, but the little tomatoes have a sour flavor.
Cherry tomatoes are smaller, crunchier, and juicier on the interior, and are typically eaten like a snack.
When it relates to nutritional quality, tomatoes and cherry tomatoes are nearly identical.
In other words, regardless of wat sort of tomatoes you choose, you will be getting the same nutrients.
Interesting Ways to Add Cherry Tomatoes to Your Diet
As a snack, serve cherry tomatoes with hummus or chicken alfredo.
On a salad tray, combine them with baby carrots, sliced red and yellow peppers, jalapeños, etc.
Use it in your daily stir-fried gravies.
Pico de Gallo, a very special and delicious Mexican dish can be prepared by using cherry tomatoes too, combined with lime juice and other ingredients.
In pesto-flavored spaghetti, toss them with parmesan cheese, and balsamic vinegar.
Combine them with your favorite cheeses to make an omelet.
In a tortellini soup, combine them with lime juice and blue cheese.
In a delicious fruit salad, use homegrown cherry tomatoes.
For some easy and interesting recipes, watch below video:
Fun Facts on Tomatoes
Tomatoes are not always red, believe it or not. They come in a variety of colors, including yellow, pink, purple, black, and even white.
Every year in the little Hispanic village of Buol, the world's largest tomato fight takes place.
LaTomatina is a celebration in which 40,000 people hurl 150,000 tomatoes at one another.
Tomatoes are New Jersey's state's official vegetable. Ohio's officially recognized beverage is its nectar.
Do you consider tomatoes to be authentically Portuguese? They actually originated in Peru's Andes in South and Central America. The Aztecs in southern Mexico were among the first to eat them.
In space, tomato saplings have been cultivated.
Tomatoes come in over 10,000 different kinds across the world.
The biggest tomato, as per Guinness World Records (as of 2013), weighs 7 pounds, 12 ounces, and was produced in Oklahoma.
There's a speed restriction on Heinz Tomato Ketchup! If the sauce steams faster than 0.028 miles an hour, it is too fluid and will be discarded.
The very first tomatoes in Europe might've been yellowish and were known as Pomo d'Or, which translates to "golden apple."
The tomato is classified as a fruit rather than a vegetable since it contains seeds and comes from a blooming plant.
Trade rules in the United States put a charge on vegetables in 1887, but not on fruits. As a result, the legal position of tomatoes became a hot topic. In the case of Nix v. The United States, the Supreme Court of the United States issued a decision. The tomato, on the other hand, has not been reclassified taxonomically; it will always be a fruit.
Conclusion on Grow Cherry Tomatoes

In this guide, we did not just tell you about how to grow cherry tomatoes by yourself, but we also enlisted some very important health benefits as well as fun facts associated with the very delicious cherry tomatoes. This is the time to make the most of your kitchen garden, and astonish everyone by serving them the very homely cherry tomatoes!
If you found this guide helpful, do not forget to share it with your friends and family who have a thing for harvesting freshly grown tomatoes!
Thank you! Happy planting!