If you consider yourself a connoisseur of cheese, then there's a pretty good chance that you've heard of or have even indulged in Gruyère before. Generally cured for six months or longer, Gruyère is a type of smooth-melting Swiss cheese made from whole cow's milk and is considered a table cheese. A table cheese refers to Gruyère's being eaten in slices, like on a cheese platter or a sandwich. Gruyère is also an incredibly delicious melting cheese, which is why it's so commonly used in fondue dishes. Gruyère cheese is a firmer cheese compared to other varieties, and it has a slightly nutty taste that keeps people coming back for more.
While Gruyère can be found in almost every grocery store worldwide, it is a bit more expensive than some people are comfortable paying for. This is why people have discovered other fantastic cheeses that can be used as a substitute for Gruyère. If you're a fan of Gruyère, but you can't seem to justify paying too much for a block of cheese, keep reading to discover some delicious substitutes for Gruyère and some great recipes that are even more delicious than the cheese itself.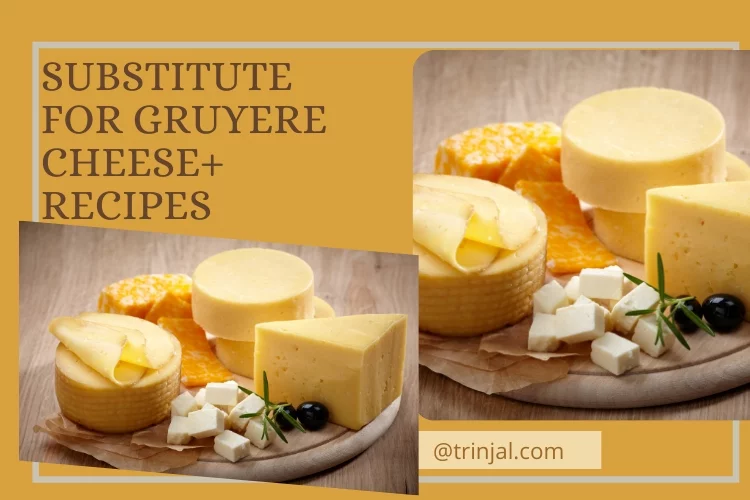 Raclette Cheese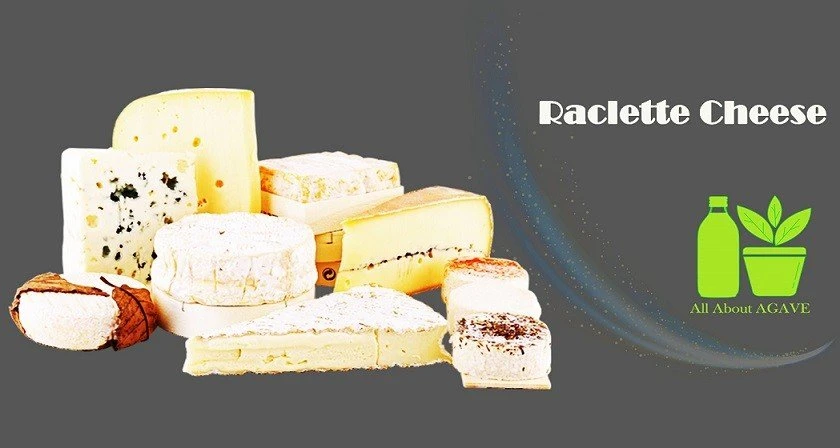 Raclette is a type of cheese from Switzerland and France, and it makes the perfect substitute for Gruyere. This is especially true if you plan on grilling it or melting it for veggies! It also works well as a topper for french fries, but keep in mind that the taste may be a little strong for you. If you're not sure if you're going to like Raclette, give it a taste before you put it on top of your food.
Traditional Raclette Dish
This straightforward recipe is for those of you who have never tried grilling raclette before and want an accessible introduction to doing so! It feeds four people.
Ingredients:
Eight small/medium potatoes
1.5 lb. of Raclette Cheese
Buendnerfleisch cut into paper-thin slices
One jar of pickled gherkin cucumbers
One jar of pickled onions
Freshly ground pepper
Paprika
1. Wash the potatoes and allow them to boil in a pot filled with salted water for approximately 20 minutes. Make sure that you do not remove the skin from the potatoes.
2. Keep the potatoes warm until you're ready to use an insulated potato bag.
3. Remove the rind of the cheese and cut it into 1/16" thick slices.
4. Arrange the onions, Buendnerfleisch, and gherkins on a platter. Set the platter aside until it's ready to be used later.
5. Turn the stove on and allow the Raclette to heat up slowly.
6. Raclette takes approximately two minutes to melt into a creamy texture and three minutes if you'd like to have a crispier outer coating.
7. Put one of the potatoes onto your plate. Cut it up into a few mouth-sized pieces.
8. Using a wooden spatula, scrape the cheese off the pan and place it on top of your potatoes.
9. Season the potato with paprika and ground pepper or any other seasoning that you'd like to try.
Maasdam or Edam Cheese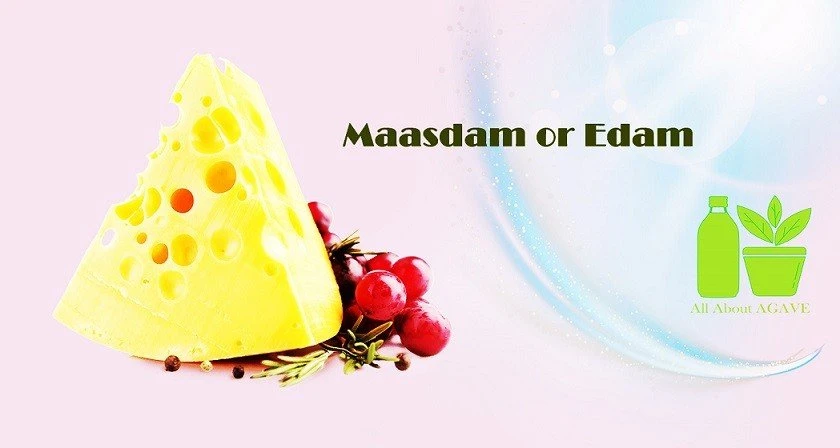 If you're looking for a cheese that has a similar consistency and taste to Gruyere cheese, then you might want to try Edam or even Maasdam. Both of these cheeses have a vibrant flavor and a similar texture as Gruyere, and as a bonus, they pair excellently with wine! Made from cow's milk, Edam and Maasdam are affordable alternatives to Gruyere, but they're most certainly a bit high in fat, so be mindful of that while you're indulging.
Grilled Cheese Sandwich Using Edam Cheese and Arugula
As you already know, Gruyere is a great melting cheese, which is why it's commonly used to make gourmet grilled cheese sandwiches. With that being said, Edam makes an excellent melting cheese, as well, so check out this delicious grilled cheese recipe!
Ingredients:
Two slices of sourdough bread
2 ounces of Edam cheese
One small handful of arugula leaves (rinsed and patted dry)
1 ½ tablespoons butter
Two teaspoons Klio Ikaria pine honey
1. Using ½ a teaspoon of butter, butter one side of each slice of the bread. Assemble the sandwich by stacking the cheese slices and arugula on top of one another. Pat down the sandwich to make sure that it stays closed while you're cooking it.
2. Melt the rest of your butter in a nonstick pan over medium-high heat.
3. Place the sandwich into the frying pan and press it down with the spatula.
4. Cover the pan and lower the heat. Cook the sandwich on one side.
5. When the sandwich is nicely browned on one side, flip it over and do the same thing to the other side. You can always add more butter if it's necessary.
6. When the sandwich looks crisp and golden, remove it from the pan.
7. Cut the sandwich in half diagonally and drizzle it with the Klio Ikaria pine honey.
Mac and Cheese Using Maasdam Cheese
There's no denying that people from all over the world enjoy a nice hearty portion of mac and cheese from time to time. If you're the type of person who tends to turn their nose up at boxed macaroni and cheese but craves the delicious gooey goodness on occasion, then you should give this cheesy gourmet dish a shot.
Ingredients:
Six strips of bacon
¼ cup of salt
¼ cup maple sugar
Two sheets of parchment paper
½ cup breadcrumbs
One teaspoon paprika
One teaspoon chili powder
½ teaspoon white pepper
One teaspoon garlic powder
2 ½ cups macaroni
2 ½ cups of semi-skimmed milk
1 cup grated Cheddar Cheese
¾ cup crumbled blue cheese
¾ cup Maasdam Cheese
⅔ cup butter
⅔ cup flour
Two shallots
Two cloves diced garlic
One tablespoon dried Herbs de Provence.
1. Using slightly salted water, bring the water to a boil. Add in the macaroni and cook it until it's al dente. Drain the pasta into a colander and immediately rinse in cold water. This stops the pasta from continuing to cook while it's cooling down.
2. Take your bacon and place it in between the two sheets of parchment paper. Bake at 180 degrees for 15-20 minutes. This will cause the bacon to become very dry, allowing it to crumble very quickly. Mix the bacon crumbles with sugar, salt, paprika, garlic powder, chili pepper, and bread crumbs. Spread the mixture onto a baking sheet and bake it at 120 degrees until it's completely dried out.
3. Using a saucepan, melt the butter. Add in the shallots, garlic, and Herbs de Provence. Once the onion is entirely see-through, add the flour into the mix. Whisk until a roux is formed. Gradually add in the milk. Continue to mix until you have a mildly thick sauce.
4. Add in the Stilton, Maasdam, and all but ⅔ of the cheddar. Add in the white pepper. Whisk the mixture until all of the cheese is melted. Put in the pasta and stir until the mixture is thoroughly combined. Evenly spread the mixture into an oven-safe dish.
5. Top the pasta using approximately three tablespoons of the bacon breadcrumbs and the rest of the cheddar cheese.
6. Bake in the oven at 180 degrees for about 20 minutes or until the top is gooey and crispy.
Fontina and Parmesan Cheese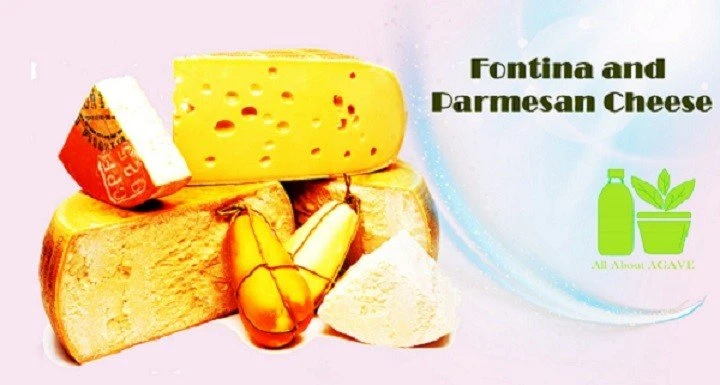 While some people choose to use just one cheese to substitute the expensive Gruyere, Fontina and Parmesan's combination is an acceptable alternative. The Parmesan gives the cheese the Gruyere consistency, and the Fontina gives it the rich flavor associated with Gruyere. If you're looking for an inexpensive dinner dish, check out this delectable Turkey Ragu with Fontina and Parmesan.
Turkey Ragu with Fontina and Parmesan
Ingredients:
One 16-ounce package of elbow macaroni
1 Tablespoon olive oil
One sweet onion
Three cloves of minced garlic
1 pound of lean ground turkey
One 14.5-ounce can of crushed tomatoes
2 Tablespoons of dried parsley
2 Teaspoons of dried oregano
Two teaspoons dried basil.
One teaspoons salt
¼ Teaspoon pepper
1 cup grated Fontina cheese
½ Cup Grated Parmesan cheese
Three tablespoons grated Parmesan cheese
1. Bring a large pot with lightly salted water to a boil. Once the water is boiling, stir in the macaroni.
2. Cook the pasta uncovered, stirring occasionally. Cook until the pasta is al dente, which takes approximately 8 minutes. Drain the pasta into a colander.
3. Using a large skillet, heat the olive oil over medium-high heat.
4. Once the olive oil has been sufficiently heated, cook and stir around the onions until they're slightly brown and see-through. This should take approximately 10 minutes.
5. Reduce the heat to low and stir in the garlic—Cook for one minute.
6. Add in the turkey and cook it until the turkey is no longer pink.
7. Mix in the diced tomatoes, parsley, crushed tomatoes, oregano, salt, basil, and pepper.
8. Simmer the mixture uncovered for about 20 minutes.
9. Add the pasta to the sauce in the skillet.
10. Toss the pasta with the fontina cheese and ½ cup of Parmesan cheese. Do this until the cheese is completely melted.
11. Serve the pasta in a large bowl. Sprinkle three tablespoons of Parmesan cheese on top.
12. Enjoy!
Emmentaler Cheese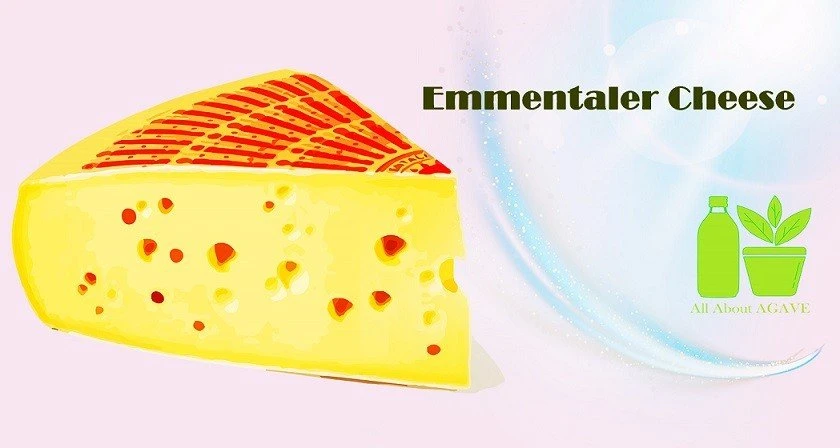 Emmentaler is another type of Swiss cheese that is remarkably similar to Gruyere. People enjoy Emmentaler because of how quickly it melts, making it the perfect cheese to fondue.
Cheddar and Emmental Fondue with Roasted Vegetables
Ingredients:
For the Roasted Vegetables:
½ lb parsnips – halved lengthwise
½ lb carrots – trimmed and kept whole
½ lb cut brussels sprouts
One bulb of trimmed and sliced fennel
One tablespoon extra virgin olive oil
½ teaspoon garlic salt
¼ teaspoon freshly ground black pepper
For the Fondue:
4 ounces shredded Emmentaler
4 ounces shredded cheddar
One tablespoon cornstarch
¼ cup dry white wine
½ teaspoon garlic powder
¼ teaspoon black pepper
½ baguette or whole-grain crackers
For the Roasted Vegetables:
1. Preheat your oven to 425 degrees.
2. Put tin foil onto a baking sheet.
3. Place the carrots, brussels sprouts, parsnips, and fennel onto the baking sheet.
4. Drizzle the vegetables with extra virgin olive oil.
5. Sprinkle the vegetables with garlic, salt, and pepper.
6. Using tongs or freshly washed hands, mix around the veggies until they're thoroughly combined with the seasonings.
7. Roast the vegetables for 30 minutes or until your desired tenderness is reached. Flip the veggies over halfway through the cooking time.
(Keep in mind you don't want the veggies to be too tender since you'll be dipping them in the fondue. If they're too delicate, it will be a bit difficult to dip them properly)
For the Fondue:
1. When the veggies are close to being done, put the shredded cheese in cornstarch. Coat them thoroughly because this prevents the cheese from clumping together.
2. Using a medium saucepan, heat the dry white wine to a simmer over low heat.
3. Add in your garlic powder and black pepper.
4. Slowly add the cheese to the saucepan.
5. Stir the mixture with a whisk until the cheese is fully melted.
6. DO NOT BOIL.
7. Move the mixture into a fondue pot over a low flame.
8. Serve with your veggies and baguette slices.
8. Enjoy!
Conclusion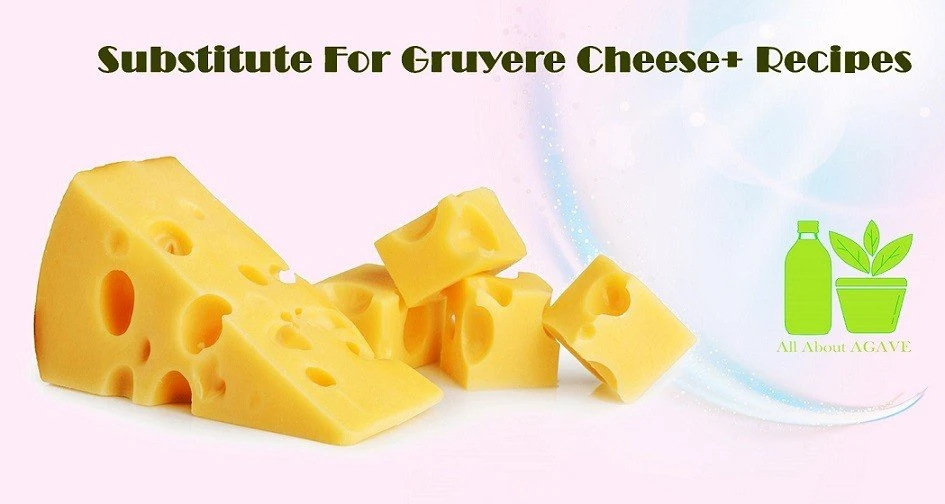 As you can see, there are some great alternatives to using Gruyere cheese in your recipes. While the other options aren't as expensive as Gruyere, their taste and consistency are right on point. If you'd still like to use Gruyere in your recipes, whatever your recipe may be, make sure you tell the grocer you want a specific amount of Gruyere cheese. This will prevent you from having to pay too much money for cheese that you may not use. If you're comfortable using the alternatives, then dive right into a block of Edam and have yourself a delicious meal!