Giving your seeds the best chance for germination is key to getting your garden started. A Jumpstart germination station saves you time and effort.
Seeds that fail to germinate can leave you frustrated, plantless, and ready to give up.
The best way to avoid frustration and achieve tremendous seed success is to start them off right in the proper environment. A germination station with a heat mat increases those odds.
That is why it is a great time to learn about the Jump Start Germination Station - Review Hydrofarm CK64050 with Heat Mat. Solve the problem of failed seed germination with the proper equipment to get the job done right. Is the Hydrofarm germination station the boost you need to create seed success?
Jump Start Germination Station Review

This product is a combination of items used in seed germination. The germination station features a heat mat, tray, 72 cell insert, and a 2-inch humidity dome.
The Manufacturer, Hydrofarm, boasts that this product allows you to grow indoors or out, protected from all the elements, scavengers, and temperatures that could harm your plants.
They say that you are in complete control of this station and included a heating mat. They state that the heating mat has been re-engineered for better performance and more excellent durability with stronger heating wire and thicker multi-layer construction. This provides more uniform heating and even the ability to be used in greenhouses.
This germination station features a 2-inch humidity dome that helps retain moisture and heat. The dome has three vents to help control heat and humidity, one on top and one on each side.
The 72-cell insert does not include growing media but will work great with coco plugs, glow plugs, regular soil, or soilless mixes to plant seeds or cuttings. Roots grow lights and thermostats for heat mat are also NOT included with this product.
Features
UL-listed waterproof heat mat, 17 watts, 120 volts
2″ humidity dome
11″ x 22″ watertight base tray
72-cell seedling insert
Instructions with growing tips
Pros
72 cell increasing capacity gives many options for planting
Low wattage heat mat uses very little electric
The vented dome allows for heat and humidity control.
Hydrofarm is a name you can trust
For the cost of a Seed Heating mat, you get Bonus Tray and dome.
Cons
Thermostat Not included with a heat mat to regulate and control the temperature.
The seed tray and dome are somewhat flimsy.
It does not include any growing media.
Plastic vents on the dome sometimes pop out easily.
Who is Hydrofarm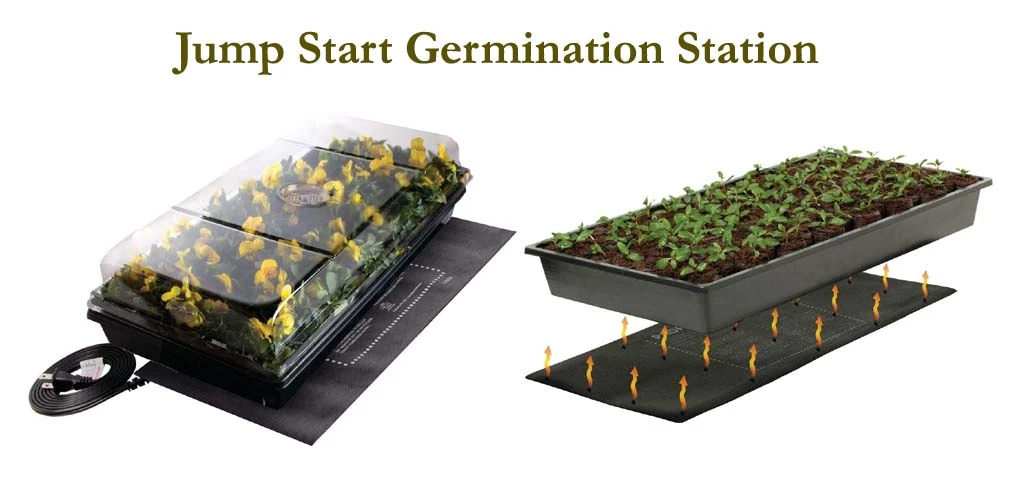 Hydrofarm is the nation's oldest wholesaler and leading manufacturer of hydroponics equipment and high-intensity grow lights. Their company website boasts 40 years of business with a solid commitment to being number one in horticulture products.
They are a wholesaler and do not sell directly to consumers. Their products can be found available for sale only through approved dealers and vendors. Amazon is one of those dealers that I am familiar with.
I have purchased multiple items made by Hydrofarm over the years, including this germination station, grow lights, and other gardening and hydroponic supplies.

How it Benefits You
Your seeds get the proper heating to promote seed germination.
The dome easily adjusts humidity, so you can be sure the level remains ideal.
Your counters and surfaces are protected with a watertight base tray.
You can start up to 72 separate seedlings at once
→Some of the links on this site and in this article are affiliate links that pay a commission for a completed purchase. This does not result in any additional cost to you. I do not write sponsored posts. I want to bring you factual, unbiased information.
My Take on the Germination Station
I picked up the JumpStart CK64050 when I was looking for an additional seed heating mat a few months ago. I had experience with Hydrofarm products and was pleased with how they performed, so I trusted the brand before
I decided to try this item. I decided on the germination station because it included not only the heating mat I was looking for, but it had the bonus of an additional seed starting tray and the vented dome. I grow many plants for my indoor herb garden and my outdoor garden, so having different trays is always a bonus buy.
Price-wise the seedling mats alone are comparable, so I was happy to get some bonuses with my purchase that I knew I could use as well. I like that the dome was vented in multiple areas, as you do not see that very often in standard seed starting trays with lids. It is not strong plastic on the 72 cell tray or dome, but it is comparable to others on the market.
The heating mat is the low voltage at 17 watts, so you would not expect to see much if any energy fluctuations in your electric bill for usage for regular use. I was disappointed to find there was no ability to regulate the heating mat's temperature like a previous version I had purchased from Hydrofarm. On the insert that came with it, they noted that a thermostat was recommended but not included.
I have had a lot of experience with seed starting using heat mats, so not having that thermostatic heat regulation did not significantly impact me using it. Still, it may be difficult for anyone just starting the first time. The heat is too high or too low could affect seed germination or hurt seedling growth.
I checked the temperature daily with a meter for the first few days, and it was maintaining 10 degrees above the room temperature at about 75 degrees. So, it was consistent with indoor ambient temperatures. Still, I am unsure how that would be impacted in a lower or higher temperature environment without the system's thermostat.
All in all, the germination station worked as it should for me, and I have used it multiple times to start seedlings since purchase. I gave it an 8.7 out of 10 reviews because of the lack of a thermostat to control temperature and the slight weakness in the seedling tray and dome.
Will the Hydrofarm Jump Start Work for You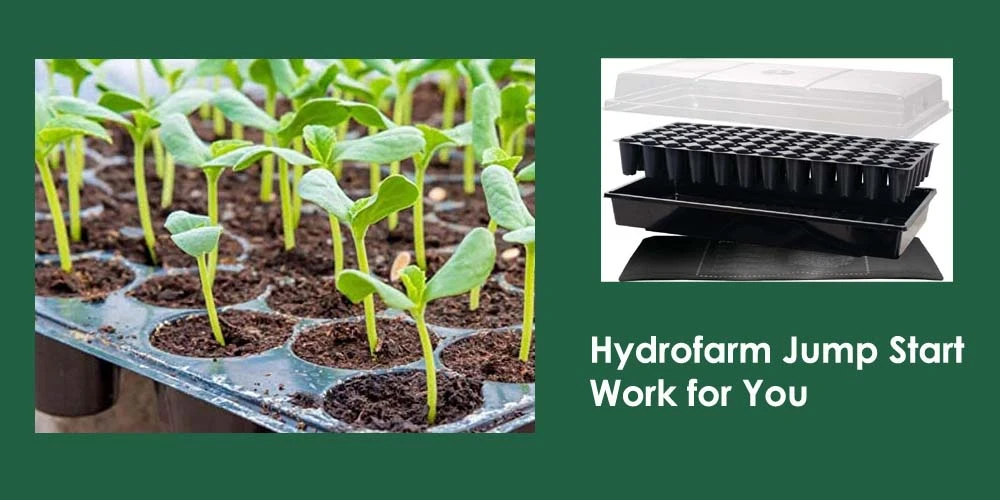 There are many options out there when it comes to seed starting and seed heating mats. I think that the Hydrofarm jump-start germination station fits in as one of those good options. It is a great starting point that fits into a budget. It will provide you plenty of space to grow multiple seeds or cuttings at once in a controlled heat and humidity environment.
I have placed a few other recommendations below to work for you if you have other limitations in your garden space. Some of these stations are available with grow lights if natural sunlight is an issue for you.
If natural light is an issue for you, can you learn more about supplementing that light with this article on this site ⇒, THE BEST GROW LIGHTS FOR INDOOR PLANTS AND HERBS - CREATING SUNLIGHT
If you have a similar product that you highly recommend, please let me know, and I would be happy to check it out. Maybe myself or somebody else has already used it too.
I always love to hear from you! Please drop me a comment below, and let's keep the conversation growing!
Happy Gardening, friends!

Also read