Holy Basil and Ginger Tea - Heart & Mind Blend
reviewed by Christina Lopez
This blend of Holy Basil, also known as tulsi, and fresh ginger is said to soothe the mind of anxiety and bring peace.
That is why it is referred to as the heart and mind blend. Both of these herbs are known for their strong medicinal properties. Holy basil and ginger have both been found to have anti-cancer fighting properties, anti-stress and anxiety relievers, balance unlevel blood sugar levels, and boost the immune system.
These two powerhouse herbs together make a great blend of savory flavors with hints of spice from the ginger and the holy basil's clove-like flavor.
→Some of the links on this site and in this article are affiliate links that pay a commission for a completed purchase. This does not result in any additional cost to you. I do not write sponsored posts. I want to bring you real, unbiased information.
Ingredients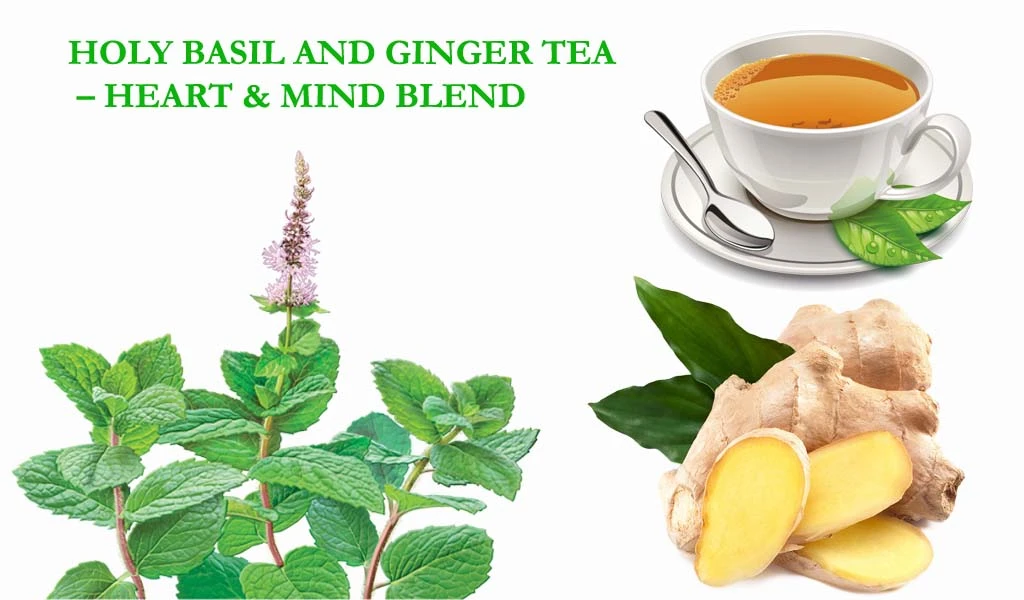 Directions
2″ cut of fresh ginger, peeled and sliced into even slices
2 - 2 1/2 cups of water (will lose some in evaporation)
8 to 10 Holy Basil Leaves
Optional honey or other sweeteners
Makes 2 servings
Boil the water and ginger together for 10 minutes.
Add the Holy basil leaves and continue to boil for 5 minutes.
Remove from heat and strain through a tea strainer.
Add optional honey or sweeteners if desired.
Enjoy!
If you are new to making tea from fresh herbs, there may be some basic items you could be missing from your kitchen. Strainers, infusers, and tea balls are some necessities that make herbal tea brewing easier. Other gadgets for advanced brewing and easier techniques are also available.
⇒ Click here to get everything you need to brew your own herbal teas at home. Kitchen Helpers- Herbal Teas helpers- diffusers-pots
About Herbs used in this Recipe
Holy Basil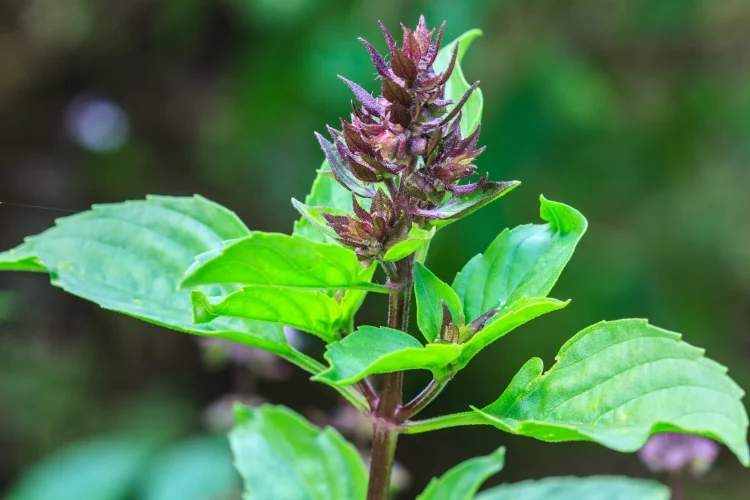 Holy or Sacred Basil is perennial type basil native to India. It ranges slightly in coloration from green to darker purple hints on green leaves. The flowers of this basil are very fragrant small pinkish to purple in colorization. The color variations do not impact the taste. They all carry similar anise-like flavors with hints of mint and a touch of pepper.
Rich in antioxidants, eugenol, and other nutritionally rich compounds have helped aid many ailments in holistic and alternative medicine. With its strong anti-inflammatory properties, it has been used to protect and aid digestion. Some research has also been done into the potential cancer cell growth-inhibiting properties displayed in this basil variety.
Holy basil has long been used by Hindu monks and is considered sacred to the Hindu god Vishnu. It is used when conducting morning prayers to ensure well being of one's spirit and family.
This herb's adaptogenic properties have made it a staple for naturally reducing stress and its effects on the body. Thought to increase natural resistance to stress-related diseases and anxiety.
Ginger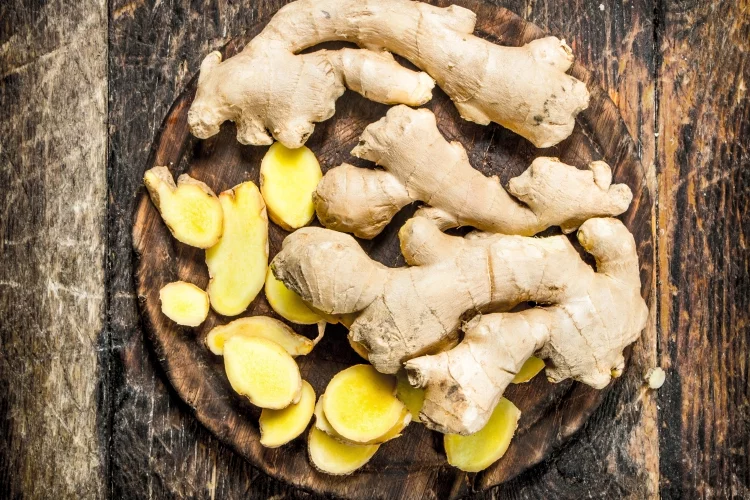 Ginger root has long been used in traditional cultures as an alternative remedy for many ailments. These include issues related to circulation, alleviating high blood pressure. It also possesses anti-inflammatory properties that have been shown to help those who suffer from joint problems, including arthritis.
Some recent research has even discovered that ginger was showing suppression in cancer cell growth.
The list of ailments it has been used to treat and found to benefit is vast. Like basil, it has been shown to aid in nervousness and stress relief. Gingers' natural warming taste has been soothing throat and bronchial irritations for millenniums.
Below I have attached a video discussing even more medicinal properties of these herbs featured in this recipe.
Benefits
You can learn more about the benefits of holy basil for anxiety and 6 other health perks through this video by Dr. Josh Axe from Ancient Medicine Today. These Include Aids Anxiety, helps, Adrenal fatigue, aids hypothyroidism, reduces acne, helps in blood sugar regulation, and stress buster!
Soothing Cup of Tea
I hope you have the opportunity to try this tea and other recipes on site. I find this to be a nice relaxing beverage to have any time of day.
Summertime comes, and this goes well over ice on a hot summer day. On occasion, I will add a bit of mint for some added freshness and some summer hints that it brings out. It balances nicely with the ginger and basil. It can also add to your normal iced tea recipe to jazz it up with a fresh herbal kick.
Herbal teas are so versatile they serve as bases and additives to teas and other beverages you already enjoy.
⇒ You may also be interested in how to grow basil indoors; an article previously posted here on inside herb gardens to help get you started on growing your own basil indoors.
Let me know what you think of this recipe, and if you have made any adaptations to this to better suit your taste, please share so others can try it out. You can share this post or any other post-on-site by clicking on those social icons on the left sidebar. Everything you need will be generated for you.
Related post: Ginger Root CO2 Essential oil Review
Happy Gardening & Brewing!