Easy Tomato Cucumber Salad with Mint and Parsley
reviewed by Truman Perkins
Use your fresh herbs to boost this delicious salad to new peaks of flavor perfection. Light and delicious reminders of summer delights that can have any time of year. This easy tomato cucumber salad with mint and parsley will become a family and friend favorite.
Nothing screams summer to me like the delicious flavors of the garden. At the peak of summer, tomatoes and cucumbers are in their most excellent production. Also, the herb garden has likely exploded with more than you know what to do with.
This salad will allow you to use both in a wonderful combination of freshness. Vegetarian and Vegan-friendly as well!
Ingredients in The Easy Tomato Cucumber Salad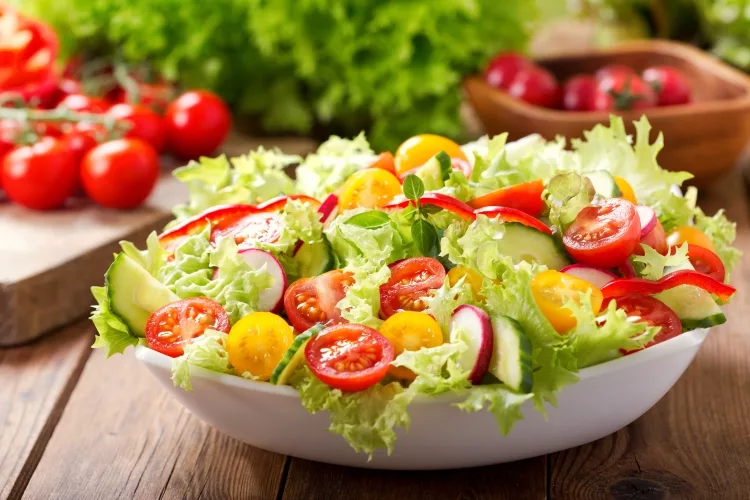 This is an essential list of the ingredients for this salad. You can make exclusions and substitutions based on your taste preferences. Following the recipe, I will offer some variations. These slight changes can bring this salad to different levels. You are helping it fit many courses and functions.
Main Ingredients
Tomatoes
The Variety is your choice. I find a lovely traditional flavored tomato with plenty of acid balances well with the flavors of the mint. Cherry or plum style will hold up better and produce less liquid when stored for a few days.
Cucumbers
English cucumbers work well in this type of salad. They have fewer to very few seeds at all—the skin, after washing, balances well and does not need removing. Any cucumber is usable that fits your taste.
Mint
Fresh Sweet mint or variety to suit you. Mint variations can add slight changes in the taste. I prefer the sweet type or an apple mint in this type of salad. Learn to grow your Mint Here.
Parsley
Curled is pretty, but the flat-leaf type offers more flavor. Dried flakes, if you must get yet fresh, are best! You can combine the two, some for taste others for garnish.
Besides:
Lemon Juice- for freshness and preserves naturally. It adds a nice tartness—part of the dressing to this salad.
Olive Oil – The Smooth base of the dressing in this salad. Substitute oils can be used if preferred. They will need to stay liquefied when cooled.
Salt & Pepper to Taste.
Optional but Highly Recommended!
Onions
Choose what is in season. I enjoy a strong onion taste but early in the season, the bunching type works wonderfully. Red onions add a crisp, spicy flavor. Vidalia favors more of a sweetness. Besides, fresh chives to the top of the serving add to the onion powder.
Sweet Peppers
A dash of nice bell pepper can add extra sweetness and nice texture. Yes, you can leave it out but so much better with the pepper! If you like hot, experiment with heat but too hot can bury the herb flavors.
Garlic
Also, optional but good for you and a great compliment. Don't worry too much about the breath. Mint and parsley are both natural breath neutralizers!
Ingredients
Directions
2 Cups Sliced and Quarter English Cucumbers (or alternative cucumbers)
2 Cups Halved Cherry Tomatoes (or equivalent chopped tomatoes)
½ cup Chopped or Diced Onion to preference
1 cup Sweet Pepper Chopped
¼ cup Finely cut Fresh Mint leaves (no stems)
¼ cup coarsely chopped Fresh Flat Parsley leaves
2 Cloves of Garlic peeled and minced
3 tbsp. Extra Virgin Olive Oil
1 Whole Lemon juiced (about 2 tbsp. lemon juice)
Kosher Salt (salt)
Fresh Ground Pepper
Makes six servings
Mix the tomatoes, cucumbers, onions, bell pepper, garlic, and mint in a large bowl.
In a separate small bowl whisk together, the Olive oil and Lemon Juice until well blended.
Add oil and lemon mixture evenly to the large bowl mixing gently.
Mix in most of the parsley, leaving a few pieces remaining for top garnish.
Season with salt and pepper to taste.
Garnish with remaining parsley. May also use some additional mint leaves or chopped chives for added flavor and look.
Chill or serve immediately. The flavor is better chilled overnight. Stays 3 to 4 days covered in the refrigerator.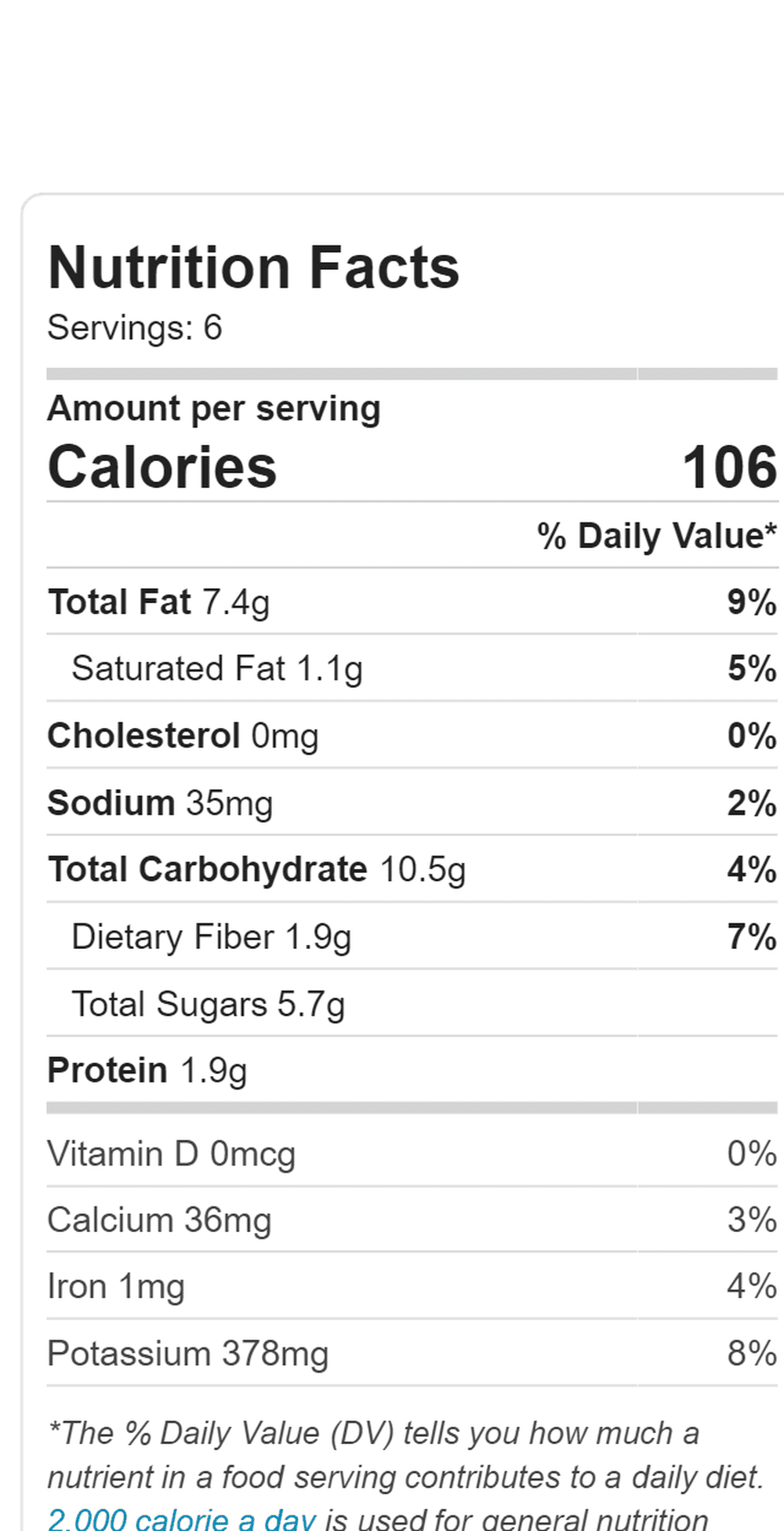 How to chop mint
Excellent tips on how to chop mint or other fresh herbs. For this recipe, you should chop twice to get the more delicate cut that is ideal.
Variations: Use these separately or in any number of combinations.
Avocado:
Chopped-up avocado in this easy tomato-cucumber salad brings it to new levels of nutritional boosts. Avocados' healthy fats, protein, and fiber will enrich this making it a balanced complete, light meal.
Citrus:
Try this with orange or grapefruit. Grapefruit is not a favorite of mine, but it is lovely in this salad. I know it is good for me to enjoy the victory when I find a way to use it! Added with the avocado, it seems like a perfect pairing.
More Crunch! Need more texture. Add some celery, carrots, or even a nut option to this salad.
Cold Pasta Salad! Take your favorite cooked and cooled pasta choice and toss it with this salad. It makes a great dish to pass at the next family picnic!
Works in Green Salad Too! This is already dressed, so no additional dressing is needed. Use your favorite salad greens for a quick tossed salad.
Make it a fine chop! Chop everything finely and use it anywhere you would use Pico de Gallo. Change up your favorite Mexican-inspired dishes with a different milder fresh salsa.
There is such versatility in flavor that additions can be limitless. Olives, cheese or cheese substitutes, fruits and more are all options. Try and see what works for you!
Inspired by an Israeli Salad
This lovely salad is an inspired dish derived from a traditional Israeli tomato-cucumber salad. This version cuts down a lot of the oil and salt in the original without sacrificing flavor.
Traditionally found in morning meals enjoyed in Israel. These salads featured similar ingredients and were often stuff in pitas with falafel. Although mint was not a traditional ingredient, it was sometimes used as well as sumac or za'atar.
Did you know that Parsley, Mint, and Chives mentioned in this article are all herbs that will grow in low light? That makes them ideal for indoor gardens all year. Learn more about these easy to grow herbs here.
Light and Delicious Lunch with Fresh Herbs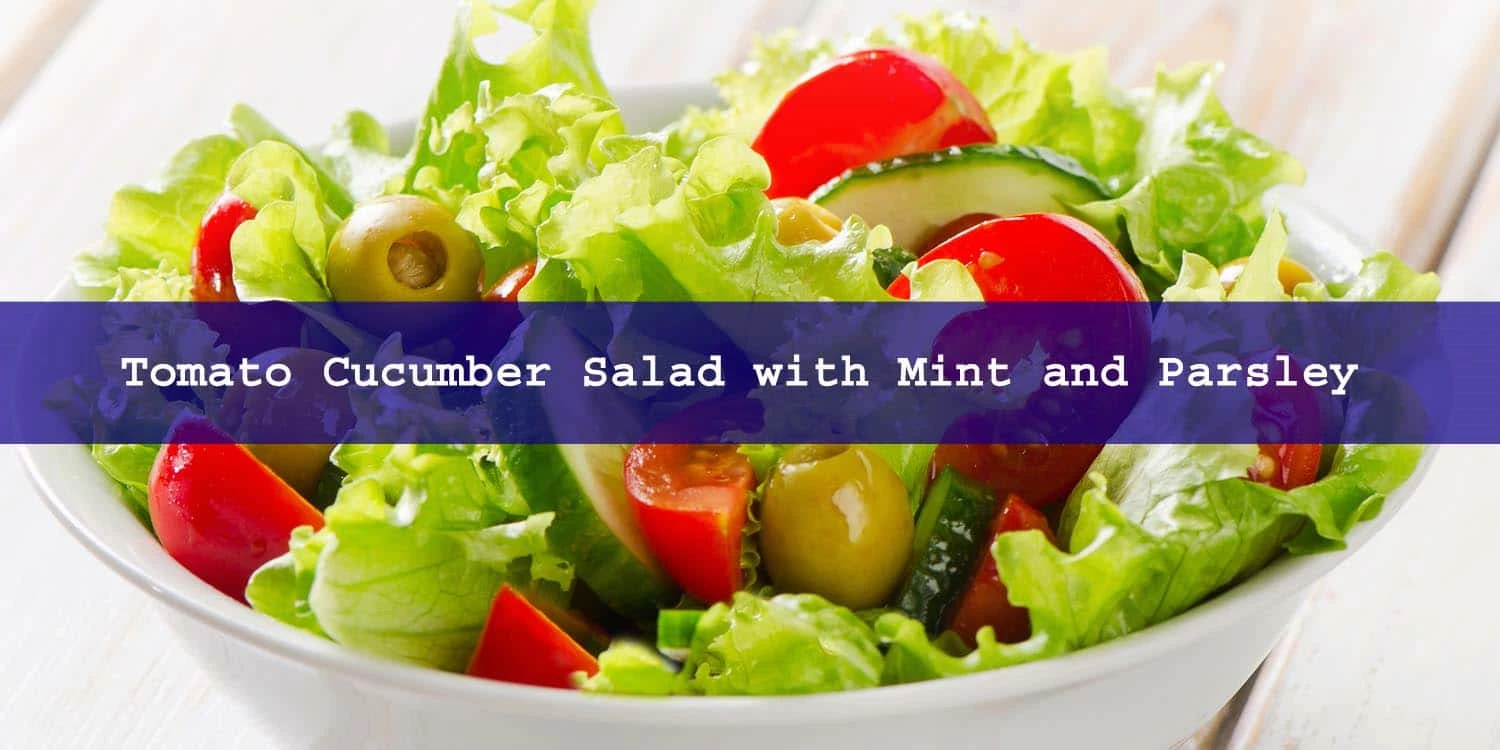 My favorite way to enjoy this easy tomato cucumber salad is at a mid-day meal—such a light, refreshing break in the day that doesn't weigh you down.
How would you use this salad, which meal would it suit you?
I look forward to hearing how this recipe works for you. If you make any variations, let me know. I would love to try your take.
Enjoy Your Herbs!
Recommendation: