Basil is a well-known culinary world that can be found in many home and professional kitchens. It is a standout for its rich flavor and aromatic scent. Basil plant benefits and uses stretch well beyond the kitchen and are used in herbal medications and natural therapies.
Basil has generations of history as an herb to treat a wide variety of different conditions, from simple bug bites to an antidepressant.
Botanical Names
Ocimum Basilicum, Ocimum basilicum var. citriodorum (lemon), Ocimum basilicum var. purpurascens (opal), Ocimum basilicum var. minimum (bush or Greek)
Common Names or Other Known Names
St. Joseph Wort, Common Basil, Sweet Basil, Garden Basil, Luole, Thai basil, Tulsi, Arjakaand, Albahaca, and various sub-varieties
Basil Origin
Native to India, Pakistan, and other warm climate regions of Asia. Introduced into Europe sometime in the sixteenth century.
Information About Basil – Identification, Uses, and Benefits
Basil Varieties
There are many varieties of basil that are heirloom and hybrid types. This list is a general look at some of the popular types.
Sweet Basil or Genovese – Green type, typical garden variety, white flowers
Lettuce Leaf – Large crinkly style leaves, hardy grower, white flowers
Green Ruffles – Brighter green leaves with long rough edges, very ornamental
Spicy Globe – Compact bush type, with similar qualities to sweet basil
Lemon Basil – Delicate leaves less curled with a lemon scent undertone.
Thai Basil – Larger growing bush with dark purple stems and flower spikes. Spicier flavor and scent.
Cinnamon Basil – Dark green leaves and pink flower spikes. Distinct spicy flavor and added spice to the scent.
Red Rubin Basil – Red to purple-red color leaves. Slightly more bitter in flavor.
Holy Basil or Tulsi– Purple flowers with grayish-green leaves.
Identifying Basil
Basil is a green leafy plant with some unique traits that make identification easy. (Opal and Rubin's varieties are purple to red in color) One of the easiest ways to identify Basil is by its scent. Even the multiple varieties will still carry a strong, almost anise-like scent that is semi-sweet but pungent.
Basil leaves are oval-shaped with a smooth or slight toothed edge with a shiny finish. The leaves tend to cup over slightly as they mature. Distinct types of basil cause leaf changes, but most carry similar characteristics.
As part of the mint family, basil grows from a square-type stem. The maturing stems become thicker and woody at the plant's base and thin out towards the youngest growth. Basil has a bushy growth pattern that reaches a height of 2 to 2 ½ feet when untrimmed.
Flowers form on mature basil in the form of spikes from the center of the stem. Typically, they are purple or white in color.
Usable Parts of Basil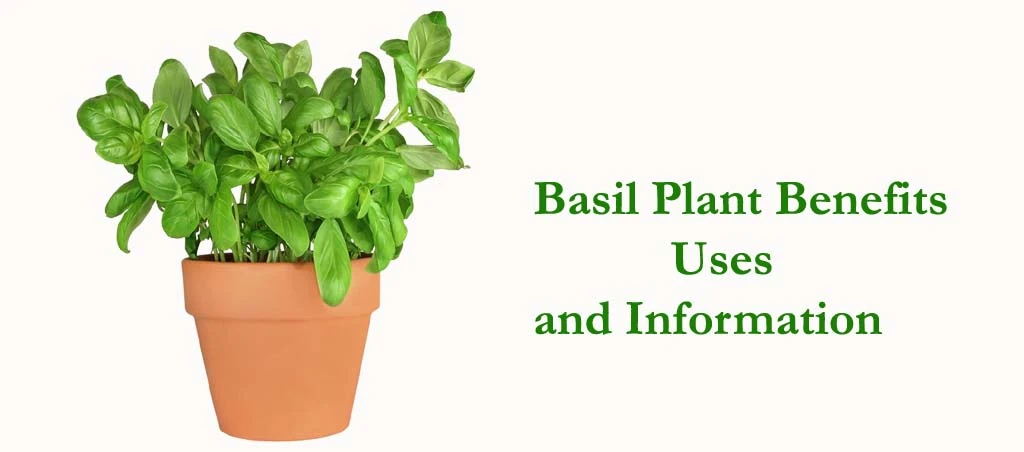 Leaves, essential oil, flowering tops, and seeds
Basil Contains
Eugenol, citronellol, linalool, myrcene, camphor, estragole, pinene, rosemarinic acid, and E-Beta-Caryophyllene.
Basil Plant Benefits & Uses
Culinary
There are many ways to use basil in cooking. I find it to be a staple in my kitchen, fresh, dried, and in extracts. This is a basic list.
Basil is commonly used in pairings with tomato dishes and other Italian and Greek food.
It also pairs well with many non-citrus fruits like peaches and berries.
Pesto is widespread use of basil that has popularity across cultures.
Soups & Sauces.
Medicinal
If you were to look up basil benefits for holistic treatment and natural therapy, the list would be a lot longer than this as most of the world has long recognized this wonderful herb as a major healing element. Here where I am from, the United States, it has been diminished sadly to a mere cooking herb.
Basil has been used as a common treatment for intestinal parasites and other intestinal ailments, including diarrhea.
Increases immunity and disease-fighting antibodies.
Fights mental fatigue through scent stimulation and aromatherapy.
Brain stimulating to help improve memory and lift brain fog.
Basil is considered a natural anti-depressant. Stimulating hormones and the adrenal cortex help regulate the body's response to stress and lift the mood.
Induce labor and regulate menstruation.
Anti-inflammatory, soothing arthritis and stimulate the body's cannabinoid receptors that inhibit inflammation.
Lung congestion caused by colds, bronchitis can be relieved by the expectorant qualities of Basil.
Treat allergies, hay fever, and asthma-related symptoms through inhaling oil or massage.
As poultices to treat rash related to bug bites and other allergic reactions.
Religious
Often used on the altars of Greek Orthodox Churches.
In India, basil leaves were placed in the dead's hands to ensure a safe journey to the next world.
Jewish faith finds strength in fasting by holding basil in hand.
In Mexico, planted in front of the home, Basil was said to ward off evil.
Basil Safety Precautions & Warnings
Normal cooking amounts are considered safe and not harmful.
Medicinal amounts and treatments should not be used for infants, small children, pregnant women, or breastfeeding.
Those with diabetes should use this herb medicinally with caution.
See additional potential cautions on WebMD.
⇒Disclaimer: The information presented here by Inside Herb Gardens and Its Authors is intended for educational purposes only. The FDA has not evaluated these statements and is not intended to diagnose, cure, treat or prevent disease. Individual results may vary. Before using any herbs, supplements, or other natural treatments, it is always advisable to consult your own doctor or medical professional.
Basil Gardening Information
Basil is an easy grower that works both in indoor gardening and outdoor spaces. It can be grown from seeds and cuttings. This is an annual plant that will need to be planted every year. In warm areas, self-seeding is possible. Extended growth can be done by growing the plant indoors and keeping it from reaching the flowering stage.
Read more about growing basil from the article below.
Other Resources:
Articles:
References:
Shop:
Final Thoughts on Basil
Basil has always been one of my favorite garden herbs to grow and use. Primarily for cooking, but I enjoy the many other basil plant benefits as well. As such a versatile flavor in the kitchen, it can become quite easy to add many of this herbal powerhouse's rich benefits to the foods you enjoy every day.
I have not enjoyed all the medicinal health benefits of basil personally. Bug bites are something that I was introduced to at a young age, though, and I would adamantly say it works. A macerated leaf rubbed on an insect bite I have found to be some of the best relief to itchy.
I find it unique that where I live in the United States, so little emphasis is put on herbs' healing opportunities; basil is one of them. However, anyone would understand its use in the kitchen and likely have it in some form available. Many would not realize the potentials it has. As always, I hope to grow that. Not only your gardens but your knowledge.
I look forward to hearing your thoughts on Basil. Please share below!
Be well, happy and healthy!