Ever gone for a nature walk into the tropical highlands, camping at the mountain tops during winter or spring? When up there, the overwhelming and magnificent greenery view of landscapes drives satisfaction in every breath. The trees, grass, herbs all make a green horizon that calms, elevates peace of mind, and brings a meditative relaxation into your life. This is the exact picture we all want to reflect in our limited space through house planting and outdoor gardening.
Look! Many people globally want to facelift their homestead by growing plants and flowers using planter pots. Designers are also at the front line, designing aesthetical outdoor and indoor gardening pots with myriads options to choose from. These planters come in different sizes, shapes, styles, materials, and usability experiences.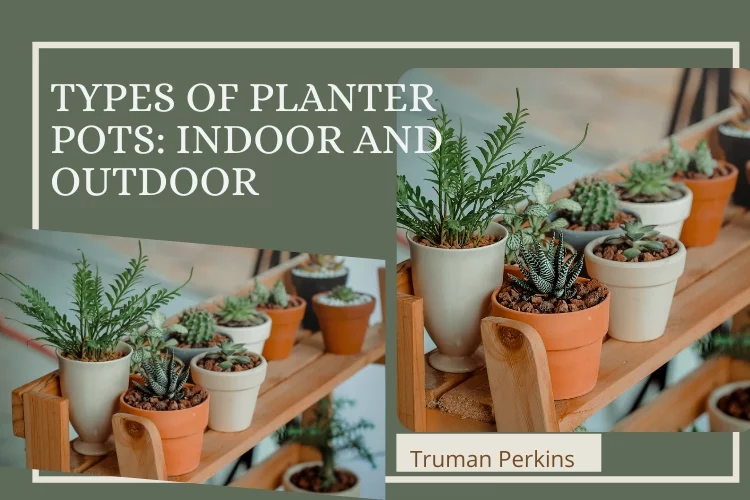 What is Planter Pot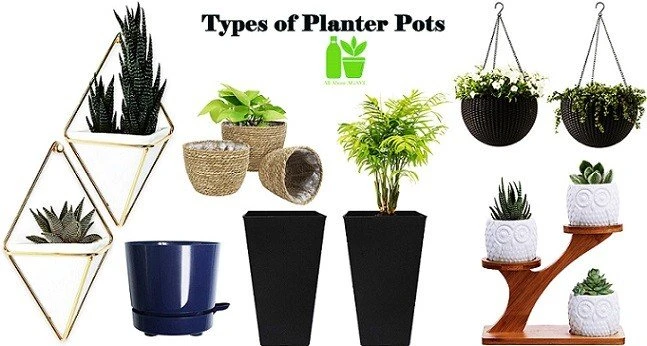 Planter pots are effective containers in which gardeners plant flowers, herbs, and medium-sized plants. Pots are ideal solutions for people with limited space as they help them embrace gardening. They display plants indoors, driveways, hallway, balcony, and small patio. Apart from their decorative sense, they add texture, color, and style to the house or garden.
Why Use Planter Pot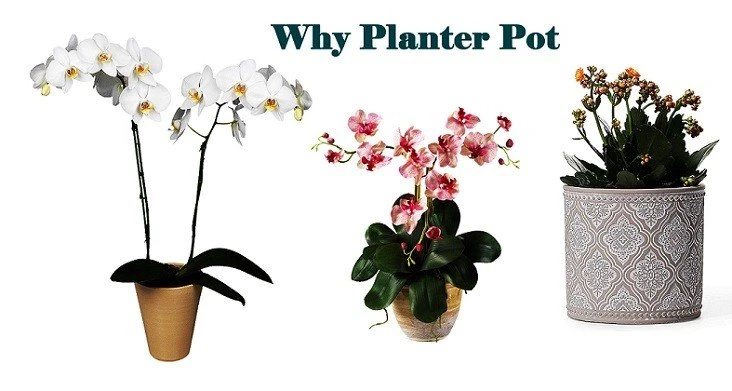 Planter pots are essential tools that make gardening flexible. Firstly gardeners utilize them to grow delicate plants affected by adverse weather. For this reason, you can take them inside incase the environmental conditions fluctuate to protect them.
Secondly, since the containers come in various sizes, colors, shapes, and styles, you can use them to add a unique design. Moreover, planters pots make it change the whole look and feel of the home. This is possible by changing their position and content seasonally.
Types of Planter Pots for Indoor and Outdoor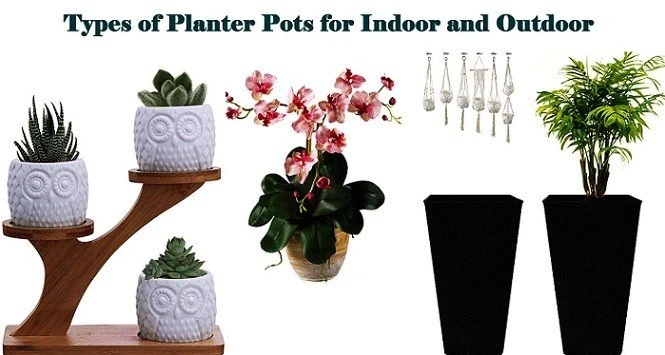 This brief guide classifies planter pots using their features, sizes, styles, and materials to help you select the type that satisfies your needs better. Further, you need to know the planter pots options you have in each category, benefits, and shortcomings.
Types of Indoor and Outdoor Planter Pots Based on Materials
There are plenty of materials to design planter pots, although each has its benefits and disadvantages, which this section will cover. However, there are additional factors you should be mindful of when looking for reliable planter pots make. Material making the planter pots affects the tool's lifespan, cost, resilience, drainage effectiveness, weight, durability, and aesthetic features. Check out various material options available for indoor and outdoor planter pots.
Terracotta Planter Pots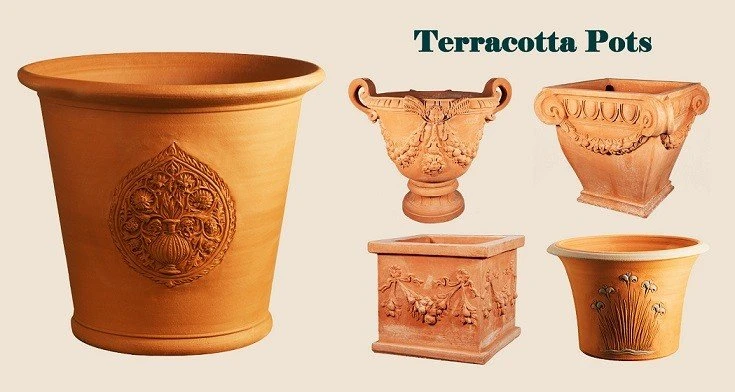 Are you looking for a classical style in a planter pot? These pots feature traditional designs that give a gardener a sense of a classical lifestyle. Terracotta means 'baked earth.' Literally, manufacturers develop this clay-based ceramic by subjecting the substance to very high temperatures. Terracotta makes the best pots for ZZ plants that require proper aeration and drainage.
This material can design planters with several colors such as beige, pink and brown. However, you will find that pots manufactured assume the traditional red-orange colors in most cases. The material is strong yet allows proper circulation of water and air around the soil. Terracotta creates pots that help the plant absorb moisture smoothly. However, you must be watering your plants frequently on the flip side; else, your flowers may dry.
Plastic Planter Pots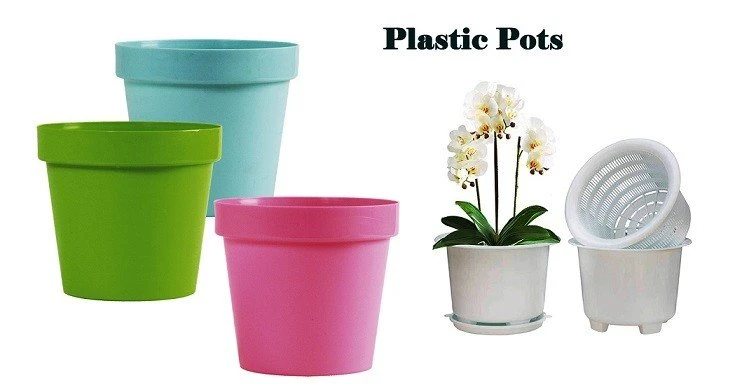 Factually, plastic is an ideal material for making planter pots with unimaginable beauty. You can further transform plastic such that it mimics other planters making options like ceramic, stone, concrete, and various impressive appearances. With plastic being very versatile, you can manufacture durable, affordable, lightweight pots suitable for growing healthy plants and flowers.
Plastic makes unique pots for growing vegetables; however, the quality of the planter you get depends on the cost. Planter pots made from hardened, durable plastic such as polypropylene are more expensive and have excellent heat insulation properties. Additionally, light plastic pots are better as dark ones absorb more heat, which has adverse effects on the plants in the long run.
Wooden Planter Pots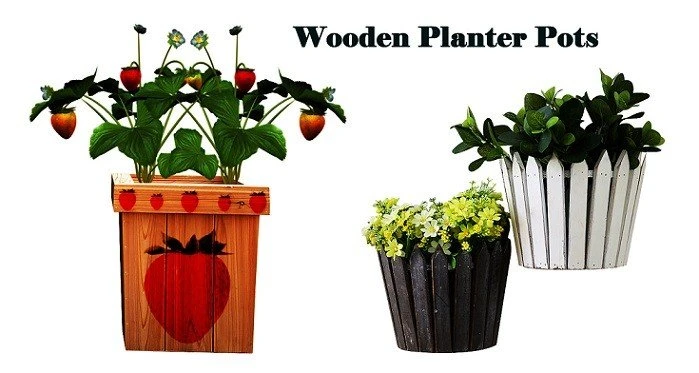 Wood is a natural aesthetical material usable in manufacturing stylish planter containers ranging from classical to contemporary. With wooden posts, you can customize the size and colors of interest. Gardening pots made from the right-quality woods can last long with proper maintenance. Shallow wooden plant pots around 12 cm deep are reliable planters for strawberries.
Quality woods like cedar and redwood make superb pots that can last for many years, even under exposure to harsh outdoor environmental conditions. However, not many gardeners would afford their expensive price tags. For more pot durability, metallic fasteners and nails used in wood planter pots should stainless steel made to prevent rusting.
Metal is the sturdiest material that makes planter containers with multiple designs. Whether painted, brushed, or any metal surface can still make a quality planter pot. Metal can adjust to traditional or modern styles and still produce intricate gardening pots. Metal blends with interior furniture and decoration elegantly, making it the right choice for houseplants.
Due to their high-end durability, metal makes dependable pots for herbs and other plants that thrive well indoors. Many gardeners appreciate metal containers' performance, though the cost of metal pots is a bit high, limiting their purchasing power.
Fiberglass Planter Pots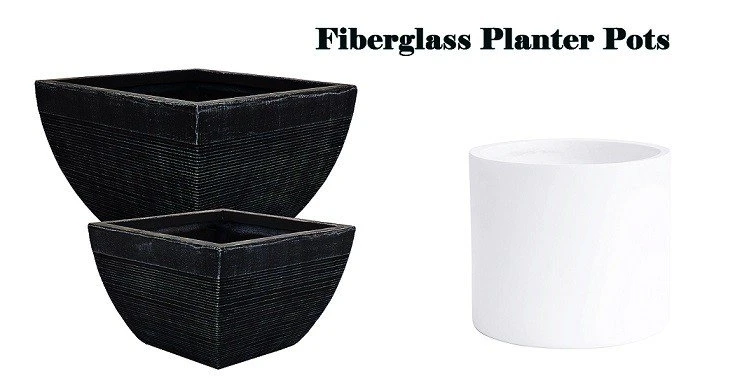 These planter pots are rare, powerful, and retail a bit expensive. They work well with indoor and outdoor plants. Due to their hard-to-find nature, getting a suitable size is not easy. Their designs are ornamental and have a sense of class. The manufacturer can work on them to mimic other materials like stone or wood. One main disadvantage with fiberglass needs careful handling since it can break or crack if dropped.
Due to the incredible designs fiberglass can take, in most cases, you will find new buyers mistake it from ceramic, plastic, and terracotta. Apart from making several custom designs, brands use fiberglass to create fantastic pots for spider plants. Their lightweight nature makes them an attractive option for designer gardens.
Polystyrene Planter pots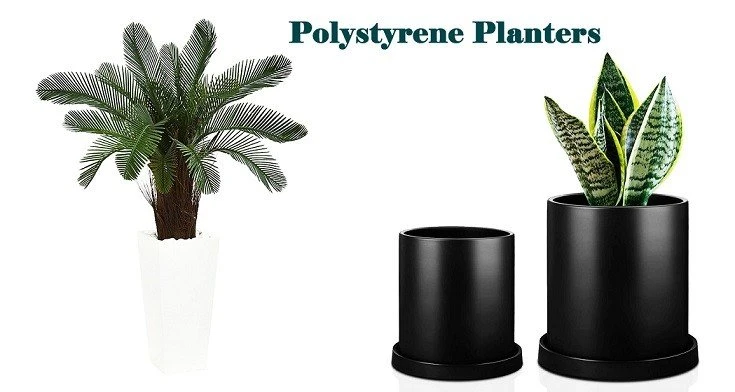 The market is full of these planter pots material options, so finding the one that meets your decoration choice is effortless. Today, many people prefer this because although nonporous, they retail cheaply and are available in all sizes and finishes. They have all sizes; you can get even 5-gallon pots for citrus fruits, tomatoes, and other food crops.
Ceramic Planter Pots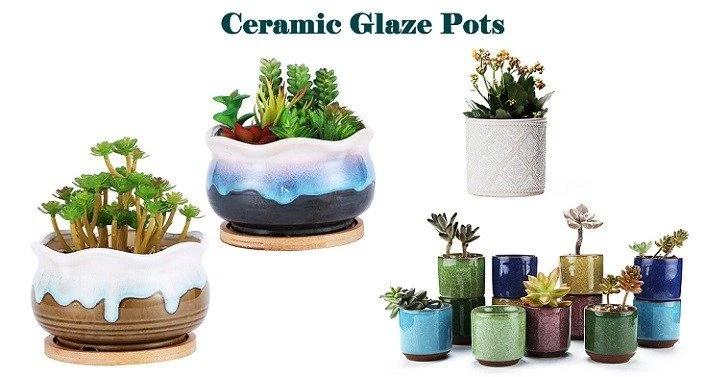 Are you thinking of subtle colors? Ceramic is probably the most versatile option in the market featuring vibrant glazes and bright color tones. This material is suitable for varied styles to fit any plant growth needs and can withstand freezing, therefore a durable option to consider in your outdoor gardening. Glazed ceramic favors tropical plants, so the material is preferable when designing pots for Christmas cactus and other succulents.
Glazed ceramic pots are mostly imports from Asia, where they process on a large scale. It would be good that when you receive your package, you check if there are any cracks as they are brittle in case of poor handling.
Stone Planter Pots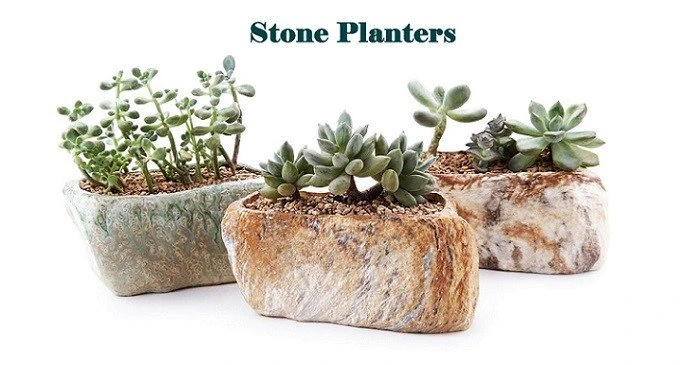 Ever heard about these containers before? They may be prevalent, but trust me, these containers are coming back and in fashion. With proper modern tools, the stone is cut in shapes to create these fantastic aesthetic pots. The main benefit of such gardening containers is that they are sturdy and durable. Due to their poor drainage, however, they are suitable for tiny plants, and that's why you will find many pots for bonsai made of stones.
2. Types of Indoor and Outdoor Planter Pots Based on Design
We cannot ignore ideal styles after understanding what materials are favorable in making long-lasting, aesthetic, and overall quality planter pots. This section will cover exclusive techniques that can make your backyard a better place with nature, charming flowers, and plants.
Hanging Planter Pots
Many gardeners appreciate the powerful effect created by these unique styles. Hanging planters further matches the colors of the freestanding pots in your homestead. Having these hanging planter pots for pothos makes a fantastic and aesthetic image at your home. Many homes have these planters displays matching the rest of the decorative pots' color and material.
Usually, the pots for hanging plants are smaller, but several of them, each with the same flower or plants, create a pattern. Mounting the planters on the concrete walls using hooks is easy, hence as a gardener, you can do it without spending a penny.
Elevated Planter Pots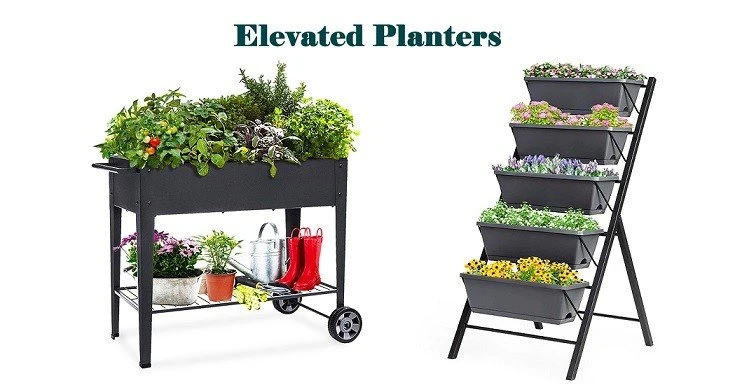 Have you ever seen elevated planters before? When arranged in long rows, they create unique patterns that mimic raised garden beds. They are elevated from the ground to form elegant designs that bring nature to your doorsteps. However, their decorations work great outdoors and mix different varieties of flowers.
The elevated planter designs take in the form of stairs, where the first portion is at the ground, the next slightly above the first portion, and this connection continues up. You can have as many varieties as you wish, such as pots for herbs and pots for orchids, all in the same garden.
Multi-Combo Planters Design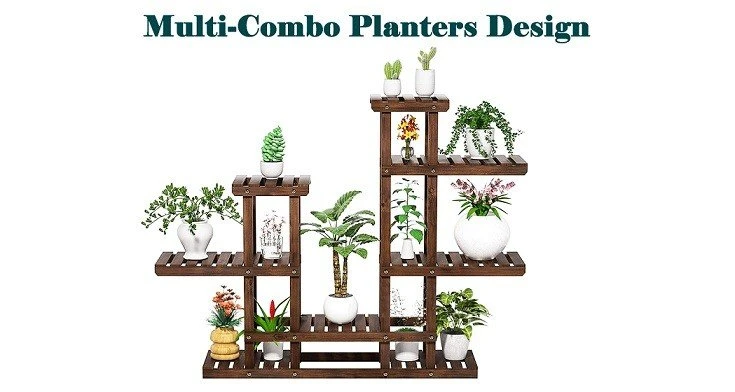 As the name suggests, this is a way of displaying multiple-sized plants in your yard. For instance, you have only pots for bamboo plants, designed such that some are big, medium, and other small sizes. What brings size difference is not trimming but the planter pot's size. The planters' design involves several freestanding trees. Although it is commonly an outdoor design, it creates modern vibes when planted in smaller pots and placed indoors.
Mounted Planter Pots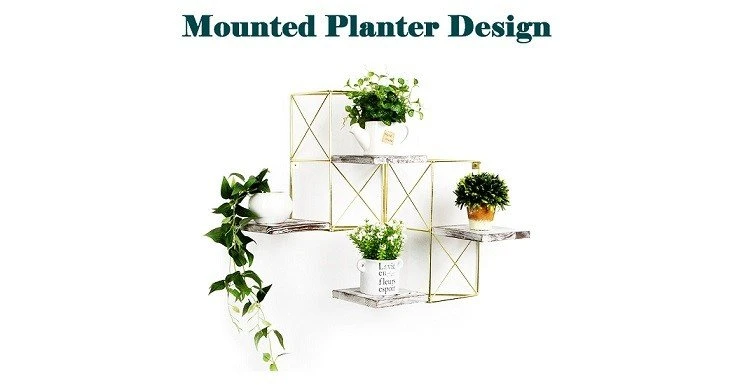 We all have seen these modern designs in our homes. Mounted planters create an outstanding greenery appearance. They are usually used indoors to accent television sets, furniture, and other accessories. Mounting options in our houses are endless. However, the style only works on the upright equipment, even the walls. Planter pots for amaryllis are elegant when mounted indoors.
Plant varieties that work great in these styles are those creeps on support substances like a fly trap. Therefore planter pots for fly trap fit most of this design. Unlike other designs here, if you want a subtle outlook, your indoor planters should have only one variety.
Freestanding Planter Pots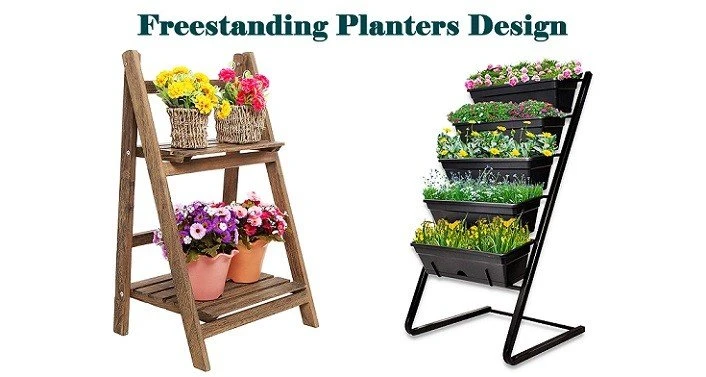 These planters' designs can make your backyard lit. They are common styles in modern gardening where each pot is stand-alone. Indoor planter pots for peace lily are freestanding planters if placed on the ground surface without any patterns. You place one pot at the entrance, another somewhere in that order. Also, note in the pot, there should only be one tree.
Self-Watering Planter Pots - Link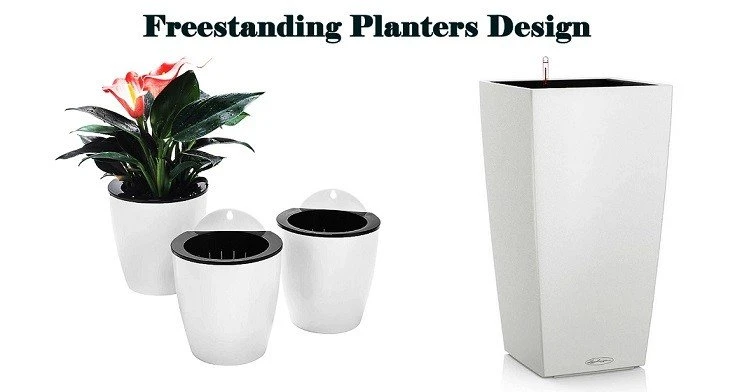 Self-watering is not what the superficial meaning implies. It literally means that these containers provide consistent water in the form of moistures to the plants and flowers growing in them. This further helps the gardener not water the plant as frequently as those growing on typical containers. The mechanism behind self-watering is where water is not poured directly to the planter but into the reservoir instead.water is then wicked onto the pot placed above the reservoir in the form of moistures.
Self-Watering Systems Available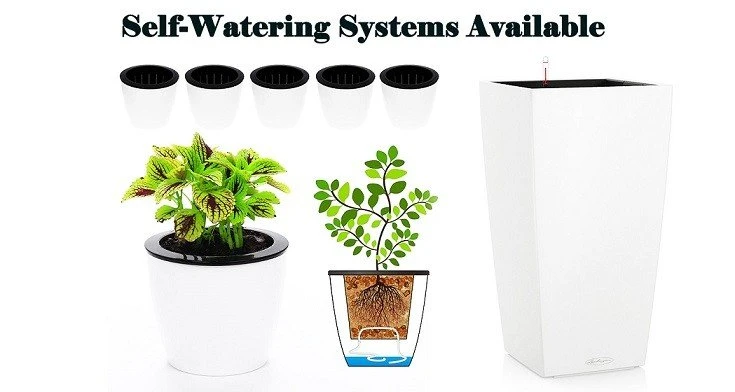 There are two common self-watering systems.
A. 'Wick' system. Here, a wick like a capillary mat or an absorbent tube-shaped is placed inside the container. The tube has one end inside the potting mix and the other end at the reservoir.
B. section divisions. In this sense, the planter pot has sections where some sections sit in the reservoir, and the potting mix is in direct contact with the water. The planter draws water from the reservoir through capillary action. This is the most common style in the market.
Basic Features of Self-Watering Planting System
This planter contains the plant and the potting mix; however, there is a bottom reservoir.
Reservoir
The size of the reservoir depends on that of the container. This means 5-gallon nursery pots may require bigger pools. Classical reservoirs were big such that the on top could be several containers.
Full tube
This is a kind of opening through which water is poured into the reservoir. The tube placement depends on the planter's style, where could also be just a simple opening with direct access to the reservoir. Some tubes come with caps that block particles or pests from entering the reservoir.
Indicator
Some custom planters are convenient, where you can see the water level in the reservoir and indicate when to refill.
Overflow mechanism
Quality planters have this mechanism that drains out excess water, preventing waterlogging on the plants. Therefore, if you overfill the reservoir or rainwater fills it, the plants are still safe. Finally, the planter should have a drainage hole where you can drain water where you want to bring it inside or at the end of the season. Mostly, planter pots for bamboo have a self-watering system.
Benefits of Modern Commercial Planter Pots Over Ordinary Ones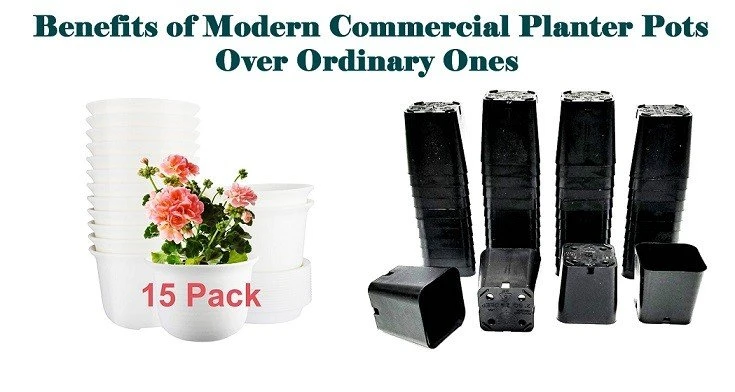 Misunderstanding and lack of proper information can cripple any sector of the economy. For instance, some people are passionate about container gardening, yet they do it all wrong by assuming that buying custom planters is over expenditure. I bet flowers and plants at your own lacks aesthetical sense because maybe you are using ordinary pots, converted wheelbarrows, and other containers. Some of the house items you misuse are costly and can cause your plants not to do well or dry altogether. They lack basic contemporary properties like drainage, shape, style, and size.
Nothing good comes easy, you buy commercial planters, and surely, they will make your indoors and outdoors vibrant, beautiful, natural then you can imagine. Below are some advantages you enjoy by using commercial pots over ordinary planters.
Functionality
Modern designers use creative innovations to make the most functional planter pots. Some of these contemporary containers have inbuilt lighting systems that help illuminate rooms or outdoor areas. The illuminated outdoor planters make the view overwhelming, serve as security and shelter options.
Firstly, the lights in them are enough security illuminations to make the intruders be seen from a distance, especially at night, which ordinary pots lack. Secondly, large planters such as pots for cactus make a security wall between your house and outside, where passersby cannot see what goes on around the house, either front or backyard.
Aesthetical Finish
Irrespective of modern pots' texture, you can be guaranteed that they will be beautifully polished. Most modern planters feature unique, authentic finishes in indoor or outdoor styles. Moreover, these pots come in special forms that work ideally in interior and exterior decorations interchangeably.
Trending Designs
Things change with time; modern pots are made to blend perfectly with contemporary indoor and outdoor decoration themes. Ordinary planters have no styles or designs as they are just objects and container alternatives.
Self-watering Properties
It is literally impossible to see classical pots or ordinary planters having the self-watering capability. These options make gardening effortless and more convenient. Self-watering makes container gardening cost-effective and less labor demanding. There is peace of mind and satisfaction since you won't find your crops dry when on vacation.
Versatile Experience
Yes, modern planter boxes are way too versatile. Actually, they are designed lightweight, portable and average-sized. For this reason, you can place them anywhere, like hanging planters on sinks, bathroom tap, hang on the ceiling without looking odd. Some ordinary containers are way too have and require bigger space like backyard gardens. Moreover, you can use them outdoors and indoors by mounting them on walls or rails. Commercial pots give recommendable options for embellishing your garden, offices, commercial spaces, etc.
Durability
The durability of the ordinary pots has no order. Some commercial planters are made of materials like fiberglass, stone, and metal, making them long-lasting. Actually, some commercial makes are resistant to adverse weather conditions.
What You Should Know About Plant Liners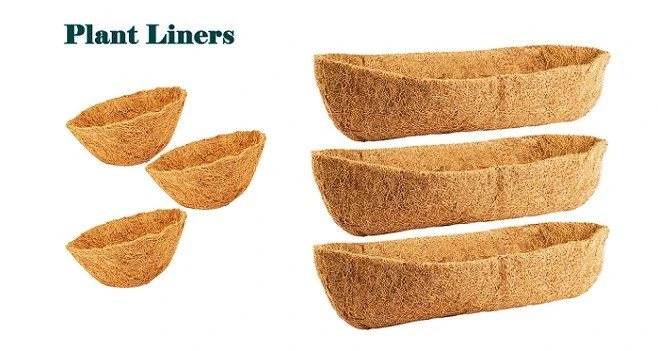 Plant liner may mean starter plants that need more stay in the nurseries or custom liners for pots. Practically, starter liners are sold to commercial breeders or nurseries where liners for pots are bought by gardeners who want to use them on some plants.
Plant Liners
They are named so because they are tiny plants that are often grown in long trays where a try has many sections, and each section has individual seedlings. However, larger plants or shrubs are grown in different pots and not trays. When plant liners grow large, they are transferred to a new individual pot for commercial purposes.
Pot Liners
Well, these liners are placed in planter pots or hanging baskets. They can either be in the form of a wire for hanging or open design planters to hold the soil and help in moisture retention. In most commercial cases, planter liners are merely plastic pots slipped into a bigger decorated clay, ceramic, or other pot types. Moreover, liners can be plastic bags, coconut fiber, or moss.
You cannot undermine the effectiveness of a pot liner. Potted plant liners make cleaning effortless and help reduce the loss of moisture.
Conclusion
If you live in a rented apartment or a smaller house with no enough space for planting what you want, it doesn't mean you cannot have amazing flower decors. Planter pots are there to help you realize the aesthetic home of your dreams. This article explains briefly various styles, materials, and factors you should follow to have successful pots for ferns, peace lily, and other flowers in your homestead. Now you know everything about planter pots, it is time you make your backyard beautiful.