Cannabidiol or CBD oil is the "BIG Talk" around the internet, lawmakers, and the health community. Everyone's excited about the benefits. BUT! Who is discussing the Side Effects of CBD Hemp Oil or the alternative of medicinal marijuana-based CBD?
Before taking any medications or supplements, I know that I want to know what this will do to me and the possible reactions. Don't you? Let's talk about them openly and honestly.
For this article, I want to keep the focus purely on Hemp-based CBD oil. This type is legal in all 50 states here in the U.S. and becoming an option for many countries.
I uncovered some surprising things in my research, including some shocking revelations you will want to know!
This quick look will give you a walk-through of what you can expect to see in this post. Although the video touches on the subject, the article goes into many essential details you won't want to miss!
Potential Side Effects of CBD Hemp Oil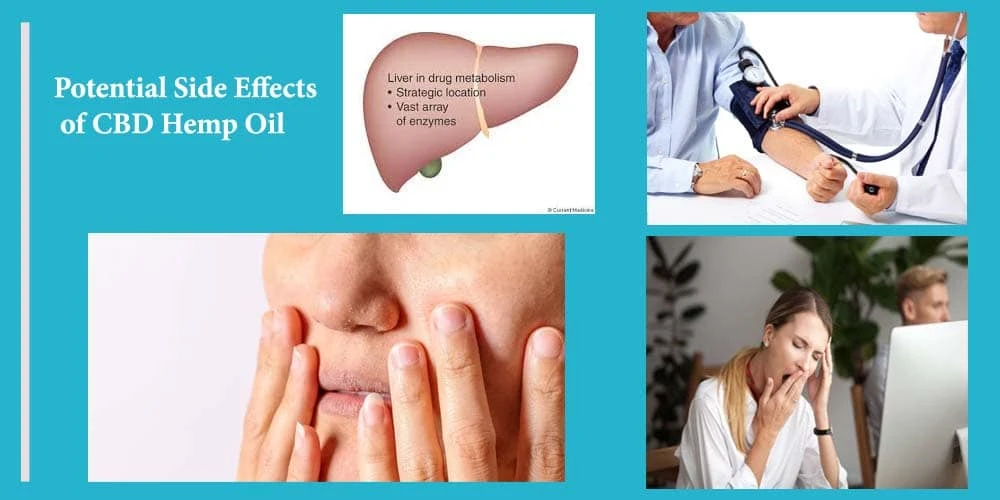 Before I frighten you all away, let me soothe you a bit before we go further. Most of the studies and people using this oil had a common consensus that kept coming up. That was, there were very few side effects from the use of CBD-derived hemp oil. That does not mean zero, but for the majority, NO unpleasant side effects occurred.
⇒ Let us look at some of the side effects that were reported and uncovered in my research.
Dry Mouth
This was the most common side effect I found and not all that surprising. A common term is known as "cotton mouth," referenced by marijuana smokers for years. Studies found that CBD oil, even from hemp, can impact saliva production in the mouth. This does not affect your health but can cause you to have an increase in thirst.
Hepatic drug metabolism, in simple terms, is how the liver processes some prescription drugs. This can pause when using CBD. Although a side effect, it is not entirely negative. By design, CBD does this to protect the body from harmful compounds. This includes one of its components in the form of THC.
This is not a side effect of CBD hemp oil alone; a simple grapefruit can have an equal impact on liver metabolism. Where it is concerning is in relationship to other medications you're prescribed. Avoid any complications by discussing this with your Doctor or Pharmacist.
Lower Blood Pressure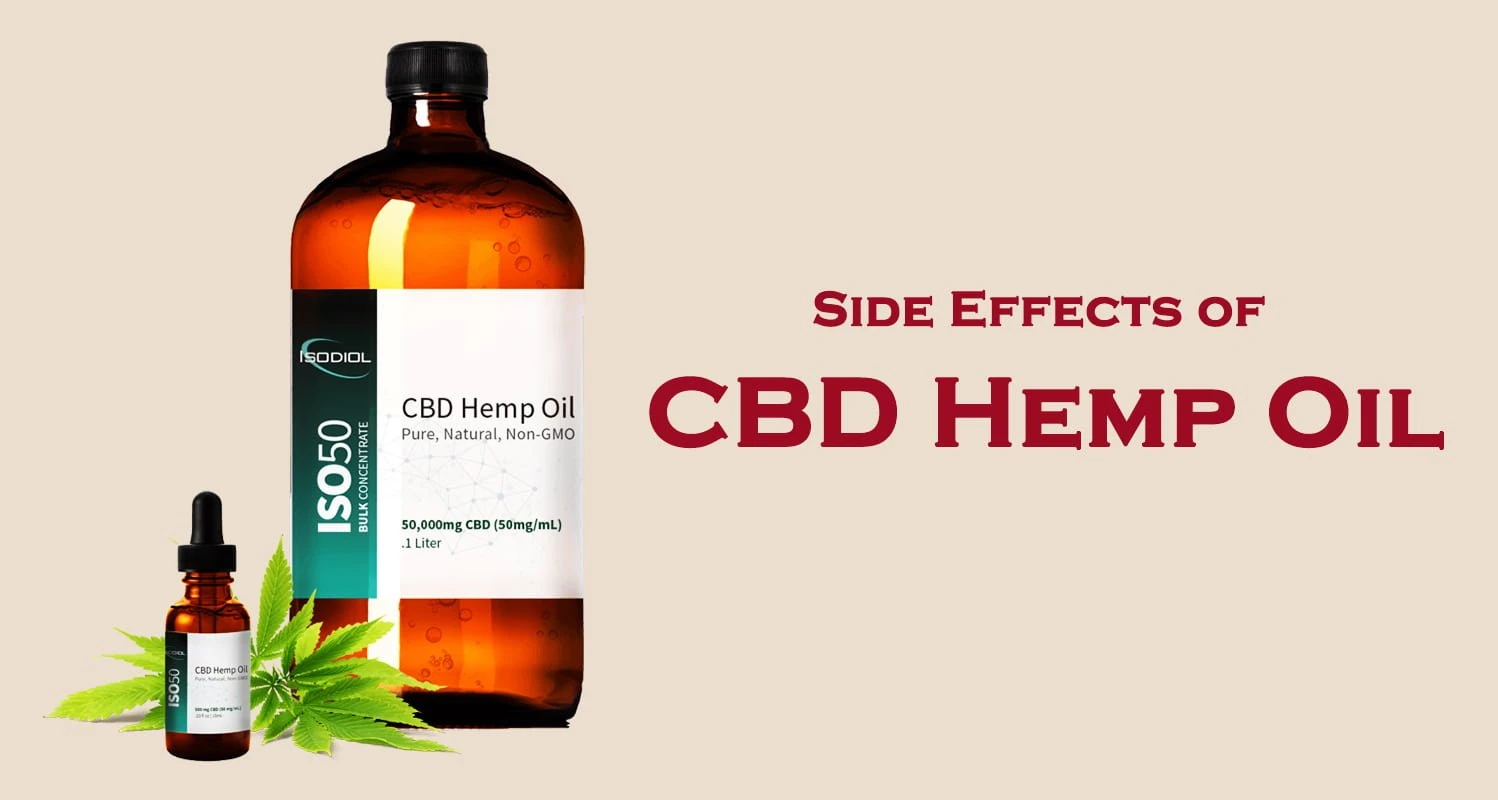 Within the first few minutes of consuming a higher dose of CBD oil, a decline in blood pressure is possible. This increases if your taking medications for blood pressure regulation. Discuss this with your medical professional.
Feeling Lightheaded
This often relates to the side effect above with a decrease in blood pressure. Lightheaded sensations are temporary. I experienced this when first starting CBD in the first few minutes of a dose. After a 30-minute time frame, it had passed. I, like many others, jumped right into a total dose. A gradual build-up over time avoids that feeling and the recommendation.
Tired or Drowsy
CBD hemp without the THC is an alert agent. Yet, for some, this side effect has occurred with initial higher doses. If you experience extreme drowsy feelings, you should decrease the dosage. Try a gradual build into a higher amount, avoid operating machinery, or drive a vehicle until proper regulation.
Increase in Tremors for Parkinson's Patients
This was surprising for me as the side effects of CBD hemp oil. It is contradictory to the potential benefits shown for Parkinson's patients. Again the higher initial dosages of CBD oil lead to this side effect. Upon regulation to doses that fit more into an individual, these side effects diminish.
Are any of these side effects avoidable? Let's look at the importance of dosage and how a slow introduction can be your healthy choice.
Why Dosage is So Important!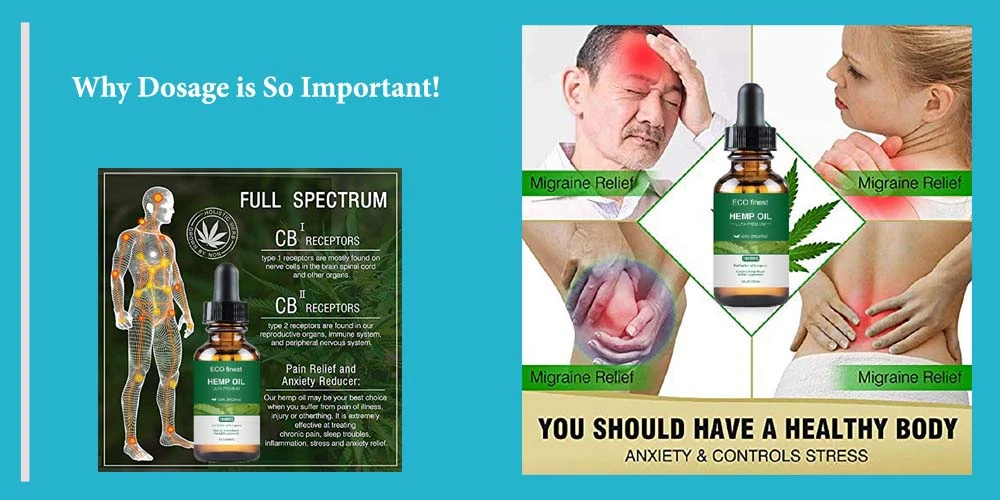 As you can see from most of the side effects of CBD hemp oil above stem from improper dosage. Many, like myself, were very anxious to get started with CBD. We jump in with both feet and start with the recommended dosage on the bottle.
That is a mistake! This sudden introduction can lead to side effects that may not usually be present. A gradual introduction to CBD is recommended. Remember, we are talking about a very concentrated form of Cannabinoids. Many pounds of hemp are needed in the creation of just one 5ml bottle of CBD oil. A single dose is a lot of hemp!
An Example. Imagine if you had never had sugar. You get a bottle of liquid sugar cane and gobble up a large shot glass full. Your heart rate will feel like it is beating out of your chest; you may even begin to sweat. Additionally, you will likely crash in a heap of sleep when your body comes off its sugar rush.
Take a Soda drinker that consumes 2 to 3 cans daily. Those regular drinkers would likely feel nothing from such a "sugar shock." I am NOT encouraging a sugar test here!
You can see from the example, even with a different substance, the importance of an introduction. Your body needs to get used to the dosage amount of CBD. A sudden elevation is more likely to spur any possible side effects.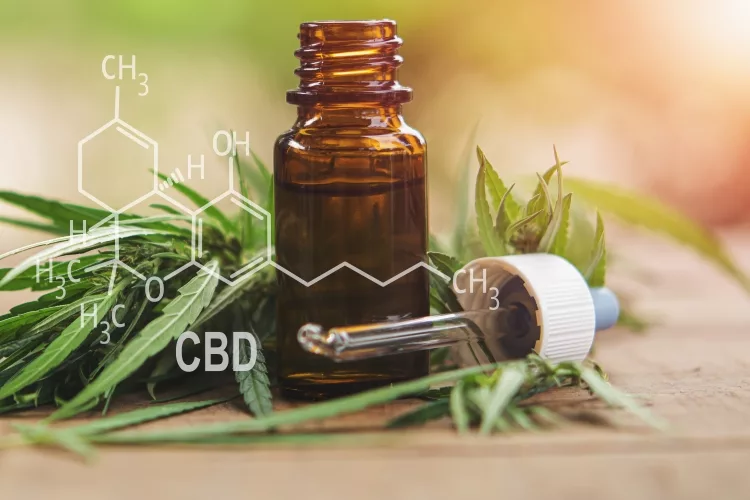 Besides these typical side effects that are often related to dosage. I uncovered a scary truth about additional side effects with CBD hemp oil that shocked me!
A Shocking Discovery About Quality That Creates Scary Side Effects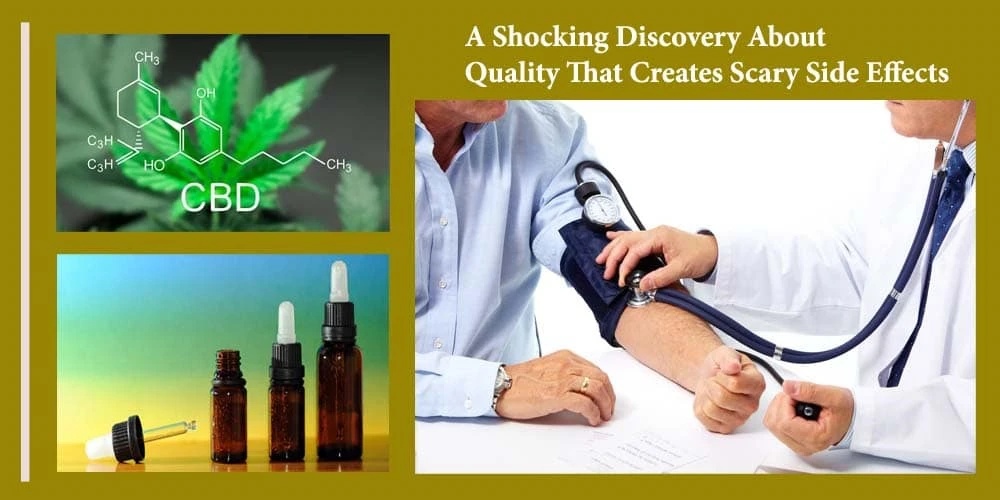 In writing this article, I wanted to explore many different views regarding CBD hemp oil's side effects. I decided valuable science and medical community research alone was not enough. Additionally, I researched real people and testimonials with genuine experiences using it.
Besides, studies and clinical trials are often conducted with a standard quality CBD. That may not translate into the marketplace we see available to us as a consumer.
This lead to my first shocking discovery about CBD oil. A true lack of consistent quality. It is in production, farming, and extraction methods and the type and parts of plants used.
Why Doesn't A Standard Exist?
This is a young and often unregulated market at this life stage of the cannabidiol market. The FDA has limited regulations on the bottling, labeling, and handling of supplements as a whole. Additionally, restrictions and legislation regarding standards of quality are still not yet set.
This has lead to a large influx on the market with low standards and a flood of imperfect options. A lot of choices for consumers but a lot of terrible options as well!
Even the labeling of many products on the market is often misleading. They are confusing and unclear about the contents of the oil or the source. Even worse, some labeled hemp CBD oil is little more than a hemp seed extraction with little value as CBD.
Buyer Beware: Possible Side Effects of Low Quality CBD and Production
Scary Extraction Methods!
Before you grab that cheap bottle of CBD, you better look at the extraction method. If they even tell you! Many companies out there are using techniques that will make your stomach turn. Chemicals and gasses such as Propane, Butane, and Petroleum, to name a few. What do you think consuming the bi-product of that extraction will do to your body?
They would like you to believe that these are safe, including butane. One individual from a company (I can not name it) says that it most closely matches a plant's natural gasses. That is appalling and WRONG! Butane is not edible for a reason and illegal in many areas. It is toxic. It causes respiratory and cardiac issues.
These are cheap extraction methods to create CBD that is dangerous.
Know how your CBD is being extracted!
The Hemp Farm!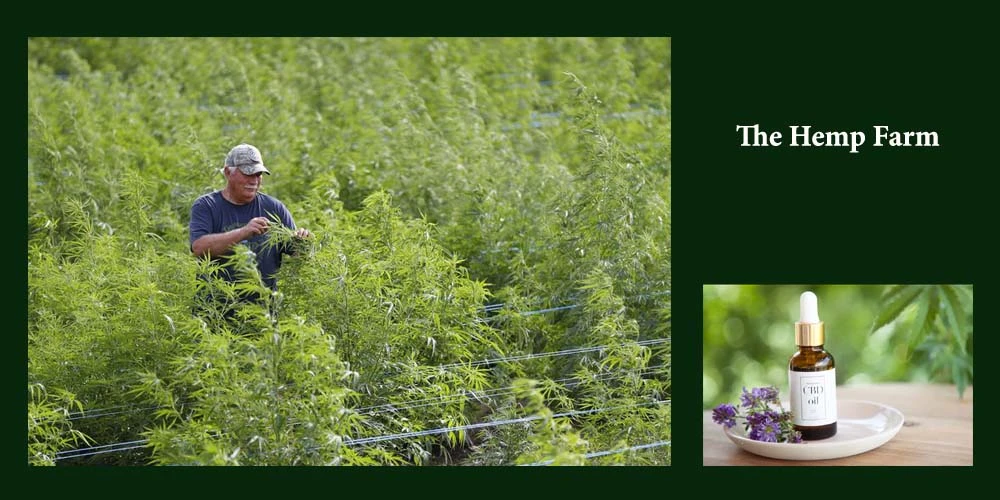 Many plants absorb chemicals and nutrients from the soil; hemp is one with a unique appetite. They are classified as a hyperaccumulator or simply a metal absorber. This absorption would include any types of metals, including harmful metals like lead or mercury.
The source of the hemp used in your CBD needs to be precise. If dangerous levels of these metals absorb into the crop, they will cause harmful side effects. This includes headaches, aches and pains, intestinal distress, tremors, memory problems, and even seizures.
Many of the things that people are seeking CBD to help with;
Part of the Plant!
This is not a dangerous side effect of CBD hemp oil but can result in a grave disappointment with little results. Many companies are passing off seed-derived hemp oil as CBD. This is cooking oil, carrier oil and often used as a bio-diesel fuel. It contains minimal cannabinoids. Hemp-based CBD oil uses the entire plant so that all the phytocannabinoids are available in extraction. The natural beneficial compounds of CBD!
Hemps seed oil has its share of benefits and a minimal list of side effects like CBD oil itself. The only prominent side effect of this choice is disappointment. It would take a massive dose and continued use of seed-based oil to feel any results.
Non-hemp additives
Besides, several CBD products I researched contained added ingredients and herbs. Approach these with hesitation as they are not pure and present potential unique side effects.
Some of the products I viewed online did not show their labels. However, when the product arrived, it indicated additional ingredients I had not expected. One had a higher content of an added oil as a filler to the CBD itself!
Full discloser should not be something a company chooses to hide from its consumers.
Don't let the quality and low standards cause side effects and leave a bad taste in your mouth about CBD. It has so many benefits that these low-standard companies are going to deter people from the real deal!
⇒ CBD is not the only product subject to the "crime" of poor quality, farming, and label deceit. Many people that use other essential oils need to be aware of these same poor practices. In a recent article About Pain management of Arthritis on-site, I discuss some quality peeks at essential oils.
Let's look at some tips to help you ensure you are getting a quality CBD product.
How to Ensure Quality!
Extraction Method Used. To get the highest quality and most successful extraction, a CO2 extraction should be used. This is the most expensive method of extraction but maintains purity and medicinal quality. There should be no exception. CO2 is a natural compound that does not interfere with or taints the CBD oil or causes side effects.
Farming Methods and Areas should be regulated. The source of your CBD should be able to provide you with compliance and standards. The State Department of Agriculture or other authorities in their production area should certify the farms. Even better, seek Organic quality for even greater assurance and no pesticides.
PCR or Phyto-Cannabinoid Rich Hemp oil. This is a must. Look for this as a clear indication that the oil is derived from all the plant's essential parts. It ensures the benefits of all the therapeutic properties contained in the herb. Including the cannabinoids and the 200+ additional compounds that make CBD so beneficial. Anything else is just a low-quality derivative and not an actual full-spectrum CBD.
Please show me the Label! A well reputable company is not afraid to show you the label before you buy. They are proud of the quality they put forth and want their customers to shop with confidence.
A Final Safeguard
Have you ever picked up a prescription medication from a pharmacy?
You know that a large packet or printout often accompanies it. This indicates what it is used for, possible drug interactions, and that extensive overwhelming list of potential side effects.
Supplements and natural treatments do not have that detailed list. It often leaves a consumer left wondering. This is particularly important in learning CBD hemp oil's side effects due to the market newness and lack of regulation. One source that is always a great option for CBD or any other supplement is to talk to your healthcare provider.
Not every Doctor today has opened to the possibility, and you have options for your healthcare. They should explore the truth, discuss interaction and look at side effects that could impact you.
Besides your doctor, find a company you can trust!
A Company that Shows it All
Another source is to choose a company that shows it all! No smoke screens, no hidden agendas, and one that believes in their product. Even Better, they invite you in to be a part of it!
I became a part of a company that does just that. By becoming their customer, I was also able to become an associate. It offers you an opportunity to be a part of the business with no investment. They have nothing to hide and only the benefits to share.
With this great open door, you get to be a part of some of the USA's highest-grade CBD hemp products. NON-GMO, Pesticide-free from some of the wealthiest CBD hemp available. They meet the quality standards and are not afraid to show it!
They built the business based on quality, integrity, and generosity. With an emphasis on being an affordable way to help impact a healthy lifestyle for many.
I have found a great source for CBD and a generous income.
Make A Healthy, Profitable Choice!
Get The Purest CBD Hemp oil and Hemp Oil Products that meet all the Quality Standards! Plus, a business that knows its products are SO GOOD wants them to benefit you and all your friends profitably.
Join My Team!
See for Yourself!
Ready to Join!
Share Your Thoughts
CBD hemp oil's side effects can mostly be avoided, as you can see from this article. Even the potential adverse ones from money-hungry companies with low-quality standards!
Try to Keep in Mid these Important points to you avoid any adverse reactions.
Start slow. Often the side effects of CBD hemp oil are caused by an over-eager start and a high dosage.
Discuss potential interactions with your Doctor or Pharmacist.
Choose a quality company and product that gives full disclosure and product information.
Have you, somebody you know or love, tried CBD? Did they experience side effects like those listed here or something different? I always want to hear from my readers and share a conversation! Please drop a comment below, and let's Talk!
Knowledge is a powerful Ally to a Healthy You! Be Well, My Friends!
Owner/ Author Inside Herb Gardens
Author Thoughts
"When I first heard about CBD oil that is derived from hemp, I was excited by the prospect of the benefits without the high. I avoid a lot of pain medications due to those feelings of being "out of it." Plus, I love natural ways to heal. Bonus, it was legal in my State. Then my very next thought was, what are the side effects of CBD hemp oil."
"My search leads me to a wealth of knowledge on the benefits and more, but very little concerning anything adverse. I decided that after I began my CBD journey, I would help correct that for others."
Learn more About me Here. If you would like to have a private chat, send me an email, happy to help!
Recommendation: