You can get started with hydroponics without complication and hefty investments. Many systems available today offer a
great introduction without high costs
. A hydroponic indoor grow box is the boost you need to get growing in this water cultivation method.
In this review, I will be looking at the Hydrofarm Salad Box Kit. Passive hydroponic systems are for the beginner to the advanced grower . These grow boxes use no electricity so that you can use them indoors or outdoors.
When looking at this product's title, do not let it limit your thought on its uses. Salad growing does not include lettuces alone. Greens and herbs grow in hydroponics designated as "salad." These units are designed for green leafy style growth and vegetation.
Hydroponic Indoor Grow Box Review
Want to grow greens and lettuce up to 30% faster than soil growing methods? That is an easy answer that a home grower will answer yes to. Faster, healthier production is a goal of any gardener.
The salad box from Hydrofarm wants to make that possible. It is utilizing the easiest method of hydroponic growing possible, the Kratky process. A technique developed by horticulturist B.A Kratky. It focuses on passive hydroponics.

What is Passive Hydroponics?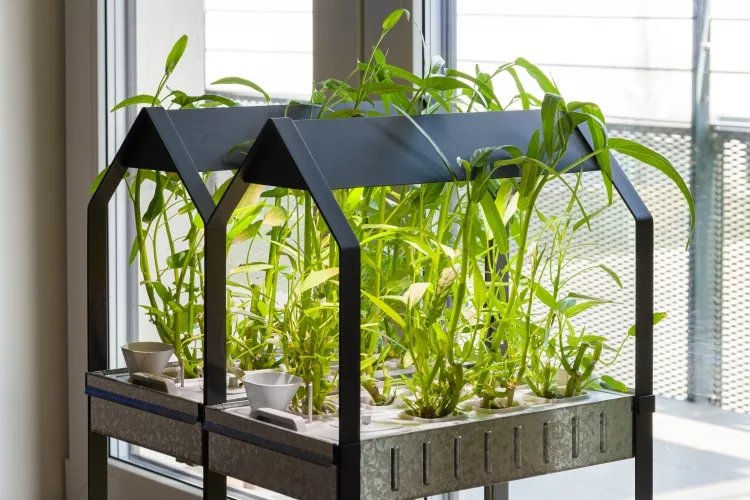 Passive hydroponics uses no electrical pumps or nutrient dispensers-the plants in this system hangover a nutrient-rich fluid. The plant roots take up the water and nutrients through an absorbent material-a capillary action or wicking type method.
See my article that introduces you to different types of hydroponics
here.
What is Included?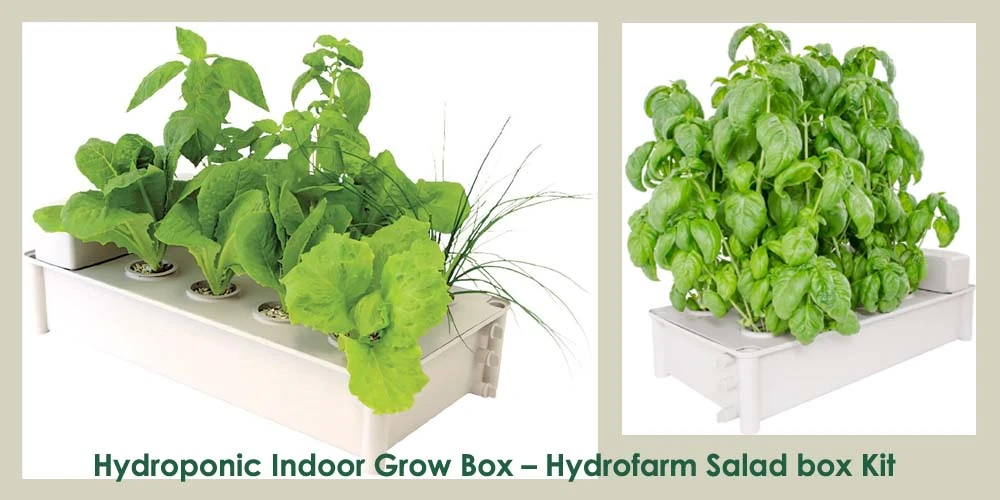 The salad box comes with a bottom reservoir tray for holding the nutrient water. 6 Drain plugs for easy the bottom of the unit for easy water changes. A top plate lid with eight holes. Eight net cups and eight root wraps for planting in those spaces. An op-off bottle with a cap. A 50g packet of Grow More Hydroponic Nutrients. Instructions.
PDF instructions are also available online here.
Pros
A Minimal amount of assembly is required.
A compact system takes up a minimal amount of space.
Easy to use for first-time hydroponics users
Price is low compared to similar systems.
Versatile use Indoor or Outdoor
Cons
Indoors a grow light is recommended and not included.
No discussion of pH balancing or how to monitor or control it
Instructions lack visible demonstration, but videos are available online.
Not ideal for seed starting
Root wraps are difficult to find
How it Benefits You:
Grow Greens 30% Faster Than Soil Growing
Accessible to Use Passive Hydroponic
No Electronic Components
Includes all you need to get Started
Simple to Set-up
→Some of the links on this site and in this article are affiliate links that pay a commission for a completed purchase. This does not result in any additional cost to you. I do not write sponsored posts. I want to bring you accurate, unbiased information.
Will it Work for You?
You can grow lettuces, herbs, and other salad greens in this unit. This system allows you to grow a small hydroponic garden with almost no maintenance easily.
Eight growing spaces allow for a decent amount of room to grow fresh greens for you and your family. For larger families, the grow space may seem a bit limited.
You can grab more than one unit due to the low price! Getting multiple units to fit your family size. Similar hydroponic units can be double the cost of this one. With no electrical running parts, there is no extra utility charge to operate.
Not just for salad. Herbs grow well in these hydroponic gardens. As well as watercress and garden cress varieties.
This is an ideal environment for watercress. I have had great success growing them in passive hydroponics.
Will work in an apartment or small space. Size is minimal, so taking up garden space is not an issue. It takes up less than 2 feet of space.
Using it as a Hydroponic Indoor Grow Box
This unit without electricity can be used indoors and out. I want to focus on the indoors aspect of this unit as this site focuses a lot on inside growing.
You will need ample light when using this unit indoors. Greens are not as light hungry as flowering plants. This garden will still need 6 to 10 hours a day, depending on what is being grown.
The unit does not include a grow light. You can spend additional money to get the recommended 2ft t5 to grow light with stand and fixture.
Follow this image ad link to learn more about the grow light recommended for this unit. When a grow light is required in your indoor garden, this grow box loses a lot of its cost-efficiency.
My Final Take on The Hydrofarm Salad Box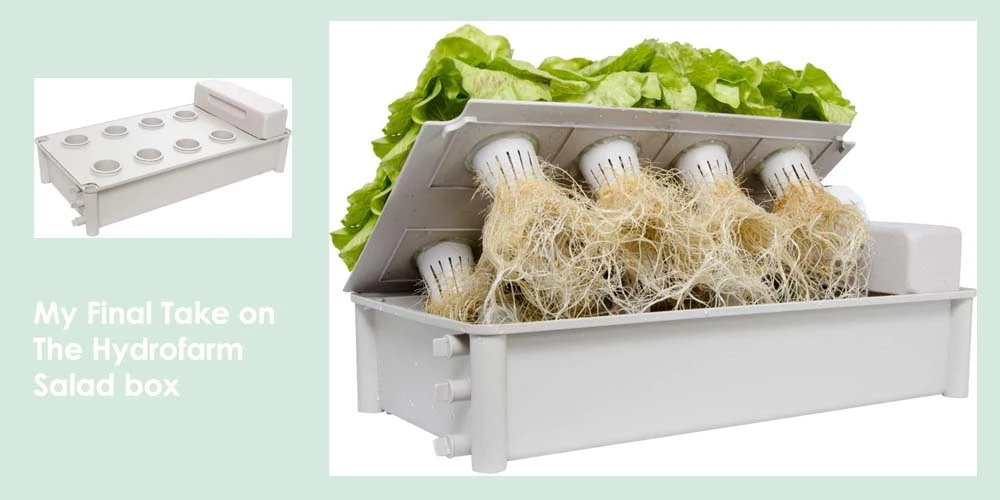 Hydrofarm company is popular to all. I use many items from them as a hydroponic grower. I also think that the salad box has its perks. But it serves better if you have natural light or as an outdoor garden.
I like the grow space and set up on the grow box. The drain plugs allow you to set up an air stone if you want. This does help to circulate nutrients better and improve growth. Adding these electrical components takes it from a passive hydro system and makes it a deep-water culture. Nothing wrong with that if that is what you want.
This garden will easily convert back and forth to use either method. The net cups included will also hold rock wool or sponges for this hydroponic method.
Negatives Aspects!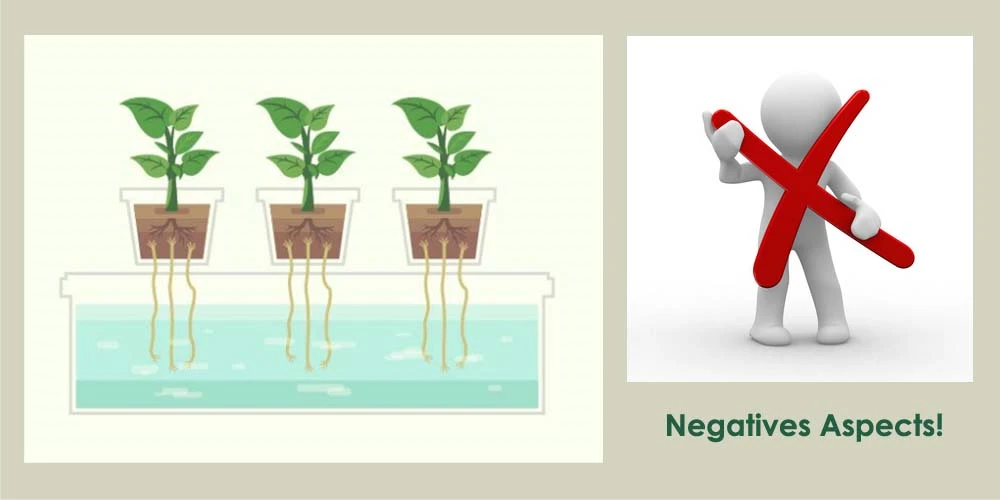 The root wraps that come with the unit work wonderful but are hard to find a replacement for. I had to supplement and use different wicking (capillary mat). You can see what I used here. Biostrate Hydroponic Growing Mats - Pack of 10
Hydroponic water needs to have a pH balance. It is neither mentioned nor instructed with this unit. If the pH is not at the right level for your plants, they will have poor growth or failure. You can find a pH kit here. General Hydroponics pH Control Kit
If you add purchasing an additional light and the wraps, this unit jumps up over $100. Still not bad for a hydroponics unit. Nutrients will be added expenses when the included diminishing and the not included pH balancing kit should have been a recommendation of this unit.
I Do Like growing watercress a lot in this unit and salad greens. I find it is exceptional for this purpose. Since watercress and greens are used so much in my household, it is a plus to have around. I most often move this grow box outdoors in the warm weather. I have other hydroponic indoor grow box units I prefer for regular indoor growing.
My Pick
My preference for hydroponic indoor grow boxes is the Click and Grow Smart Garden 9.
It includes the grow light as an indoor unit, which can be a costly addition to any hydroponic garden. It is best yet an LED grow light with low energy usage and the high light output that my plants love. Works on an auto timer.
The bright garden is even easier than the Hydrofarm salad grow box. Open a pod and set it in the unit. Done! You do not need to add nutrients. They are built right into the pods for growing your plants from seeds. There is no limit to the plants you can grow in this unit with empty pods and over 30 pre-seeded varieties.
A Salad Box Wrap Up
The Hydrofarm salad box is not my personal number one recommendation for everyone. This hydroponic indoor grow box can help those looking for a simple hydroponics system to get started. It is an excellent inexpensive way to leap into the world of soil-less growing and water cultivation. Dipping your toes in hydroponics can create an excellent loving relationship that will grow more than plants! For everyday indoor hydroponic growing, that is simple. I still prefer the Click and Grow garden. I use several hydroponic systems of different types. Your growing needs and goal will help you decide.
Have you used the Hydrofarm Saladbox? Perhaps a similar passive hydroponics system or a beginner system that you love or hate. Share! I would love to hear about your experiences.
Drop a comment below and let others know your thoughts. As always, I am here to answer questions or concerns you have.
Happy Hydroponics, Friends!

Related Post