Terrariums are a unique way of indoor gardening. For its beautiful bloom and bountiful harvest, you must dispense good maintenance here. Digging, pruning, weeding, and fertilizing are the prime factors you will need while making a terrarium.
Undoubtedly, such gardening is gaining popularity because of its fuss-free natural beauty. If you lack enough space and are up to little sunlight, then terrariums will be a great extension in your decorations. You don't even need a great thumb to care for your small garden. A certain instruction can make your process right and give good enjoyment to your kids.
Some inexpensive materials that are virtually self-sustaining will make your terrarium up to the mark. Thus, your home will turn more appealing within a conservative creation.
So stay tuned to find out how to make a terrarium in a jar. And finally, have the garden you always desired for.
Moss Terrariums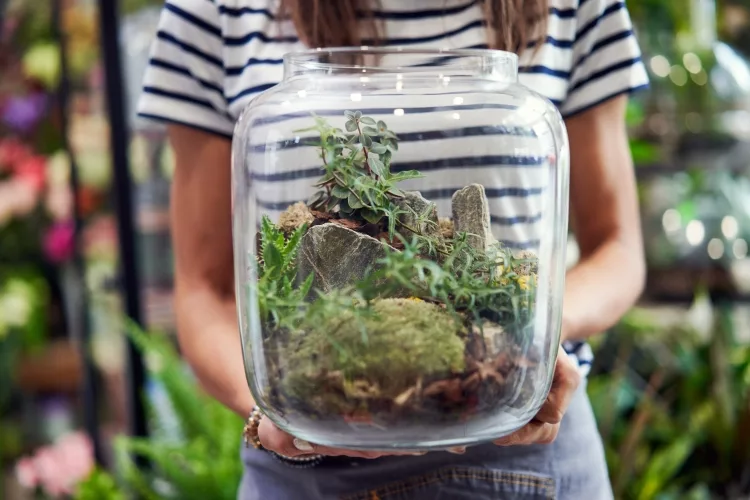 Do you want to add a little greenery to your tight living? Then why not think of a moss terrarium? It will be an amazing apparatus for door rooms, bedrooms, apartments, and so on, prevailing a relaxing touch.
You can showcase them as a fascinating centerpiece in your kitchen tables or your child's bedroom. Everyone in your house will be bound to enjoy terrariums, and when it's homemade, that will be more adorable.
Supplies You Need
Your tabletop terrarium needs crucial supplies without which you can't make your perfect one. They can be sourced in a minimal amount and at no cost at all. So let us see what they are.
You will need some important things before making your terrarium are-
Clean and dry glass jar with lid
Sphagnum moss
Small pebbles
Potting mix
Other terrarium plants like- ferns, fittonia, and some moss varieties
Glass jar and a lid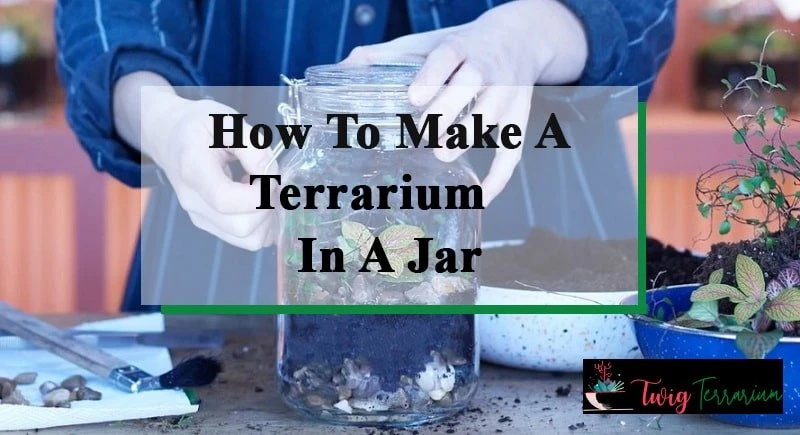 Use any size of glass jar which comes with a lid, and make sure the opening on the top avails. But whenever you have to wipe inside the glass, then you must need a big size jar. Though small sizes are a viable option, they can be hard to arrange. You can also use a plastic jar, but they do not show a viewing clarity as a glass jar does.
Small pebbles
Pebbles work as a drainage area when excessive moisture gathers. They are to be placed at the bottom of all other materials.
Dried Sphagnum or Peat Moss
Dried moss makes the potting soil fall in the drainage reservoir, and thus they are placed above small pebbles. These materials perform like a small wick that transfers excess moisture in the pebbles up to the soil. If you don't have dried moss around your house, you can get them in any pet store at a low price.
Potting soil
This is the layer when moss will actually start to grow. Being a final layer, they do not require rich nutrients.
Decorations
You can also avoid this part, but still, they add a spike in your terrarium. It will look more appealing by adding decorative things like rock, branches, or other pieces. If you are looking for a special touch, then these items can help you for sure.
How to Make a Terrarium: Step by Step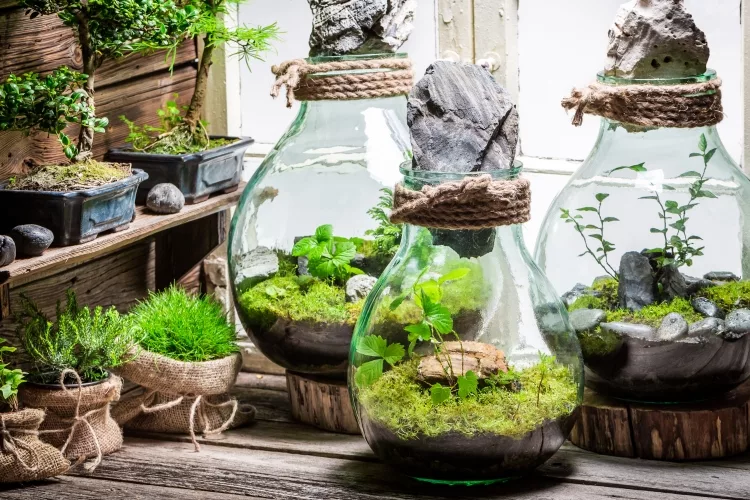 Are you finally ready to make your terrarium in a jar? Then let us start with some specific instructions.
Take a clean glass or jar. The best option will come from your recycling bin. Or you can use a fishbowl, pickle jar, coffee pot, etc.
Open the lid from the jar and fold a towel to place it on your workbench.
Do collect some moss and dampen it on the sphagnum with tweezers or tongs.
Then use your pebbles or gravel for drainage to cover the bottom layer of the jar.
Add some activated charcoal and create another layer.
Make sure the potting soil doesn't stay out and for that, make a layer of moss. If you want, you can skip this step as they aren't too picky.
Potting soil from indoor plants can be a great alternative. You have to make a thick layer of that.
Shake off all the dirt coming from plants and create a hole using a spoon for your plants.
Now it's time to pat the soils after planting small ferns, succulents, and cacti in them. Keep a distance of one inch between each plant if possible. You can source such small plants from your local garden stores or fairy garden section. Plant your largest plant first so you can have enough space for other smaller plants.
After you are done planting, add some additional moss, decorative rocks, or gravel covering the soils.
Or, if you have extra accessories, you can also use them for a touch-up.
Now break up the moss loosely with your fingers to fit the design. Then you can achieve a beautiful design and place it on top of the soil. Or you can also cover the rocks you want by showering with your accessories.
Lastly, a miniature garden will be in your hands. And remove the lid after a few days so that the plants and mist with water.
Terrarium Caring Guide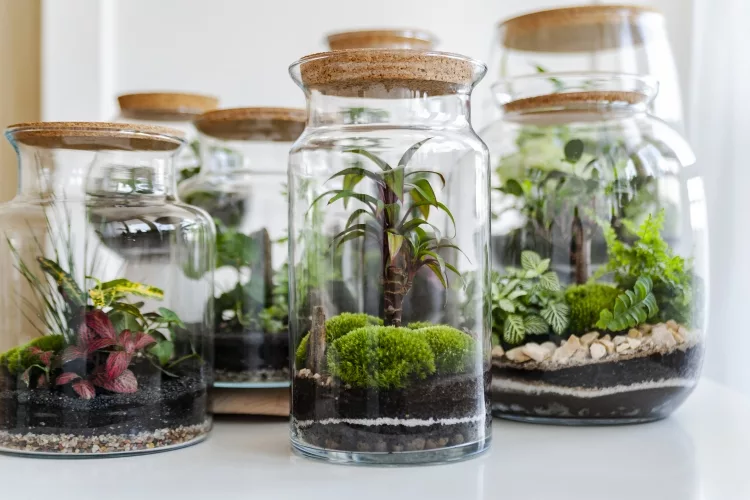 Generally, terrariums do not require high maintenance once they are settled. With a closed, self-sustaining feature, they apply a nice ambient. But if you want your terrarium to last long, you must give basic attention to it in the first couple of months. Being aware of certain things, your plants can live a healthy life in a happy humid condition.
Before we go to the exact points, we must know the basic things first. You must water your plants lightly once a week, and if your terrarium is heavy, then water two times a week.
Have a spray gun or terrarium water bottle with yourself. Most often, they have a pointed nozzle which helps is smooth watering without any hazel. And even direct scorching sunlight may harm your plants due to excessive heat. However, they do not require much.
So it would be good if they are in the light or moderate heating. After the basic regards, let us find out the real facts; you must know through some symbolic points.
We all have heating and lighting conditions in our homes. It will be great for the terrariums if they experience good natural light. An average temperature of about 19-21C will be perfect for its survival.
You may frequently see your terrarium has become too wet or foggy. At that time, you must open the lid and keep it constant for a couple of hours. After the fog clears, you can again close the lid.
It's better to have a watch on your terrarium every day for the first few months. Be certain if any mushy or mold leaves are occurring or not.
Your terrarium will steam up in winter when you keep the doors and windows open. Or if your plants don't get any effect throughout the season, then leave it like that. The fog will naturally clear up the trapped air inside the jar, especially when the room temperature becomes equal.
Frequently Asked Questions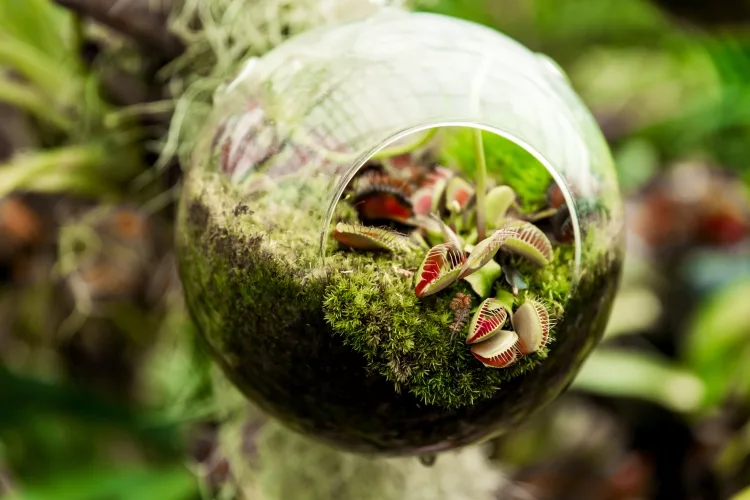 How Should I Keep My Terrarium?
When you keep your terrarium open, they get a drier environment with circulating air. Plants like aloe, hens, cacti, and others are good to be kept open. Again, if you keep your terrarium closed, it can get a lot of moisture.
How Long Terrariums Last
The terrarium, which is maintained in the right conditions, prefers long stability. They continue indefinitely and may even outlast you if you give proper care. Till now, the most lengthy span of a terrarium's survival was around 53 years.
Why Do Terrariums Die?
One of the most common reasons that terrariums die easily is overwatering. Plant and soil don't simulate excessive water and thus exfoliate swiftly. Again, using the wrong containers and mixing other requirements make the terrariums poisonous and lead them to die.
How to Remove Bugs from a Terrarium?
Your terrariums may have worse outbreaks of gnats and require you to get rid of them immediately. In such situations, using small yellow sticky traps will be a useful option. The traps will attract the gnats and kill them in certain ways.
Final Thoughts
If you don't know how to make a terrarium in a jar, you must acknowledge the simple steps first. This article describes what you want. Once you learn the steps, it can become great handy for you.
You can present your teachers, make your house warm, give gifts to a sick friend, and so on. Not only will you be enjoying your gardening process, but also be making yourself more creative.
In conclusion, I will suggest you try out a new thing and charm your surroundings. On that note, terrariums will play a great role in increasing the beauty of the environment.