Hamilton Beach 10-Cup Food Processor Review
reviewed by Christina Lopez
You have been growing a great garden of herbs now, and you are ready to process some into some great recipes or chop up to preserve for later. Having the right tool or tools for the job will make it a lot easier for you to get the job done. There are many processors on the market, but I wanted to give you a look at the Hamilton Beach 10-Cup Food Processor 70760 Review. It's a budget-friendly kitchen appliance that gets the job done.
I don't want to be accused of being lazy, but a food processor saves a lot of time and effort in the kitchen. I use it all the time, from simple chopping of onions and garlic to protect my tears and smelly hands to full-blown sauces and seasoning blends. It wondered me why I bother to put it away.
With the Hamilton Beach, 70760 putting it away and taking it back out is just as easy, though, as it tucks away nice and neat as one piece. It is keeping me from digging around for multiple selections or misplacing parts. I slide it below my prep counter and take it out whenever I need it.
The clean-up is also easy, as the removable parts are dishwasher safe. No time-consuming clean-up is needed, and I find that is a real-time saver for me.
Many oils and flavors can be lost when it comes to herbs when cutting them up on a cutting board or grinding them in a mortar. Using a processor keeps all the goodness in one place and helps me keep all the best flavors intact.
I love making pesto. I use pesto several times a week in many forms. Making Pesto in the Hamilton Beach 10 cup processor is so easy. It blends up in minutes, evenly, every time.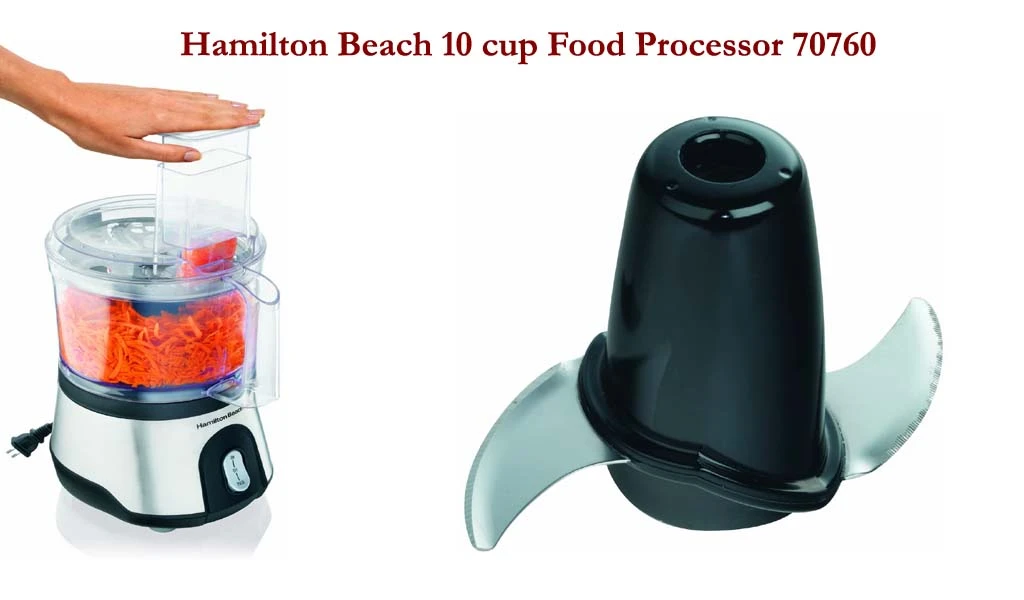 How it Benefits You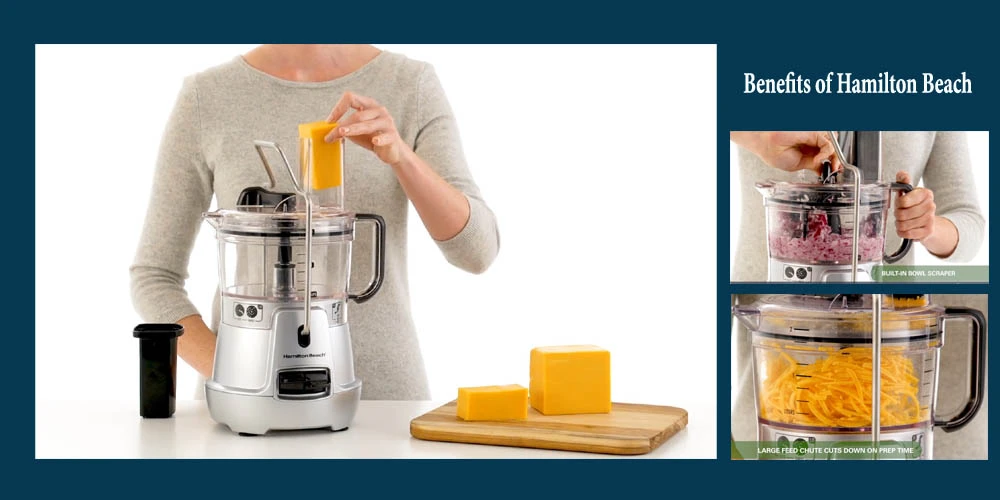 Quickly chop onions, mix sauces, grate cheese, shred cabbage, prepare pesto, or slice salad ingredients in seconds.

Powerful 500-Watts makes chopping easy and consistent.

Reversible discs for slice and shred so no digging for separate tools

A precise chopping blade is also included.

Space-saving lid flips over for compact storage.

A large feed tube fits a whole block of cheese at a time, so not a lot of pre-cutting
→Some of the links on this site and in this article are affiliate links that pay a commission for a completed purchase. This does not result in any additional cost to you. I do not write sponsored posts. I want to bring you factual, unbiased information.
Hamilton Beach 10-Cup Food Processor Review
T his Food Processor features a powerful 500-watt motor to make chopping, slicing, shredding, and mixing easy and efficient. Hamilton Beach Food Processors are great for small tasks to preparing meals for large families.
The 70760 model features compact storage to easily tuck away inside your cabinet while taking up less space than other conventional food processors. The lid reverses and secures over the top of the processor and holds the shredding disc securely in place. The power cord tucks neatly into the base of the machine leaving a clean storage solution.
Other Features
Quickly chop onions, mix sauces, grates cheese, shreds cabbage, prepares pesto or slices salad greens and vegetables in seconds.
A large feed tube fits a whole block of cheese without pre-cutting
It include reversible slice/shred disc and chopping blade.
Easy-to-use speed switch changes from on, off, and pulse
Bowl, lid, chopping blade, and reversible slice, dishwashers safe.
Pros
Light Weight and Compact
Easy Storage no Misplaced parts
Priced Right!
Cleans Easily!
Cons
The suction Base does not hold firm to smooth the countertop.
Little noisier than other models
The lid Takes a bit of force to get on and off.

You can look at the pdf manual before deciding if this is the right processor for you http://useandcares.hamiltonbea…
My New Choice of Food Processors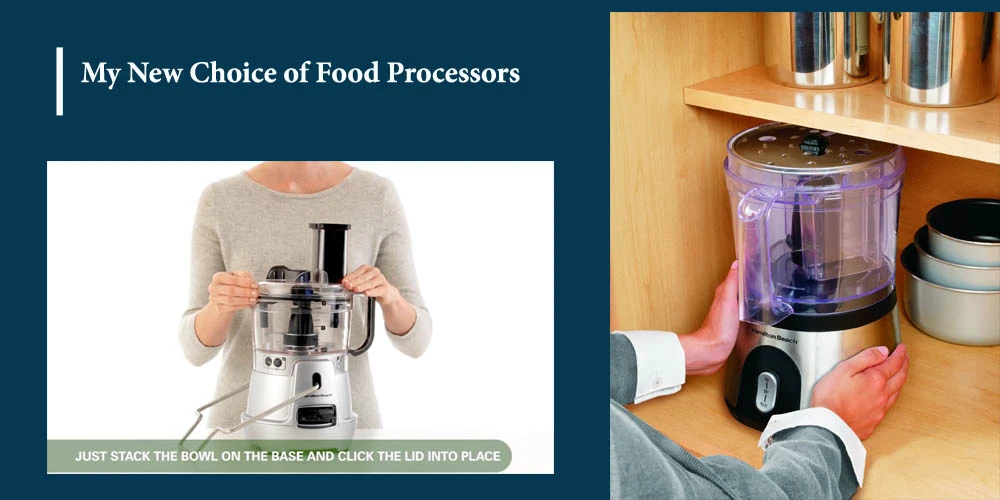 I received this processor as a gift a little over a year ago from my husband. It was a replacement for a much more expensive brand that had not lived up to its name. I will not point fingers or names here because most of their products I love, but the processor was not standard.
It hesitated me because I honestly did not know much about Hamilton Beach items' reputation and did not see them as "top of the line" kitchen items. I sure changed my mind in just a few uses of this food processor.
I was blown away by the power, the ease of use, and the great storage. In the past year, it has not diminished at all in its capacity and capability. I would highly recommend this product to anyone looking for a processor that fits a budget and fits the needs.
The only downside I have found is although there is a suction cup located on the bottom of the unit to secure it to the counter, the smoothness of my countertop does not always hold it firm. I must keep the base when I turn it on because the powerful motor will give a little jump. Once I have it going, it does not move much, and I never had an issue with it walking off.
I believe in this product, and I think you will find it can work for you. There are many other options out there, but I would have difficulty selecting something else right now after experiencing how well this item works.
If you have any questions about this item that I can help answer for you, please do not hesitate to ask. As always, I appreciate your feedback and comments!
Recommendation on Food Processor