There are different soil types for gardening available in the market, making it challenging for gardeners to choose their plants' right one. Remember, the soil your succulent plant love will leave your tomatoes dry and unhealthy. Alternatively, the soil specifically for cactus will deteriorate your ferns. This is where ideal matching soil to the right kind of plant is critical.
Therefore, if you are looking forward to buying soil for your particular plant, you must be sure you are purchasing the right option. Different soil types can be potting soil, potting mix, seed starting mix, and garden soil. It would help if you differentiated them to avoid confusion. Here is everything you need to know about these types of soil.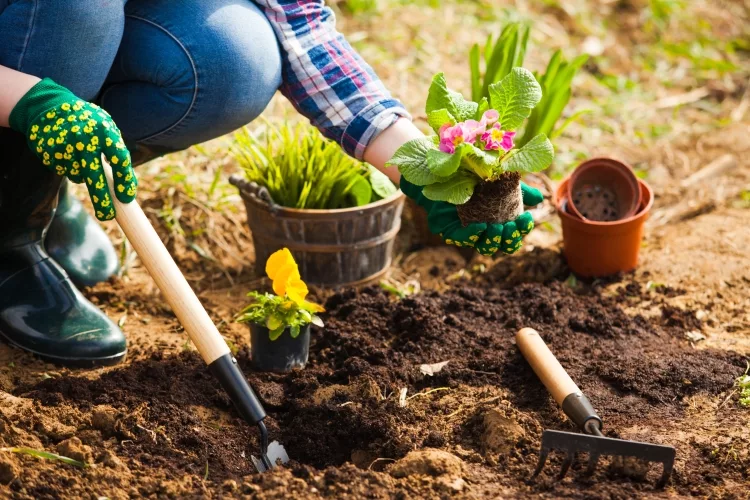 What is Potting Soil?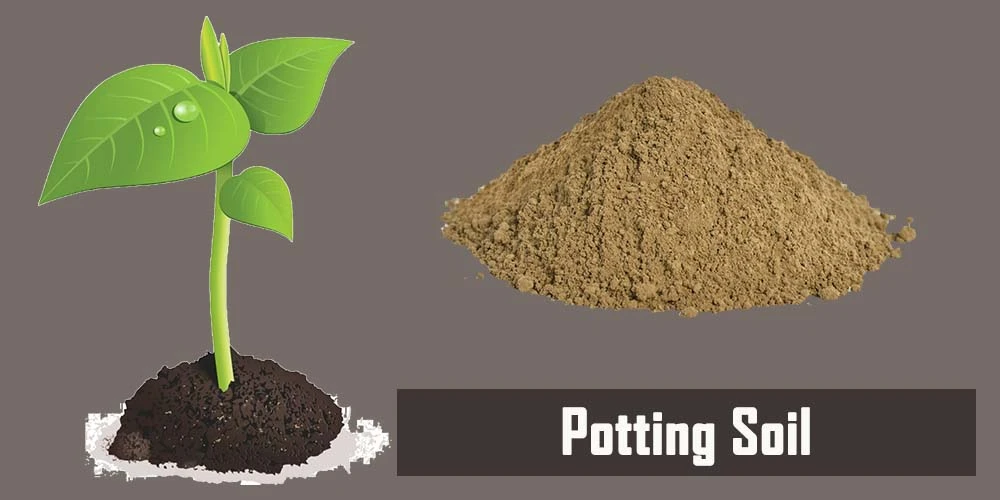 Potting soil is one medium used to grow vegetables, plants, and herbs, either indoor or outdoor. Primarily, potting soil is made for indoor usage and is stored in a durable container. Formulation of potting soil is ideal for offering maximum health results to your plants or herbs and surroundings.
Many products are ideal for making suitable potting soil. These include peat moss, vermiculite, and mushroom compost, among others with different optimum yield proportions. It is commercially available in different composite combinations to enable maximum growth of your plant. An excellent example of a plant that does well in potting soil can be African violets.
What is the Potting Mix?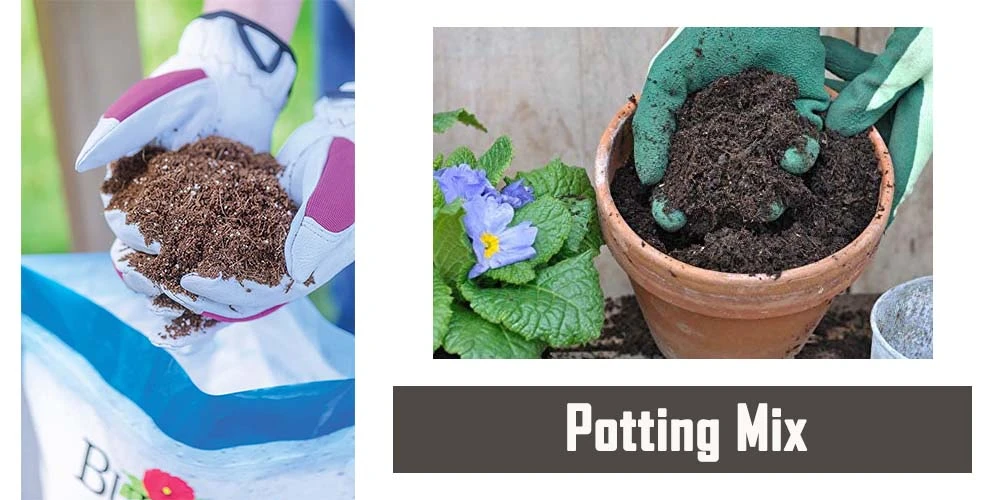 In a broader sense, potting mix entails soil-less medium in the market, particularly for container gardening. It is a type of soil mixture that includes suitable materials to boost the plant's growth. These materials can be compostable organic matter, pine bark, perlite, moisture, peat moss to enable water retention, vermiculite to allow nutrients, and drainage management.
The mix possesses large size particles than the soil to provide the compound with excellent aeration. The particles are yet lightweight to offer root a more manageable penetration. It is easy to customize the potting mix to fit specific plants and their growth stages.
Potting Mix vs. Potting Soil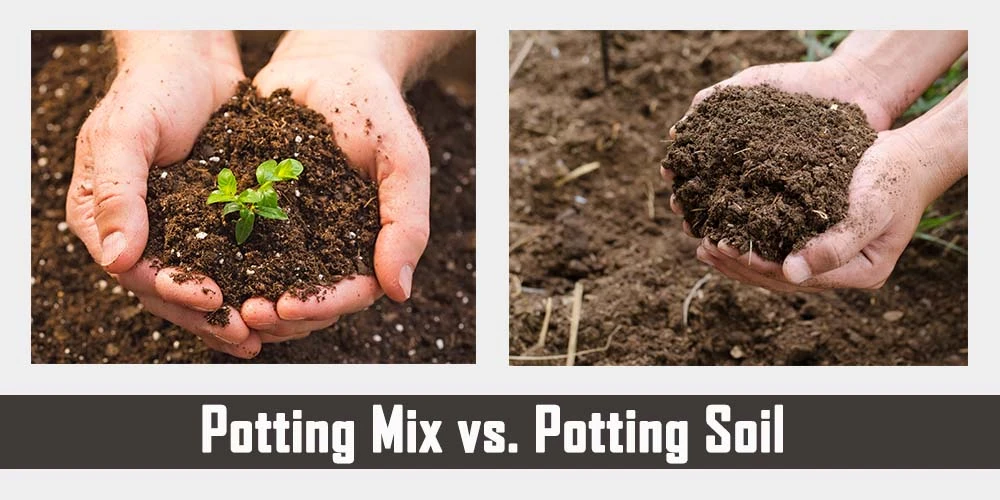 Many individuals interchangeably employ potting soil and potting mix. If you visit a nearby local nursery to purchase potting mix, there is a high possibility of landing into the potting soil by mistake. Usually, potting soil is just about the dirt that lacks enough elements vital to enable the growth of indoor or potted plants. Alternatively, potting mix lacks any ground; however, it encompasses a blend of peat moss, acceptable barks, perlite, vermiculite, and more.
Should You Try Potting Mix?
A fantastic potting mix comprises particles more extensive than those of soil. This is vital, particularly in a container, because it prevents the bland from compacting. Additionally, it enables smooth water drainage and allows easy passage of air. These are crucial aspects that will enable the plant to acquire a healthy rooting system.
Should You Try Potting Soil?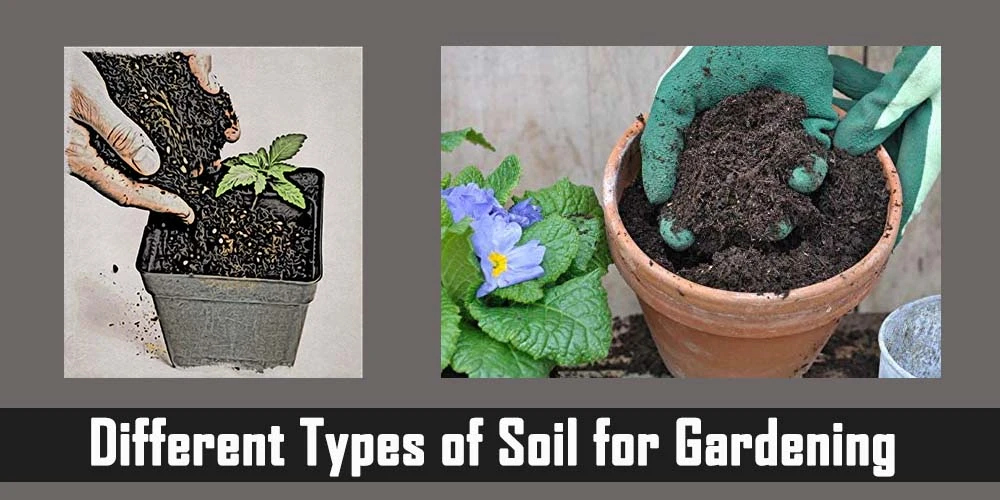 The same kind of plant will need a similar amount of nutrients regardless of the growing media. When you ponder the limited section in a pot or container, potting soil cannot be the right option for growing plants. Simply put, it is unethical to take garden soil, convert it to potting soil and think the plant will smoothly grow.
Mainly, artificial growing environments such as containers or pots will not provide adequate room for your indoor or potted plants. Thus, some kinds of plants won't find sufficient space to foster the spread of roots. Regular or standard watering of potting soil can make it compact.
Alternatively, water can accumulate quickly at the bottom of the container even if the pot or container has a drainage hole. What's more? Potting soil is restricted when offering vital minerals and nutrients required by plants.
When buying the right potting mix, make sure that the essential ingredients are included. You will do this by reading the ingredients listed on the products. Always find the soil that contains no soil with the sterile mix.
Seed Starting Mix vs. Potting Soil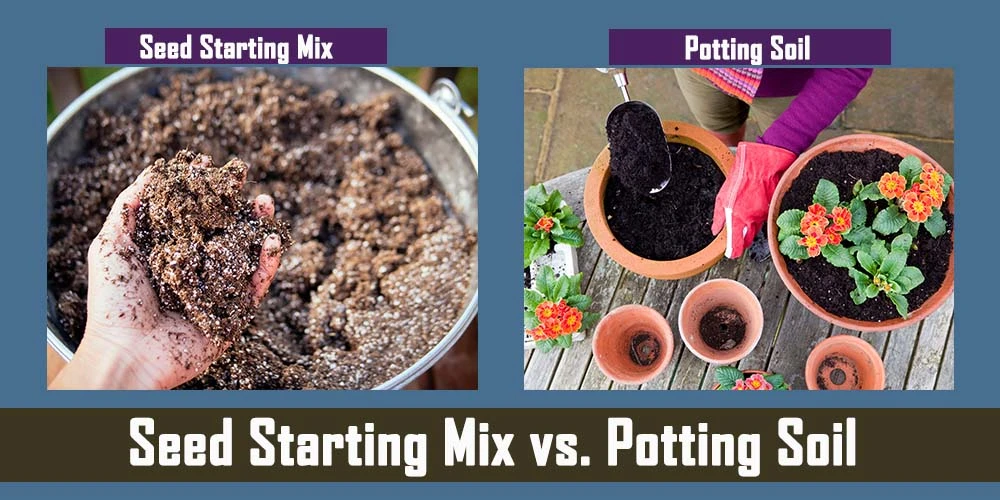 Seed starting mix refers to the type of soil finer in texture compared to the potting soil counterparts. It is also found in garden stores as seed starting soil and contains vermiculite, perlite, peat moss, and coconut coir. The natural soil isn't included in this option. It is lightweight to avoid weighing down the seeds while germinating.
On the other hand, potting soil is denser than seed starting mix and has a coarser texture. Primarily, it includes field or compost soil together with vermiculite and peat moss. Furthermore, it encompasses some kinds of fertilizers, although this is not always the case.
When to Employ Seed Starting Mix vs. Potting Soil?
For perfect results, most individuals use potting soil during container growing and transplanting. Alternatively, they use a seed starting mix or soil while planting the seeds. These two types of soil are ideal, especially during plant establishment and offering an appropriate growing environment.
If you want to germinate the seed, you can use the seed starting mixture. Once the seedlings reach a particular stage, you can use potting soil for transplanting. Usually, you can use potting soil as seed starting as it can't destroy the seed's growth. Just be sure to make it a little harder to push via the soil.
Furthermore, potting soil can possess unnecessary fertilizer that can burn your seeds. Despite that, your soil must have little fertilizer, which relies on if it is synthetic or non-synthetic. Synthetic fertilizer appears to be highly more robust and results in more injuries. For the safety germination of seeds, therefore, it is recommendable to employ seed starting soil.
What's more? You must not consider using seed starting soil or mix for transplanting. This is because; it isn't good enough to handle complex rooting systems. Additionally, it doesn't have fertilizer required by transplanted plants.
Potting Mix vs. Garden Soil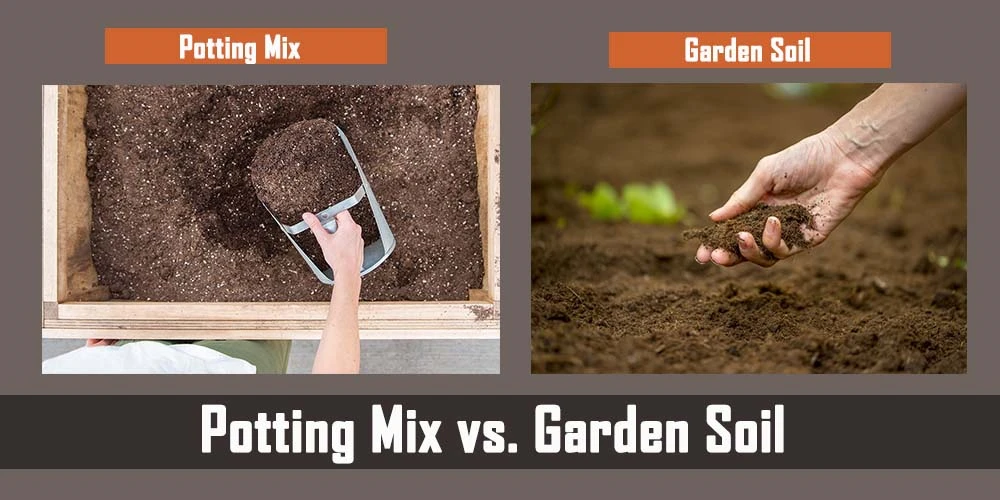 Both potting mix and garden soil play an essential part in landscape and gardening projects. Usually, the potting mix is a blend of various compounds and doesn't include any actual soil. Most potting mix incorporates different kinds of mulch, vermiculite, bark, or any drainage enhancer.
Furthermore, potting mix has a considerate amount of minerals and nutrients that foster smooth pot/container-based plants' weak growth. If you consider squeezing potting mix, you will realize that doesn't allow clumping. This aspect is actually by design, as a pot or container plant doesn't thrive or grow until the roots move smoothly and freely in the medium.
Alternatively, garden soil is dense and heavy. If you consider squeezing garden soil, you will note that it clumps together. Garden soil contains soil, which is compost but doesn't include mulch and nutrients. The purpose of garden soil is to hold and keep the roots in check. Without the garden soil, the plants can utilize all the energy in growing the roots while making them stalled out.
Which Soil is Ideal for Landscape and Garden Projects?
The thumb rule uses garden soil in the garden and potting mix in your container or pots. Potting mix lacks actual soil. It is all-in-one to offer potted plants all they require to thrive and grow. Alternatively, garden soil is designed to spread around. If you want to improve garden soil, you can blend it with dirt. It has organic components that break to increase and boost the earth. You can use it when growing flowers, trees, vegetables, bushes, ad fruits. You can still employ garden soil during top-dressing your different types of planter beds and garden. This is vital, especially when nourishing dirt and holding moisture all the time.
Soil Thermometer for Different Types of Soil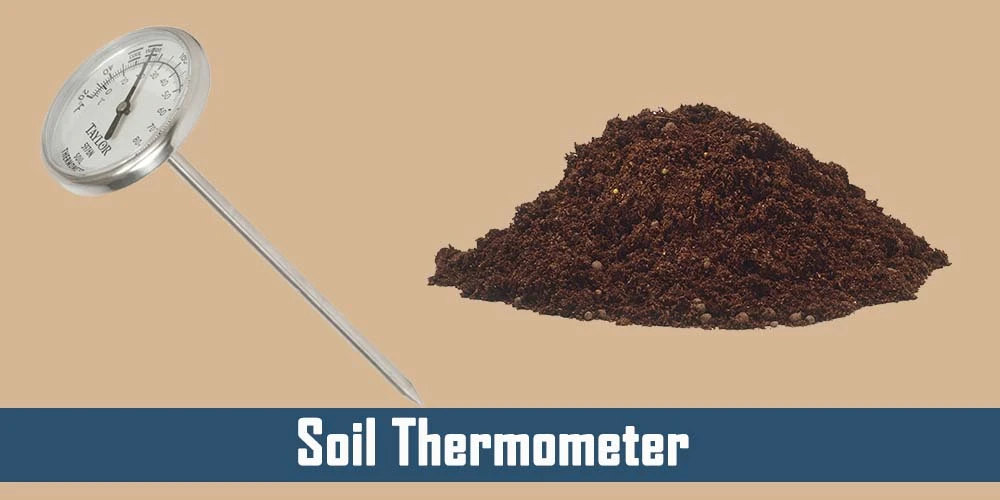 Soil temperature is an essential aspect that promotes germination, composting, blooming, among other processes. The good thing about checking soil temperature is that you know the right time to sow seeds. Besides, you will know when to transplant or start a compost bin.
What is a Soil Thermometer?
A soil thermometer also referred to as an Earth thermometer, is a tool that gardeners use to measure the soil's temperature. It is such an essential tool for farmers, soil scientists, and client scientists. The soil thermometer encompasses a coated probe to help resist corrosion. Additionally, the soil thermometer undergoes simple maintenance performed to help minimize erosion.
Professionals recommend wiping your soil thermometer to get rid of salts and soil to boost the probe's life. Individuals who live in wet areas should always wipe and keep their examination dry before storing it. Different types of soil thermometer have clips or case cover to keep them safe when in-store.
There are thermometers perfect for faster soil probes. Also, some options require some time to get their reading. These thermometers must be left in the ground and perfectly positioned for some seconds to come up with stable readings.
Simple step-by-step guide on how to use the device
Find the correct depth. Make at least 5-6-inches for a mixed garden.
Create a pilot hole using a screwdriver. This helps protect the thermometer's probe from getting damaged by the force of the soil.
Place your soil thermometer into the hole.
In case there is a lot of brightness, provide the shade. This is easily done by using your hands to cover the thermometer. This helps to give more accurate readings.
Record the readings precisely in the late afternoon and the morning; then, get the average. In case you are seeding a lawn, consider measuring all four corners since some sections get warmer faster than others.
Confirm the readings.
Conclusion
Creating a potting media ideal for seedling is time-consuming; however, it is worth the venture. You need to realize that plants have different requirements. Succulent plants and vegetables will require another soil type, and making the wrong choice can accelerate their death. Potting soil, potting mix, garden soil, or seed starting mix is ideal for your planting needs. Just ensure that the choice you make possesses the correct type of minerals and nutrients.