The benefits of growing house plants are renowned by now. They freshen up the air, resulting in better mental health, improved productivity, and so much more. If you're wondering where to begin in your cramped-up space, then fear not, as terrariums are the ideal planting containers for you. They are the perfect homes for small flora such as air plants, succulents, and chia. The terrarium can either be closed or open. When picking a terrarium, you must weigh aesthetic vs. practicality. We recommend that you choose one that matches your style and is easy to access on the inside. This allows you to swap out the contents quickly and easily when the need ever arises. Luckily, below is a review of the Top 10 best terrarium kits available in today's market.
Editors' Picks for Terrarium Kits
10 Best Terrarium Kits Reviews- 2022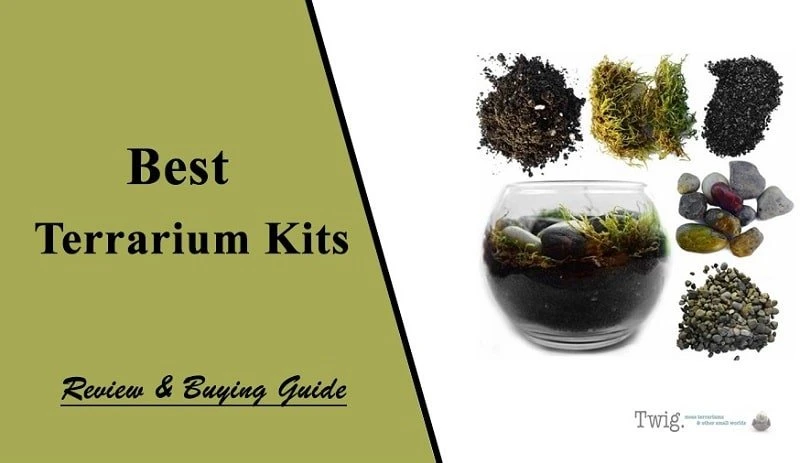 1. The Grow N' Glow Creativity for Kids Terrarium Kit
By buying this terrarium child kit, you provide your kid with the requisite tools to explore the world of science and nature. It is pretty straightforward to set and comes with all you need to create your mini-ecosystem in a Grow N' Glow terrarium. The encased plants often have two-life cycles, and your kids get to enjoy the maximum fun from assembling, decorating, watering, and watching them grow. The kit is a fun and innovative way for allowing your sons and daughters to learn about ecosystems, plant life cycles, and science in general.
Features
Watch it glow: The DIY terrarium kit has a translucent glow-in-the-dark star and an array of star stickers that light up your miniature garden at night. Be sure that this feature will keep any kid intrigued during their formative years.
Science kit for kids: The kit arrives with anything a young botanist needs to promote the growth of plants through two life cycles. It features a plastic mason-style jar, vermiculite, and glow-in-the-dark forest figurines.
Hobbies for Kids: The closed terrarium kit offers a perfect blend between art and science. As your child assembles the terrarium, they get to learn about nurturing and responsibility.
Specifications
Color: Beige
Material: Plastic
Weight: O.99 Pounds
Pros
High quality
It allows kids to explore their creativity and botany.
It has alluring translucent glow-in-the-dark stickers.
Cons
The jar is not very strong.
The grow light is sold separately.

2. The Light-up Terrarium Kits for Kids
This air plant terrarium kit by Dan & Darci will definitely inspire your child to take up an interest in the beauty of nature. It allows them to get practically involved in creating a beautiful mini garden. It comes with a 4 by 6-inch plastic terrarium jar with a lid and a wide enough opening for a child's and adult's hand. The potting materials include bright blue sand, nutrient-enriched vermiculite, white river rocks, chia, and wheatgrass seeds. It also comes with a cute small bunny, a mushroom mini house, a spray bottle, removable stickers, and wooden sticks. The wooden sticks are vital for pushing the seeds into the soil, hence avoiding unnecessary messes.
Features
Grows and glows: Interestingly, this terrarium kit promotes the growth of encased plants during the day while providing light through its LED light feature at night. The LED light creates an entirely magical experience using its transformative light. You simply have to hit the small switch at night and witness as your terrarium turns into a beautifully illuminated table-top garden.
Serves a wide age group: Since it is fun and engaging to use, children often do not think of it as a science project. However, its contents are sure to fascinate any kid once they pull it out of the box. In addition, it gives the users the freedom to layer the sand soil, rocks, and stickers in whatever manner they find appealing.
STEM.org approved educational item: This terrarium is so top-notch that STEM.org had it analyzed and approved for meeting the highest learning standards.
Specifications
Age group: 6 years+
Color: Green
Shape: Rectangular box
Size: 4×6 plastic terrarium jar
Pros
Excellent value for money.
The jar is wide enough for both a child's and an adult's hands.
The wooden sticks lower the risk of unwanted mess.
Built-in innovative LED light.
Cons
Not ideal for children under the age of 3.
The seeds do not always grow.
The lithium batteries are not included.

3. The Terrarium/Fairy Garden Kits
Crafting your terrarium is much easier than you might think. You first need to acquire all the materials that are critical to building your terrarium. Luckily, the fairy garden terrarium kit comes with the essentials for the job. The most important component is obviously the terrarium itself. It can be virtually any clear glass or plastic container that offers enough growth space. This covers fishbowls, bottles, and jars. There are even custom containers that were specifically designed to serve as terrariums. Your options are limitless as long as you pick a clear container that is easy to clean using hot soapy water. We recommend avoiding cloudy or tinted glass as it is likely to interfere with light penetration, limiting plant growth. The garden kit comes with 3 miniature living plants that vary depending on the season.
Features
Comes with 3 Plants: The available 3 miniature plants with the fairy garden terrarium kit may change depending on the season. This ensures optimal plant growth as dictated by the prevailing season.
Easy to use: The kit comes with a complete instruction manual to aid in setting up your living terrarium. This ensures minimal complications as you go on your crafting journey.
Enclosed decoration: The garden kit has a decorative mulch and reindeer moss whose color may vary. This is the perfect way to start decorating your terrarium.
Specification:
Its contents arrive in sachets.
It comes with 3 miniature plants.
Pros
It is easy to set up using the straightforward instruction manual.
It allows you to start growing using the 3 miniature plants immediately.
Cons:
You have to outsource for the terrarium jar as it is not included.

4. The Heidi STEM Terrarium Kits
If you're seeking to spark a genuine passion or promote intellectual curiosity in your kids or yourself, then look no further as the Heidi STEM terrarium kit is perfect for you. It allows you to craft, build and care for your mini-ecosystem in one amazing jar. Get prepared to experience the glorious wonders of mother nature at the comfort of your abode with its STEM-approved terrarium kit. It provides you with an easy way of educating your toddlers on the beauty of life, nature, and the wonders of science.
Features
Grow and Glow Terrarium: It comes with a unique lid with LED lights that last up to 6 to 8 hours when fully charged. You can thus watch your seeds flourish during the day and benefit from the ambiance of the glowing light at night.
Lid compatible with Minifigures and Bricks from Major Brands: This allows you to add your favorite building blocks and Minifigures as you set up your terrarium.
Observe phototropism: This kit allows you to watch as pea shoots and roots grow in response to light, touch, water, and gravity. It thus serves as the perfect science kit for both kids and adults. So get ready to witness the growth of peas during the day and night.
Specifications
Color: green
Shape: rectangular
Contents: floral sand, resin squirrel and mushroom, coconut coir, butterflies, and insects.
Pros
Easy-to-follow instruction.
Minimal outsourcing is needed.
Comes with plenty of decorative items.
Cons
Lithium batteries are not included.
The LED light can only be replaced by the seller.

5. The Succulent Planter Soil Kits
This DIY terrarium and succulent planter kit come with a Hoffman soil mix, decorative pea gravel, charcoal. And reindeer moss. It has the most premium ingredients that live plants need to flourish and showcase their beauty. All the components have been meticulously chosen to provide you with the best ingredient for keeping your live plant terrarium thriving. In addition, you have the option of using your succulent terrarium kit as a hanging terrarium, a kit for kids, or your fairy garden. It is an awesome starter kit for succulent seed propagation as well as the growth of cacti. You simply add your favorite mini plant into the succulent container and marvel as it grows. It can also serve as a tree frog terrarium kit.
Features
Amazing gift idea: This terrarium can serve as a great and unique gift idea for your kids.
Saves time and money: Since plenty of important components come already packaged, you end up avoiding buying in bulk. In addition, you waste less time searching for ingredients.
Easy to use: It comes with the relevant instructions to set up your terrarium. Extra information can be obtained from the crafter's website.
Specifications
Components arrive encased in sachets.
Pros
It is great if you're seeking to cut costs and save money.
It is an awesome gift for both kids and adults.
Cons
The plants are not included.

6. Craftivity Tropical Terrarium Kits
The tropical terrarium kit by Craftivity allows you to create your mini tropical paradise at the comfort of your home. This full garden set comes with everything you require to plan, decorate, water, and grow. It includes easy-to-grow polka dot plant seeds, a golden pineapple, succulents, and potting mix. To finish off your landscape, there are layers of colorful stones and sand that you can play around with and let your imagination run wild. This tropical terrarium is the ideal centerpiece for your living room, dining room, and office space. It is designed for tees aged 12-16 and thus serves as a great way of teaching them about botany. They also get the opportunity to explore and discover their artistic abilities.
Features
Great room décor: This terrarium is a great inclusion as a room décor accessory. It is the ideal size for fitting onto your counter and desktop. In addition, it serves to bring some color into your room.
Excellent for learning container gardening: The terrarium allows you to practice decorating, planting, watering, and growing skills.
Easy to grow: The kit comes with easy-to-grow Hypo Estes.
Specifications
Color: multicolor
Brand: Creativity for Kids
Manufacturer Part No. 402100
Weight: 1.5 pounds
Size: 5.38×7.5×15 inches
Shape: Round
Pros
It has a trendy geometric planting container.
It is made from strong and sturdy plastic.
Usable on a desk or table.
Cons
The gold tape does not easily stick onto the terrarium.
The succulents are not real.

7. Terrarium Essentials Kit by JM Bamboo
If you are a beginner at gardening, then the JM Bamboo Terrarium Essential kit contains all the supplies you need to craft and grow a cute mini garden. The terrarium kit comes with 2 pounds of potting soil, 2 ounces of natural green moss, and 3 ounces of charcoal. The accompanying instructions are pretty straightforward hence easy to follow. You only need to add a 1-gallon glass jar or plastic container for holding and growing your plants. Afterward, you can proceed to decorate it using miniature garden gnomes and colored sand. If you would like to grow succulents, then we recommend adding extra perlite for better growth results.
Features
It is excellent for nature lovers: Rocks, mixed potting soil, and natural green moss give it a natural touch.
Easy to use: It comes with the relevant instructions to set up your terrarium.
Ideal gift: It can serve as the perfect and unique earth day gift for your toddler, friend, or family member.
Specification
Pros
It is excellent value for money.
Great kit for a child's gardening project or beginner's gardener.
It has easy-to-follow instructions.
Cons
It does not include a terrarium.
You have to add perlite to grow succulents effectively.

8. The Complete Terrarium Kits: Succulent Planter
This complete terrarium kit for succulents is ideal for aiding beginner gardeners in creating their mini plant gardens. This affordable yet all-inclusive kit excellently grows succulents and cacti. It comes with a small 4×5 inch terrarium glass globe and organic hand-made soil mix uniquely designed for cacti and succulents. In addition, the package includes sheet moss, pea gravel for water absorption, polished river rock for décor, and activated charcoal to eliminate harmful toxins. Once you complete placing the ingredients in the terrarium, you can add your plant and other imaginative decorations.
Features
Perfect for desk décor: You reduce stress by adding this relaxing ornament to your desktop or office space.
Easy to set up: The instruction manual is part complete terrarium kit, which is straightforward.
Complete kit: The succulent planter comes fully equipped with the bare essentials needed to set up your terrarium. You thus save a lot of money from not buying ingredients in bulk.
Specifications
Brand: Terra Green Creations
Material: Glass globe
Size: 6x6x4
Weight: 1.9 pounds
Shape: Round
Pros
It comes with a robust glass terrarium globe.
Its organic hand-made soil mix is perfect for nourishing cacti and succulents.
The terrarium is available in 3 additional sizes.
Cons
The smallest size does not have a lot of space.
It does not include a plant.

9. The 9Green Box Terrarium Fairy Garden Kits
Crafting your fairy garden or living terrarium could not have been any easier, thanks to the terrarium garden kit by 9Green Box. These hand-assembled terrarium kits are ideal for kids and beginners that are slowly gaining interest in the world of flowers and plants. The kit comprises live sheet moss, potting soil, carbonized charcoal, and river rock. It also comes with a complete step-by-step instruction manual to orientate new users with setting up. You can use small to medium-sized plastic jars and fishbowls as the terrariums for planting succulents, roses, orchids, and tropical plants. It is the perfect opportunity for your kids to unleash their creativity by adding miniatures and colorful sand to complete your fantasy garden.
Features
Easy to set up: It comes with a complete instruction manual to guide new users in setting up and making the entire experience fun.
All-inclusive: This hand-packed kit by 9Green Box comes with sheet moss, river rocks, potting soil, and carbonized charcoal. You thus save a bundle by not outsourcing materials.
Excellent gift idea: This terrarium can serve as an awesome and unique gift idea for your toddlers.
Specifications
Brand: 9GreenBox
Material: Plastic
Size: 9.5x1x1.3
Weight: 1.7 pounds
Pros
It is hand-assembled, which adds a personal touch.
Ideal for small to medium-sized plastic or glass container.
Excellent value for money.
Cons
It does not include the terrarium.
The moss has a strong odor.

10. Cute Farms Terrarium Starter Kit
The Cute Farms Terrarium Starter Kit comes with soil enriched with activated charcoal, plant food, moss vermiculite, and rocks. These components all serve a unique role that contributes toward the flourishing of the encased plants. For decoration, the starter kit exclusively includes a super-cute dinosaur figurine that adds a unique touch to your terrarium. In addition, the kit comes with a natural hair brush and bamboo stick to help in the clean planting of seeds. It, however, does not come with a container. This may be suitable for those who already have their favorite containers or would like to pick one separately. The available supplies are plenty enough for two large terrariums or three to four small terrariums.
Features
Build and care: The kit comes with a bamboo tool and natural hairbrush that are the perfect finishing tools. They are thus perfect for avoiding unwarranted messes.
Quick start: All you have to do is mix up the components to the container of your choice, then add your plants.
Value: You end up saving a lot of money when compared to buying individual materials.
Specifications
Brand: Cute Farms
Size: Medium-sized kit
Pros
The inclusions are plenty enough to create more than one terrarium.
The hairbrush and bamboo stick help avoid messes.
Cons
It does not include the terrarium container; hence one has to out-source.

Best Terrarium Kits Buyer's Guide
When looking for a terrarium, there are several things that you should consider. This is further complicated by the difficulty of picking the right kit to match the terrarium. Here is a straightforward guide on what to consider when choosing the best terrarium kits.
Well-Constructed Terrarium
Plastic, glass, and acrylics construct most of the available terrariums. However, the glass terrarium is more popular due to its extra perks. It allows easy viewing of the plants and retains moisture well. Additionally, it effectively controls the ecosystem and temperature of the terrarium. Plastic and acrylic, on the other hand, offer a lighter and cheaper option. They're also less brittle when compared to glass and won't break easily with drops. Frames are also important in adding sturdiness to the terrarium. Especially metal frames that last longer.
Terrarium Design
The right terrarium design helps your plant thrive and grow healthy. Succulents and soil-based plants thrive in a terrarium with open sections. They also sit solidly on top of a table. Another design is hanging closed terrariums. They are great for air plants. However, if you desire water plants, they do best in either a hanging or wall-mounted terrarium. It should have an opening to allow them to grow.
Terrarium Kits with Everything
When making a terrarium, you'll need plants, a container, soil, and décor. Additionally, you may require tools to help in planting. For instance, a watering and a small trowel ensure you don't struggle a lot during planting. If they don't come with the kit after purchase, get the items as they will come in handy. However, if you want to customize your own terrarium kits, pick one with the essentials only. Then add whatever tool that you will use most.
Terrarium plants
Sometimes, the kit comes with plants. Always check the type of plant species. Air plants and soil-based plants can grow well in a terrarium. However, they shouldn't get too big and have the ability to survive in moderate sunlight. Additionally, they should be able to handle humid environments and enclosed spaces with insufficient moisture. Succulent plants fit this set of unique conditions and thus are more preferred. Examples of popular succulents include aloe, cactus, and Haworthia. Other good plants to consider are ferns and tillandsia.
FAQ
How Do You Make Homemade Terrarium Kits?
A DIY terrarium is a great challenge for any plant lover. You will need a glass jar, small pebbles/stones, activated charcoal, potting soil, plants, and small gardening tools. Now, you can create something new and one of a kind by following these steps:
Cover the bottom of a glass jar with a 2-inch-thick layer of pebbles and small stones.
Add a thin layer of activated charcoal
Add a layer of potting soil
You can add your plant of choice
Add a layer of pebbles and design however you want
What Plants are Best for a Closed Terrarium?
The best plant in a closed terrarium is to thrive in a high humid and warm temperature environment. The vapor produced from evaporation does not escape because of the. It then condenses on the glass wall and drips back into the medium. This creates a constant water supply resulting in humid conditions that mimic the perfect environment for the terrarium plants. Also, small plants are just the right size to fit in a glass jar.
How Long Does a Terrarium Last?
Terrariums can last for several years or longer under the right conditions. However, it is dependent on proper maintenance. The factors for a healthy eternal terrarium include moisture, the right plant species, light, and temperature. However, most terrariums eventually rot. The terrarium soil begins to lack biodiversity due to the death of the microorganism. It then becomes hard to complete the cycle. Therefore, do not fret when your terrarium doesn't last long. Plants inevitably die. Get the most out of your terrarium while it lasts.
Do You Need Charcoal for a Terrarium?
Well, it depends on whether your terrarium is open or closed. A closed terrarium needs activated charcoal to clear up the unpleasant side of the ecosystem. Plants die and rot, then release unpleasant gases and toxins that are harmful to your plants. The charcoal absorbs the toxins and gases, thus prolonging the life of your terrarium. However, the charcoal will eventually need replacing since it loses its effective function over time. An open terrarium doesn't need charcoal since the gas escapes into the atmosphere. But to avoid bad odor in your home, just add the charcoal into your terrarium.
Can You Put Succulents in a Closed Terrarium?
Succulents thrive better in low moisture and high light environments. A closed terrarium is too humid to plant a succulent plant. Therefore, an open terrarium is ideal for such plants. It is because it provides a low moisture environment by allowing the escape of moisture into the environment. However, be careful not to overwater your plant as it will still create humid conditions.
Do You Keep the Lid on a Terrarium?
The type of terrarium you have will determine whether you need to keep the lid on. A closed terrarium needs a lid to enclose the plant completely within the glass jar. It results in a humid and hot environment that is suitable for moisture-loving plants. However, an open terrarium doesn't need the lid on. It loses water to the atmosphere, therefore not maintaining the water cycle. This terrarium is great for cacti and succulent plants that don't require much moisture to thrive. Although, you'll need to water your plants to prevent them from drying up regularly.
Final Verdict
A terrarium is a low-stress and simple way to add botanicals to your home. Not only do they take up little space, but they are also easy to make and maintain. Regularly watering and placing them with adequate sunlight seems to be enough to allow your plants to thrive. Additionally, they allow you to play with your garden creativity in how you'll design them. Make sure to grab a terrarium kit to bring in some natural color to your home.
Recommendation
Buy on Walmart
TerraGreen Creations Succulent Planter Kit - Terrarium Kit with Succulent Soil, Gravel, - Walmart Link
Terrarium DIY Kit - All The Essential Supplies Needed to Make Your Own Terrarium at Home - Walmart Link
Bryte Little Growers Unicorn Terrarium Kit for Kids with Rainbow Fairy Lights&Paintable - Walmart Link
Creativity for Kids Grow 'N Glow Terrarium Kit for Kids - Science Activities for Kids - Walmart Link
Light-Up Terrarium Kit for Kids - STEM Activities Science Craft Kits - Kids Crafts Gifts - Walmart Link
DIY Terrarium Kit for Adults with Plants Included Plus Decorative Rocks, Moss & Healing - Walmart Link
Whole Housewares Glass Hanging Terrarium Set of 3 in Large Size- Succulent/Moss/Air Plant - Walmart Link
Buy on eBay
TerraGreen Creations Succulent Planter Kit - Terrarium Kit with Succulent Soil, Gravel, - eBay Link
Terrarium DIY Kit - All The Essential Supplies Needed to Make Your Own Terrarium at Home - eBay Link
Bryte Little Growers Unicorn Terrarium Kit for Kids with Rainbow Fairy Lights&Paintable - eBay Link
Creativity for Kids Grow 'N Glow Terrarium Kit for Kids - Science Activities for Kids - eBay Link
Light-Up Terrarium Kit for Kids - STEM Activities Science Craft Kits - Kids Crafts Gifts - eBay Link
DIY Terrarium Kit for Adults with Plants Included Plus Decorative Rocks, Moss & Healing - eBay Link
Whole Housewares Glass Hanging Terrarium Set of 3 in Large Size- Succulent/Moss/Air Plant - eBay Link