Pet snake ownership is often an exciting adventure. It opens you up to an entirely new world of imagination and curiosity about the natural world. Reptiles come in an array of sizes, have varying habitat preferences and behaviors. Hosting them requires one to pick the ideal habitat. Choosing their terrarium is without a doubt one of the most crucial factors in successfully keeping a snake. A versatile and easily adaptable terrarium is vital to meeting the different needs of reptiles. Below is a complete guide into the best terrarium container for snakes available in today's market.
This snake terrarium containers review will also give you insight into the perfect sizes for the different snake breeds.
Editors' Picks for Snake Terrarium
Summary Video Snake Terrarium Reviews
6 Best Snake Terrarium Reviews 2022

1. "The REPTI ZOO" Reptile Glass Terrarium Tank
This nifty reptile glass terrarium container ensures snake owners provide their pets with a comfortable and durable habitat. It comes with front opening doors that enable you to gain easy access for proper feeding and maintenance. In addition, it has a uniquely designed lock that keeps any master escapist at bay. Its full-screen maximum ventilation enables infrared and UVB penetration. Moreover, the top is easily removable, which allows you to clean and decorate it easily. Its right side has tube inlets or closable wires that enable pet owners to install waterfalls, heatwave rocks, and sensors.
Features:
Raised Bottom Frame: This well-thought-out design feature enables you to fit a substrate heater easily. Moreover, the bottom is waterproof, which gives you the option of using the tank as either rainforest or desert terrarium.
Proper Ventilation: By buying this terrarium, you can rest assured that your pet will have a constant flow of fresh air. It has perfectly placed window ventilation on its left, right, and closable inlets for wires and tubing on the top and right sides.
Simple to Install: It comes with an easy-to-read step-by-step manual that allows you to set up the terrarium in as little as 5 minutes. It is carefully packaged in thickened reinforced foam and a double box of rigid cardboard to ensure safe transit.
Specifications:
Color: black
Dimensions: 35.98×17.99×17.99
Weight: 25 kgs

2. "Carolina" Custom Cages Terrarium
The renowned Carolina Customs Cages offers a growing family of terrariums that are easy to install. There are about 21 different models, with the 36" L and 24" L models coming with the hinged door feature. In addition, it's 48" L and 72" L models come with unique sliding door features that ensure easy access to the terrarium's interior. Carolina Custom Cages also strived to ensure that every model offered a certain key-lock security feature.
Features:
Proper Waterproof Bases: Carolina Custom Cages offers Bio deep blue models that feature a 12" deep waterproof bottom. The deep waterproof feature is especially seen in the 9" and 12" models, making them ideal for owners with water-loving pet snakes. Every other version has a waterproof marker. We, however, recommend 6.3" deep on 24" models, 4" deep on the 18" H models, as well as the 7.5" on the 36" H models to anyone seeking better leakproof options.
Safety in Transit: The cage arrives packaged in extra Styrofoam and tough cardboard, thus ensuring double protection-this "box-inside-a-box" form of storage guarantees better security and assurance during transit. You can therefore rest easy as you are protected against UPS abuse.
Diverse Models: Since it comes in about 21 models, snake owners are sure to get the right cage size for their pets. The miniature models are the perfect corn snake terrarium model and host miniature reptile versions such as the milk snake and the rosy boa. The same applies to the enormous model variety.
Specifications:
The standard size is 35.98×17.99×18, but there are 20 other sizes to choose from:
Weight:60.38 pounds
Brand: Custom Carolina Cages

3. "The Exo" Terra Glass Natural Terrarium Kit
This glass terrarium is the ideal amphibian abode tailored for European herpetologists. It has front opening doors that enable easy access for feeding and cleaning. In addition, it comes with five closable tube inlets or wires in the back of the screen cover. This allows pet owners to customize their terrariums using waterfalls, heatwave rocks, and sensors. Moreover, it has a raised bottom plate that enables you to mount a substrate heater.
The heat produces our loveable cold-blooded creatures that do not suffer from hypothermia by heating the extended ground surface. Its extra high fixed front window is perfect for burrowing reptiles that need that extra layer of substrates. The additional soil layers also enable live plants for snake terrarium. This contributes to a more natural display by adding an extra dimension to the background.
Features:
Naturalistic Background: Exo Terra outdid themselves by offering the one-of-a-kind Rock Terrarium Background. It is uniquely easy to cut and shapes and also has an amazingly natural look. This beautifies the natural terrarium as well as provides a multi-dimensional enclosure that is perfect for climbing reptiles.
Safety: It has an escape-proof dual door lock that ensures even the deftest escape artists remain inside. This not only guaranteed safety to the pet owner but also the pet.
Unique features: It has a waterproof bottom that is also raised to fit a substrate heater snuggly. It also has patented front window ventilation that ensures excellent air circulation.
Specifications:
It measures 24x18x12.
Weighs 35 pounds
It is made of glass and is rectangular.

4. "The REPTI" ZOO Large Reptile Terrarium
If you plan to own snakes that grow up to enormous sizes, you should accommodate them in an enclosure that does not limit their growth. This is where this largely closed terrarium by REPTI ZOO comes in handy. It provides a large ideal space to create the natural environment for any rapidly growing reptile. The terrarium comes with full-screen top ventilation that enables infrared penetration. It is also completely detachable that allows easy access for cleaning and decorating.
Features:
An Anti-escaping lock: Repti zoo came up with this reliable, specially tailored lock to prevent unwanted access and opening by children or pets. This the perfect extra security needed to keep the snakes within the terrarium.
Unmatched Water-tightness: The terrarium has unique water-tight hinges that allow for a water pool inside the terrarium. This provides the ideal natural water feature for amphibians as well as water-loving snakes.
Modern Design: Its modern design ensures optimal air circulation and is usually easy to maintain. The easy-to-open double doors can also be readily taken out for regular maintenance.
Specifications:
It measures 48" by 18" by 24" and holds up to 85 gallons.
Made of glass.

5. "The Zilla" Reptile Starter Kit 10
The Zilla reptile starter pack is the perfect beginner's habitat for first-time owners of inhabiting desert reptiles. Each comes packages two Reflective Dome light fixtures that offer light heat to the enclosure's residents. This keeps the cold-blood reptiles healthy by safeguarding them from hypothermia. The Black incandescent bulb is perfect for nighttime warmth since it is not distractingly bright for both the owner and the pet.
A White Spot Bulb is included for daytime basking. In addition, the terrarium comes with a Humidity/Temperature Gauge that enables the quick and easy adjustments of environmental parameters.
Features:
Solid Screen Cover: The Zilla starter pack comes with a solid screen cover that ensures excellent ventilation and airflow. This helps keep your reptile healthy and happy. The metal mesh screen is not only durable but also allows excellent light penetration.
The Zilla Halogen Mini Dome: The enclosure mini dome is a proper alternative to the regular dome since it takes up less space at the top of the enclosure. Despite being small, it still offers heat and lighting since it comes with reflective aluminum on the inside.
Terrarium Liner: The easy-to-roll-out terrarium liner spreads into a brown carpet that perfectly fits the enclosure. This provides a natural base for your terrarium's desert design. It is highly absorbent and is made from non-abrasive biodegradable material to lower the risk of obnoxious odors.
Specifications:
It comes in two sizes, a 20-gallon snake terrarium, and a 40-gallon snake terrarium.
Multicolor and weighs 17 pounds
It is rectangular.

6. "The Oiibo" 67 Gallon Premium Glass Snake Terrarium
Oiibo is renowned for coming with simplistic yet modern terrariums that provide the ideal closed terrarium container living premises for reptiles. It is pretty straightforward to set up as all you need is a screwdriver and an easy-to-read manual. In addition, it comes with a sliding door and two covers that are easy to detach. This allows you to remove your pet during scheduled cleaning days efficiently as well as promotes quick feeding. The fully enclosed cheap glass terrarium container can feed more pets within one terrarium.
Features:
Proper Air Circulation: It has a tough crude screen top that offers excellent ventilation and easy penetration of UV light.
Water-Proof Bottom: It has a raised water-tight bottom to fit a substrate heater.
Secure and Safe: Its sturdy plastic frame ensures the glass edges are adequately protected. An extra security measure is a clip-on mesh lid that is tricky to dislodge. This feature reduces the risk of the reptile escaping. It, therefore, combines the benefits of a plastic terrarium container are lightweight, and the strength of glass.
Simple to Assemble: It comes with an easy-to-read assembly manual that allows you to set up in as little as 5 minutes. It is also correctly packed with the requisite parts to ensure proper assembly.
Specifications:
It measures 48x18x18 inches.
It is made from a combination of Glass and Plastic.
White in color.

Best Snake Terrarium Buyer's Guide

Before you select a snake terrarium, find out the right conditions of the snake species that you want as a pet. These conditions will help you determine the right set of characteristics of the best terrarium container. Some of these factors include:
Hiding Spots
Snakes are private and shy animals that love hiding whenever possible. Thus, to lower their stress level, snakes will need their privacy. Look for a terrarium that allows the creation of a cave or shelter for them to hide. Preferably, it should be on the cool and warm sides of the tank.
However, remember snakes continuously enlarge in size, and m will eventually outgrow their initial hiding spot. Therefore, get a terrarium that is large enough to support the size of the different hiding accessories.
Heat and Humidity
Snakes cannot regulate their body temperature. Therefore, these factors have to be considered. A thermometer and hygrometer are bonus equipment that helps in monitoring the temperature and humidity of the terrarium. You will easily get to know when it is too hot or cold.
Note, too much humidity causes their scales to rot and get infected. Alternatively, too low humidity prevents them from easily shedding their skin. Thus, it is essential to keep vigilance for a healthy and happy pet snake.
Size Matters
The terrarium size depends on your pet snake species. In the wild, snakes have unlimited space. Despite being found curled up, they need the space for average growth and development. A large terrarium provides this requirement. A cage of about 10 to 20 gallons is suitable for a juvenile snake.
However, more giant snakes need big cages. Go as big as you desire in terms of the maximum size since there is no set limit.
Escape Proof
Snakes are the masters of escape and will grab the chance to do so when presented. This due to their burning need to explore the environment out of curiosity. Thus, having a secure tank is essential. Large holes, unsecured mesh, or open sliding doors are some of the escape routes snakes commonly use.
Snakes slither right through them, and you're left with a missing reptile the following day. It isn't fun to Google search how to find escaped snakes when you could have secured them early. Therefore, put safety locks on all cage openings to be sure.
Buy on Walmart
Reptile PC Glass Terrarium - Amphibians Tank Starter Kits, Acrylic Anti Breakage 12x9x7 - Walmart Link
REPTI ZOO Reptile Glass Terrarium,Double Hinge Door with Screen Ventilation Reptile - Walmart Link
REPTI ZOO 67Gallon Upgrade Glass Reptile Large Terrarium 48" x 18" x 18"(Knock-Down) - Walmart Link
REPTI ZOO Large Reptile Terrarium 85 Gallon, Front Opening Glass Reptile Habitat Tank 48" - Walmart Link
REPTI ZOO Full Glass Reptile Terrarium 20 Gallon, Front Opening Reptile Tank 24" x 18"x - Walmart Link
REPTI ZOO 34 Gallon Large Reptile Glass Terrarium Tank with Foam Backgrounds,Double Hinge - Walmart Link
REPTI ZOO 10 Gallon Reptile Tank Glass Natural Cages Terrarium 20" x 12" x 10" Sliding - Walmart Link
Buy on eBay
Reptile PC Glass Terrarium - Amphibians Tank Starter Kits, Acrylic Anti Breakage 12x9x7 - eBay Link
REPTI ZOO Reptile Glass Terrarium,Double Hinge Door with Screen Ventilation Reptile - eBay Link
REPTI ZOO 67Gallon Upgrade Glass Reptile Large Terrarium 48" x 18" x 18"(Knock-Down) - eBay Link
REPTI ZOO Large Reptile Terrarium 85 Gallon, Front Opening Glass Reptile Habitat Tank 48" - eBay Link
REPTI ZOO Full Glass Reptile Terrarium 20 Gallon, Front Opening Reptile Tank 24" x 18"x - eBay Link
REPTI ZOO 34 Gallon Large Reptile Glass Terrarium Tank with Foam Backgrounds,Double Hinge - eBay Link
REPTI ZOO 10 Gallon Reptile Tank Glass Natural Cages Terrarium 20" x 12" x 10" Sliding - eBay Link
Conclusion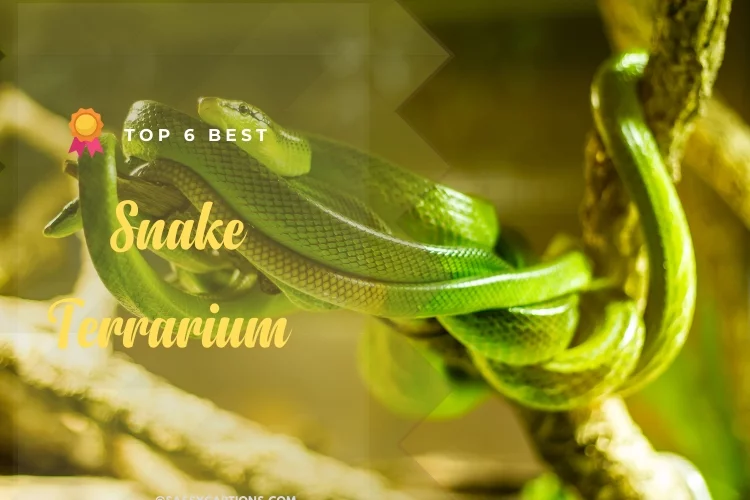 Remember, before buying a snake terrarium, the snake's health and well-being come first. Get a top-quality enclosure from the beginning instead of a substandard one. This avoids the unnecessary cost of replacing it with a better one and having a stressed-out and uncomfortable snake.
Therefore, you are sure of your pet snake growing healthy, especially when placed in the best enclosure. Just pick the best terrarium container that meets the essential needs of your pet species. The desired goal is to have a comfy home for your pet snake.