We've all read it. Sunlight is essential for plants because it allows them to finish their photosynthetic process and produce nourishment. However, water is a vital component of this process because it is challenging to develop plants without it. Water timers are the most effective technique to keep your plants' water supply regular.
Water timers, in simple terms, are a gadget that allows you to manage the flow of water to your garden or lawn by attaching it to a sprinkler or irrigation system. A water timer makes watering your lawn much more accessible. The procedure takes care of turning on and off your sprinklers so you don't have to. The most significant advantage of using a water timer is that you can control water flow based on your plant's needs, and this entire process can be automated according to your time and schedule. You won't have to stress about your plants while you're away from home because your water timer will look after them.
So, not only have we compiled some benefits of the most exemplary water timers for your lawn and garden, but we have also included a few water timers for your lawns and gardens. So, let's see some water timers first:
Top Hose Timer 2022 by Editors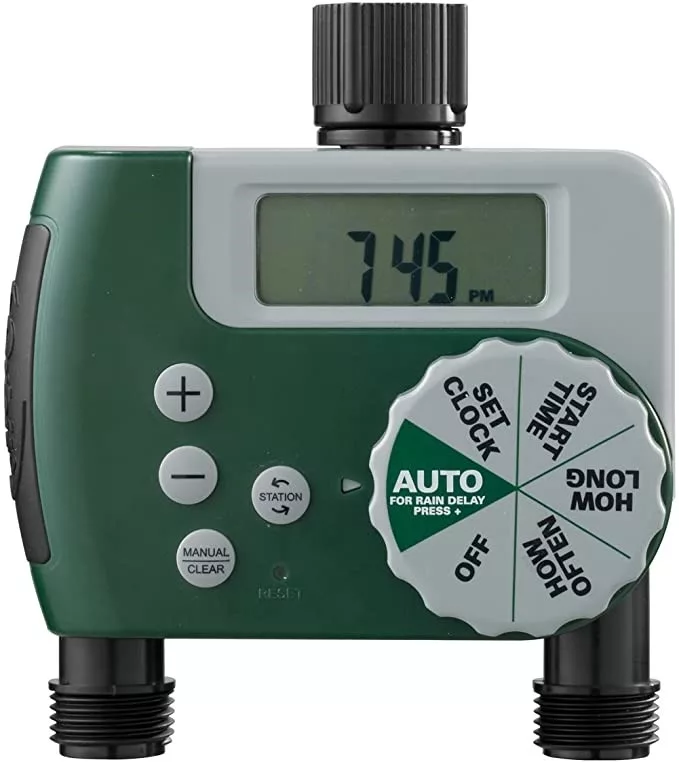 Top 5 Best Hose Timer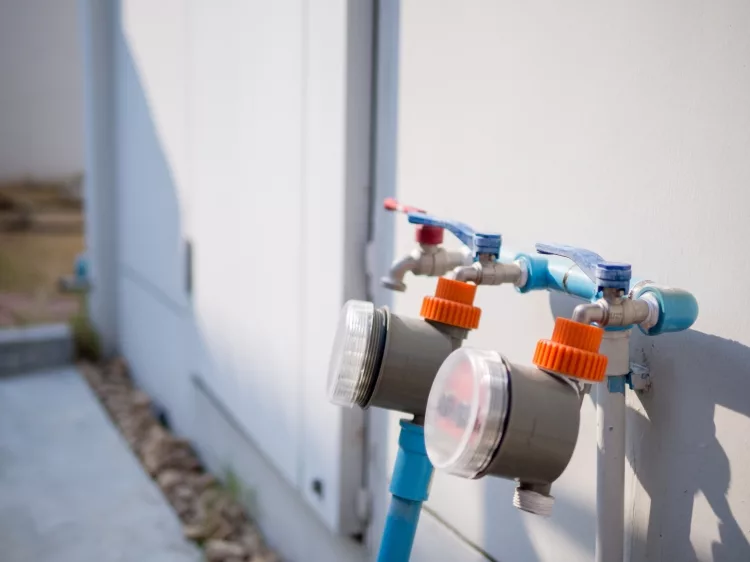 1. Orbit 58910 Programmable Hose Faucet Timer, 2 Outlet, Green - Link
So here is the orbit 58910 programmable hose faucet timer. The main benefit or perk is that its watering frequency is from 6 hours to every 7th day. It is also mentioned on their product page. Also, its watering duration is from 1 to 240 minutes. The installation and programming of this timer are simple and straightforward. There are no tools required. Simply set the start time, duration, and frequency of watering. Furthermore, the timer maintains the program even after the battery is changed. Programming is as simple as ABC with the wide, easy-to-read dial and LCD screen.
His features also included time control watering, and you can control the time of watering by your chosen time or schedule. Also, if you want to use the faucet manually, you can use it without disturbing any set time. Its feature of rain delay might also work for you best because its built-in rain delay pauses your programmed schedule for 24, 48, or 72 hours.
It got a nice design with two outlets so you can get better water flow. Even they have a single outlet design too. If you are interested in that design, you can also check out that one.
Pros:
Simple and Easy to program
Easy to install
Good Quality and many features
Two outlets allow more convenient water flow
Cons:
For some users, it leaks after a long time of flawless use. After some seasons.

2.Orbit 62034 Mechanical Watering Hose Timer - Link
This water timer is simple to program. It's exactly like an egg timer! Set the timer for your watering needs to be somewhere between 15 and 120 minutes. It includes an automatic mechanism that shuts off the water for you. Remember to turn off the water once again. This timer will automatically turn off the water. Setting the timer is straightforward with the easy-to-set dial and comfort grip, even with gloved or wet hands. It is also made of high-quality materials to ensure that it will last season after season without rusting or corroding. It's simple to install; the Ergonomic Swivel attaches to your faucet quickly and effortlessly. Without needing to remove the timer, you can get to the water quickly and easily.
Its ergonomic swivel and high-impact construction ensure a long-lasting and simple-to-install product. It comes with both timed and manual watering options for increased convenience. Watering can be set to water for 15 to 120 minutes. You'll never have to worry about forgetting to turn off the sprinkler again because it can be turned off just after it finishes its job. Simply connect your timer to your faucet, and you're set to go. The mechanical functioning does not require batteries, and it features a wide dial with options for both timed and manual watering. It comes with a Mesh Filter that may be replaced.
Pros:
No battery required for mechanical operations
Good Quality built
Cons:
Lowers flow slightly
For some users, Sometimes, it does not turn off the water on the mechanical operation.

3.Instapark PWT-07 Outdoor Waterproof - Link
Instapark PWT-07 Outdoor Waterproof also DigitalyProgrammable with Single Outlet with Hose Timer, Rain Delay and Manual Control
With simple, straightforward, fool-proof, and user-friendly programming, this single-station digital programmable faucet water timer with an impulse solenoid valve attaches to any of the garden outdoor hose faucets with a standard 34" (GHS) thread and provides flexible and effective control of watering frequency and duration. Weather-resistant, impact-resistant, quality ABS construction with dust cover, waterproof rated at IP66, perfect for irrigation applications in gardens, yards, greenhouses, flowerbeds, and other areas. Large print that is bright, colourful, and easy to read with a bar-graph battery strength indicator, the 2.1" X 1" LED Display switches between the current time and timer status.
Duration can be chosen (24, 48, or 72 hours). Without changing the timer's program, the rain delay and manual options provide comprehensive control and maximum water conservation. With two fresh batteries, it can run for up to 4,000 on/off cycles (equal to 12 months). 2 alkaline 1.5V AA batteries are required, and the battery compartment is drawer-style detachable for easy battery changing.
Its different zones irrigation design allows users to control water flow to every different segment of your lawn or garden. Also, duration control also would be beneficial for your garden.
Pros:
Good built Quality
Good design that allows protection of screen for long term
Easy to program and install.
Cons:
By some users' reviews, they said they are facing water restrictions, but most of them are not facing them.
Some people faced different pressure in different zones.

4.Melnor 65035-AMZ AquaTimer 2-Zone Digital Water Timer with 3 Stainless Steel Filter Washers Set - Link
A lovely lawn or garden is in the palm of your hand. You can handle all of your watering duties with these long-lasting watering nozzles and wands. Its two valves allow you to schedule watering for various regions of the yard individually. It includes a fantastic feature that allows you to schedule your water as frequently as every hour, up to 24 times a day, or as infrequently as once a week on each valve. Its rain delay feature allows you to suspend the watering plan for up to 7 days, ensuring that you don't waste water when it isn't required.
A 2-Zone digital water timer automates the watering of two distinct regions of the yard. Set the timer for how often and how long you want to water, and the timer will do the rest. Set one sprinkler to water the lawn every other day and another to irrigate a newly planted flower bed on a regular basis. Do you need to fill a bucket or clean the deck? Use the manual watering option instead. If rain is expected, set a rain delay for up to 7 days, and the watering will automatically resume once the wait is through. With additional filter washers, it ensures a leak-free seal at all times. It comes with three spare filter washers, which may be simply replaced if they get lost or worn.
Pros:
Separate Scheduling for Each Zone
Easy to Set Up and Program
Works with Sprinklers, Soaker Hoses, and Drip Systems
You can program up to 4 distinct watering sections and have them start at different times (preferred for H20 pressure.) It is great. Especially since you can start and stop the times of watering with great flexibility and multiple times. So, if you want zone 2 to run 30 minutes at 10 a.m. and zone 4 for 10 minutes at 7 a.m., you can, and if you want, you could run each zone 20 times a day.
Cons:
The learning curve is a little bit more than you would hope for, but it's not completely horrible; just be aware it may take you a few bits to learn to operate correctly.
Usability would be disturbed after some long time of usage.

5.Raindrip R675CT Analog 3-Dial Water Timer, 1, Multi - Link
It's simple to set up and connects to any outdoor faucet, drip tubing, or garden hose. On/off control is provided by a solenoid and a diaphragm valve. The low battery indicator is a very useful feature. It also features a fail-safe feature that turns it off when the battery level falls below a certain threshold. When the batteries are replaced, the program is automatically retained (if changed within 15 seconds).
SO definitely it has a lot of excellent features which are useful in daily life. It's not difficult to operate, and you won't have to worry about reading dim LED panels in direct sunlight. Customers want a hose timer, and they know what they want. Congratulations on the design! Although it lacks the more intricate program capabilities found in certain timers (for example, on Tuesdays, Thursdays, and Saturdays, run once for 25 minutes), it meets the most basic demands, such as "three times every other day."
The ease with which this programming style can be modified is one of its best features. Simply turn the left dial from 8 (every 8 hours) to 12 (every 12 hours) to reduce the number of times to two (every 12 hours).
It's the same deal for the duration; simply adjust the right dial to the current time, and you're done. The top dial controls rain delay and manual "on" timings; simply rotate to the settings you choose, and the timer will return to standard programming after the top dial event is completed.
Pros:
It's simple and easy to use.
It's cheap in comparison to other expensive stuff.
Cons:
So many users complain about its bad built Quality.

Hose Timer Buying Guide
So here is the simple buying guide for your water timers.
Quality
First and foremost, their construction quality. Without a doubt, the most important factor is the Quality of the construction. If it has a lot of features but isn't built well, you're basically throwing money away in your garden. Because even if some water timers have limited functions and are of decent Quality, they will last, and you will have spent your money wisely.
Design
Also, consider the design, as some water timers have two outlets while others only have one. The water flow is what matters in its design. Is the design causing a problem with their water flow? Is it easy to maintain a vulnerable state with a single hit or not? In addition, many water timers have been designed to preserve the screen and its digital component. So, if your water timer also has a decent design that adds extra durability to its screen and outlets, then you have the right one. Some designs also create water leaks as a result of a lack of coordination between design and construction quality, which you may assess using evaluations and comments.
Useful Features
So, let's talk about the features. Many water timers include rain delay, scheduling, and other options. The most important factor is usability. Some water timers provide a 3-to-4-day rain delay, while others provide a 7-day delay. You can pick the ideal one based on the rainy season in your neighbourhood. If you experience a longer rain delay than expected, don't panic; you can easily modify it. The versatility of water timers is controlled by how they are programmed and whether or not they are simple to use. You can verify all of this by looking at past reviews and feedback.
Which type would suit you?
Water timers have two types. One is mechanical, or the other is digital.
Mechanical water timer:
The design of certain water timers is mechanical. To program the timer, you must physically adjust sliders or buttons. Mechanical water timers have a motor, dials, gears, and pins, making them simple to set and less susceptible to power surges than digital timers. They normally do not have as many capabilities.
Digital Water timer
Digital water timers have no moving parts and have a digital display. The clock, memory, and programming functions are all provided by integrated circuits. Some even include a touchscreen to make things simpler. Digital water timers offer a greater number of functions than mechanical timers, but they also tend to be more expensive.
You can select a water timer based on your preferences. You can choose a digital system if you are comfortable with digital systems and can effectively handle or program them. Digital water timers are usually simple to use and program, so you can consider them even if you are not comfortable with technology. Additionally, some people favour mechanical water timers because they believe they can handle everything themselves. Even mechanical devices are quite user-friendly. They also lack any type of battery. They are also significantly less expensive than digital versions, so it is entirely dependent on individual preferences.
Benefits of Hose Timers For You
So here are simple benefits for yourself and your garden too.
Easy to manage:
Water timers are easy to manage. Instead of managing all the pipes and on and off stress on your own seems hectic because it's so much difficult to manage If you are on a busy schedule.
Time-saving:
No doubts water timers are time savings because watering your plants by pipes and manually takes so much time. You can just do it with a simple water timer while sitting in your living room, and also, you don't have to run off your pipes or water flow system. You can just set the time for your garden and just leave the garden if you want.
Economical:
So most people had experienced when you forgot to off your irrigation system, and you have to pay more on your water bill. Definitely, it costs a lot. Now you can control it simply by setting your time. Also, you can make the rain delays according to your preferences to save water while in the rainy season. Because if you continue watering your plant in the rain, then definitely your neighbors would think that you need mental assistance. So, you can control all things on your own.
Peace of mind:
Last but not least. You would get mental peace by stressing out over garden watering because no doubt we have to do so much work every day and we don't want to make ourselves busy in watering our garden or lawn. So, you can just set the water timers according to your schedule, and you don't have to worry about this all.
Hose Timer FAQs
How do water timers work?
Water timers work very simply. You just attach them or connect them with your irrigation system, and they would do their work. You just have to set timings. Every time according to your timing, they would start irrigating your garden, and after at your initially set timing, it would go off. So, the mechanical one uses its mechanical wheels, and the digital one uses its digital system.
So, is it really good to go for a water timer?
As I all explained the benefits of water timers, if you are into a busy schedule and you want to feel free from water to your plants and gardens, then a water timer is a good option because not only this it gives you control over your garden and water flow to your plants and in addition to it you get a free time to enjoy with your friends and family.
Is it easy to install a water timer?
Water timers are way easier to install than you think. Because you just have to connect the irrigation system and faucets, and you are done. You just have to adjust its timing and schedule according to your own preferences. Also, you can program it within a minute.
Buy on Walmart
Orbit 21004 B-hyve Smart Hose Faucet Timer with Wi-Fi Hub, Compatible with Alexa,GRAY - Walmart Link
Gideon Dual-Valve Hose Water Timer Sprinkler Timer Irrigation Controller System – Battery - Walmart Link
Orbit 56233D 3-Outlet Digital Watering Timer, 3 valves, Black and Gray - Walmart Link
Melnor 65036-AMZ AquaTimer 4-Zone Digital Timer with 5 Stainless Steel Filter Washers - Walmart Link
Instapark MWT-08 Outdoor Garden Hose End Automatic Shut Off Mechanical Water Timer - Walmart Link
Raindrip R675CT Analog 3-Dial Water Timer, 1, Multi - Walmart Link
Instapark PWT-07 Outdoor Waterproof Digital Programmable Single Outlet Automatic On Off - Walmart Link
Rain Bird 1ZEHTMR Professional Grade Electronic Digital Hose End Timer/Controller, One - Walmart Link
Orbit 62034 Mechanical Watering Hose Timer, Colors may vary - Walmart Link
Buy on eBay
Orbit 21004 B-hyve Smart Hose Faucet Timer with Wi-Fi Hub, Compatible with Alexa,GRAY - eBay Link
Gideon Dual-Valve Hose Water Timer Sprinkler Timer Irrigation Controller System – Battery - eBay Link
Orbit 56233D 3-Outlet Digital Watering Timer, 3 valves, Black and Gray - eBay Link
Melnor 65036-AMZ AquaTimer 4-Zone Digital Timer with 5 Stainless Steel Filter Washers - eBay Link
Instapark MWT-08 Outdoor Garden Hose End Automatic Shut Off Mechanical Water Timer - eBay Link
Raindrip R675CT Analog 3-Dial Water Timer, 1, Multi - eBay Link
Instapark PWT-07 Outdoor Waterproof Digital Programmable Single Outlet Automatic On Off - eBay Link
Rain Bird 1ZEHTMR Professional Grade Electronic Digital Hose End Timer/Controller, One - eBay Link
Orbit 62034 Mechanical Watering Hose Timer, Colors may vary - eBay Link
Conclusion for HoseTimer Buyers

In conclusion, water timers are absolutely an excellent investment in your life, as we hope we have assisted you in making your selection in simple terms. It also adds a lot of worth to your life. The nicest part about water timers is that they allow you to enjoy your time with more freedom and flexibility. Using a water timer would be a beneficial addition to your life. Best of luck!