Basil pesto recipes are not complicated and consist of your herb, nut or seed, cheese, and oil. The combination of these creates variety and flare that change up different dishes and add unique versatility to this Italian classic.
Almost nothing you can make from your herbal garden tastes as fresh and luxurious as basil pesto and yet simple to make. With a few ingredients, you have something excellent you can use in multiple dishes in the kitchen.
Fresh pesto made at home packs a robust flavor that store-bought varieties cannot match, and you only need a blender or food processor to produce. Traditionally used a mortar and pestle, so you may undoubtedly attempt this way as well. It will be a bit more time-consuming, but I am sure you could achieve the same results.
⇒ You can see a review on a great food processor here that won't break the bank, that will help prepare any basil pesto recipe and more!
What To Do with Pesto?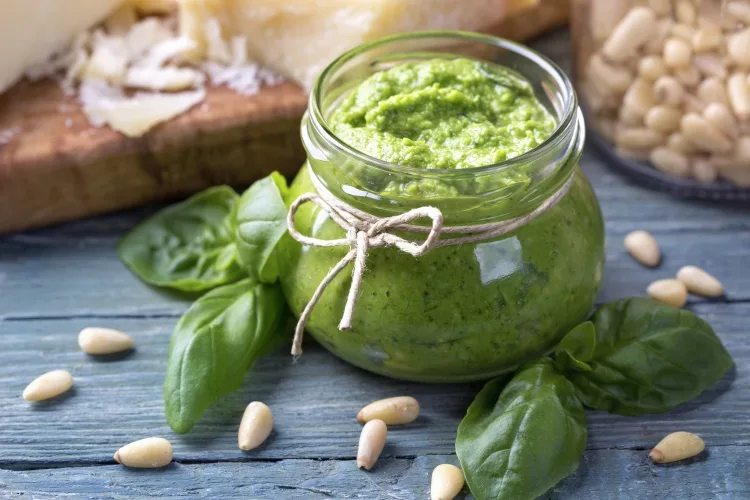 A lmost anything in the kitchen is the answer to that question, well, at least for me. I love the flavor. These are the things I commonly use pesto for.
Pasta, of course.
Bread. Bake in fresh. Spread on toast or baguettes. Use as a better garlic bread spread.
Vegetable dishes. Mix a bit in a vegetable side dish for more flavor and a memorable dish. I love it on asparagus!
Rice dishes like pesto too!
Don't forget the meat. Seafood, chicken, pork, and red meats finish well with pesto for added seasoning.
Potatoes and pesto. Baked, pan-fried, roasted, and dipped. Add a tad to your ketchup and be wowed.
Leftovers just got better! One of my favorites is leftover chicken into a pesto-rich chicken salad sandwich; yum!
Don't forget the Eggs! Omelets and scrambles get boosted with a bit of pesto too!
Essential Pesto Ingredients And Enhancement Tips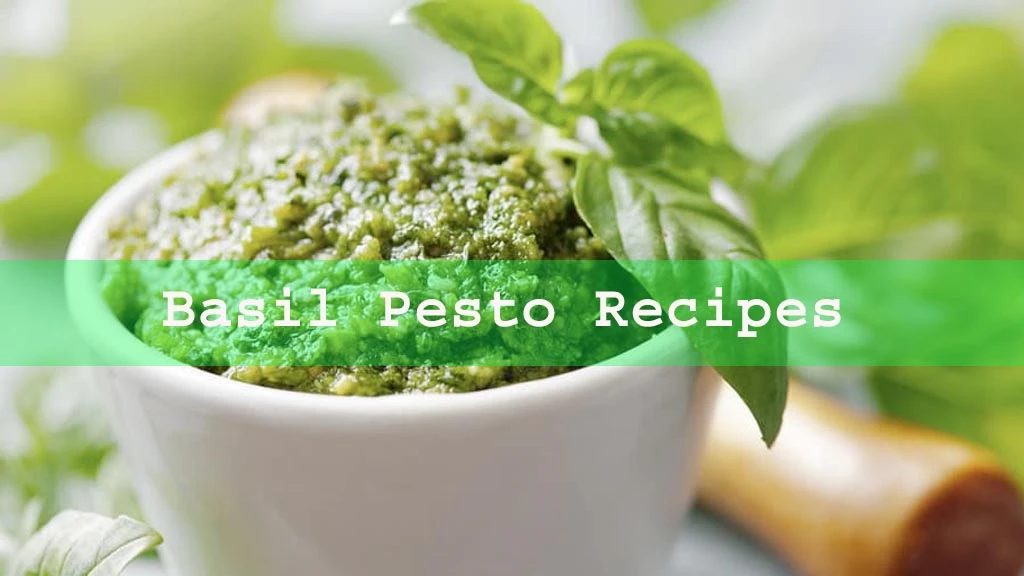 Traditional pesto combines ingredients in a way that makes them pop in your mouth. It is that flavor combination that makes it such a potent flavoring for your dishes. The green herbal basil, aged cheese, refined oil, and earthy nuts create a firm foundation of delicious flavor.
The Basil
Traditionally, Genovese type Basil or sweet variety basil is used in pesto. One of the most commonly grown and most often available for purchase is produced sections of the local supermarket. A simple basil variety change can easily change pesto recipes for a different taste.
Did you know? You can also add other herbs and greens to your pesto to change the flavor and add more variety. A pinch of mint, cilantro, or even vegetables like kale or broccoli can change your regular pesto to a new recipe with even more versatility.
⇒You can be found A guide to growing your own Basil here. If you have not already started growing your own, this link will help get you started easily.
The Cheese
Freshly shredded parmesan cheese is the traditional pesto ingredient. It adds a rich, creamy saltiness to a pesto that tones down the oils of the basil, giving it a smoother finish on your tongue.
Many hard cheese varieties can be used as a substitute or in addition to parmesan. Pecorino Romano, Cheddars, Gouda, and more are all viable options. If you're vegan or dairy is an issue, you can use cheese substitutes.
Did you know? In some varieties of pesto leaving out the cheese may be the best option completely. Some combinations may taste better without the cheese component and that richness can be replaced with the addition of other types seasonings and enhancements including additional herbs, vegetables, and sauces.
The Oil
Olive oil is the known ingredient when preparing pesto. The taste of the olive oil will significantly impact your pesto flavor, so it is vital to choose one that matches your likes. Extra virgins tend to be a little stronger, so if you like the more spicy olive-type taste, these may be your choice. I always want to taste my oils in advance and make sure the taste will blend well with the pesto I am trying to make.
Did you know? Your oil affects the flavor of your pesto, so you can change your recipe and use with simple changes in choices. Peanut, sesame, and coconut can make unique alternatives to the recipe and for complete changes use nut butters such as almond, peanut or cashew. The fatty texture of avocado is another great choice in the blending quality of pesto sauce for a healthy alternative.
The Nuts
Pine nuts are the primary ingredient in a traditional pesto recipe. Pine nuts can be a little more expensive and sometimes a bit difficult to find. I love the smooth texture they add toasted or not, but sometimes they do not always fit the refined recipe either, and an alternative needs to be reached.
Did you know? Substituting the nuts is one of the easiest replacements you can make in your pesto. Walnuts make a great and similar flavor and texture to pine nuts, but you can also use peanuts, almonds, pecans, cashews and more. If you have nut allergies you can try shelled sunflower seeds or sesame seeds as well. I prefer my nuts and seeds toasted but try them both ways.
Basic Basil Pesto Recipes
Directions
3 cups packed fresh basil leaves
1-4 cloves garlic to taste
3/4 cup grated Parmesan cheese
1/2 cup olive oil
1/4 cup pine nuts toasted or untoasted
Pinch of salt and pepper to taste
Combine garlic and nuts first in a blender or food processor and run until finely chopped.
Add the Basil and chop.
Slowly add the olive oil.
Blend in the cheese.
Season with salt and pepper to taste.
Please watch a video on creating a basic basil pesto for a better visual of the process.
Try Some New Pesto Recipes
1. Thai Basil Pesto - Great Asian kick
Directions
3 cups fresh packed Thai basil leaves

Two garlic cloves

One teaspoon chili paste

One tablespoon sugar

1 1/2 tablespoons dark sesame oil
One tablespoon fish sauce
One tablespoon rice vinegar
Two tablespoons dry-roasted peanuts
Pinch of salt and pepper to taste
In a small bowl, combine Sesame oil, fish sauce, sugar, chili paste, and vinegar and set aside.
Combine in a Food processor or blender the peanuts and garlic and chop fine.
Add in Basil and chop.
Take the Sesame oil mixture from the bowl and blend it into the food processor or blender with the basil nut mixture until blended well.
This is great on soba or rice noodles, vegetable dishes, rice, and I have used it tossed with shrimp and as a chicken topper as well!
2. Pistachio Mint Pesto - Great cheese-free pesto that I love with fruit dishes, on toast, and pasta
Directions
1 ½ Cups Loose Packed Sweet or Lemon Variety Basil

½ Cup Mint Leaves Loose Packed

1 cup shelled pistachios

¼ cup Coconut oil (liquify in the microwave on low)
Zest of 1 lemon (or squeeze of lemon juice)

Pinch of salt
Blend all ingredients in a food processor or blender until smooth.
This is an excellent dip for strawberries, or tosses it a fruit salad or bowl for your next picnic!
It is still divine in pasta. I love it with pasta that already has cheese as this is missing in the pesto.
Easy to change things Up
As you can see from these few recipe examples, it is straightforward to change your Basil pesto recipes. Try different combinations and varieties of basil with other herbs, cheeses, nuts, and oils that will offer unique flavors to your dishes.
Do you have a favorite flavor combination or a special tip or trick you like to use in your pesto recipes? I would love to hear from you. Leave a comment below!
Let's share our ideas!
Recommendation: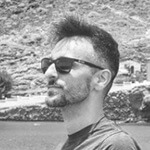 About Truman Perkins
Truman Perkins has worked as the SEO consultant for over a decade; there he's helped so friends' and clients' websites get off the ground. Believing gardening is a natural stress reliever, Truman indulges in learning and writing about gardening in his free time. He lives with his wife, Jenny, and their twins in Detroit, Michigan.
Comments for "Basil Pesto Recipes – Simple Delicious Versatile"