Every experienced gardener will agree that the key to successful gardening is setting up an excellent foundation and cultivation. Whether your garden is small, medium-sized, or large, you need the best tiller for breaking new ground and a cultivator tool to prepare the yard before planting. Typically, the interval between the gardening season is longer, and the grounds become harder and harder.
The market is full of cultivators and tillers, which can be so confusing to a new buyer. Therefore, this article addresses untold challenges gardeners face when shopping for the best tiller for breaking new ground. The top 15 tillers collection below is based on the tool power-efficient, engine size, performance, weight, ease of starting, usability, versatility, and more.
Top Tiller for Breaking New Ground by Editors' Picks
Top 15 Best Tiller for Breaking New Ground Reviews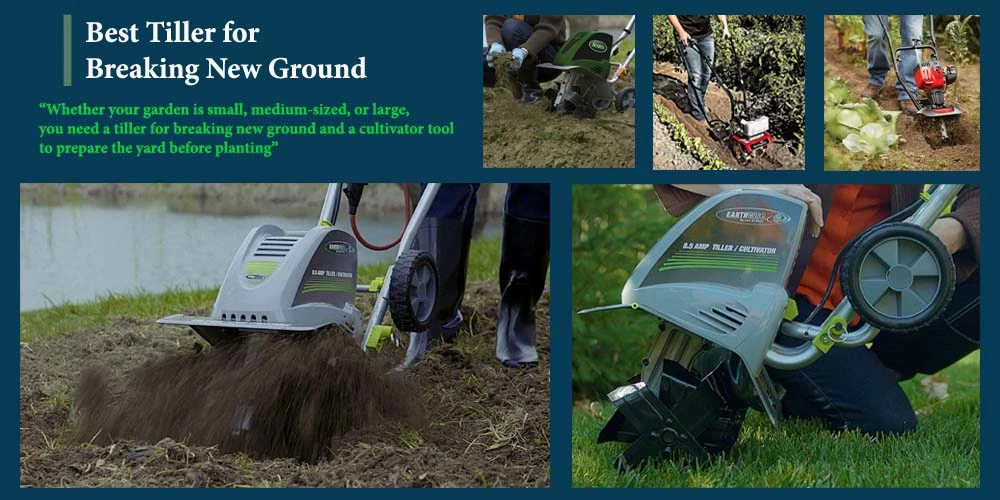 1. Gas Powered Tiller for Breaking New Ground
Many people think that breaking new ground is only a tractor or heavy machine that is probably diesel or petrol powered. Well, no, technology has unveiled powerful gas-powered tillers with extraordinary performance. Thanks to the mantis brand for making this Honda 4-cycle 25cc engine gas-powered operator.
Reliably, the cultivator features curvy tines functioning at a speed of 240RPM, tilling capacity of 10-inches deep, and 9-inches wide. However, the most authentic in its specs is that you can control the tines' depth to cultivate the upper soil layer or more profound.
Working with mantis 7940 is an effortless experience. For one, it comes with adjustable speed to help you sustain the power and fuel when cultivating easy soil. Therefore, you can control the speed depending on the ground strength; hence it's the best garden tiller for the money.
Moreover, the machine is foldable, which makes portability and storage easy. This is crucial to consider as it would be an inconvenience if storage could be an issue, yet tilling is a seasonal chore.
Features
240RPM speed
4-cycle 25cc engine
Weight 24 pounds
Gas-powered only

2. Electric Garden Tiller for Breaking New Ground
If any list of best tillers excludes Sun Joe TJ604E, then it's fake and opinion-oriented. Most gardeners suffer when working with gardening equipment that emits fumes. Therefore, this versatile electric tiller is a great relief since it operates noiselessly and fumeless.
Additionally, the dual-action and cultivator features a robust 13.5 Amps motor which operates at a speed of 370RPM. Whether working on Hard gardens, the sharp tines can cut 16 inches deep and 8 inches long effortlessly. Again, Sun Joe TJ604E comprises six steel tines that guarantee durability and efficiency are not something to worry about.
The handles can be folded when transporting or storing the product. In addition, the wheel has three-position height adjustability, enhancing mobility, and the best tiller for the market's garden.
Features
27.1 pounds in weight
Dimensions measures 55x43x43
13.5 Amps motor
Six steel angled tines

3. Earthwise Corded Electric Tiller for Breaking New Ground
Production of this prominent corded electric tiller is a great revolution and achievement in the industry. You must agree that power is cheaper and user friendly than gas, petrol or diesel. Output power and economic properties are the most attractive features of Earthwise TC70001, making it the best tiller for the money. With lightweight, rigid tines, you can manage big tasks and suffer no fatigue.
If you want to store or maybe transport, it is easy to disassemble the lightweight tiller's wheels, spines, and electric cords. Many positive user reviews on Google prove that the cultivator is reliable with a perfect working experience. The 8.5 Amp electric motor is sufficient to spin the spines leaving the new challenging grounds well-tilled and without much power.
It seems the designer invested much time in researching real-time consumer needs. Practically the mode of tilling is customized for high yield. But why? The spacing between tines is aims at providing ample growth.
Features
8.5 Amp electric motor
Power cord hooks
Driving wheel
Sharp steel spines

4. Cordless Tiller for Breaking New Ground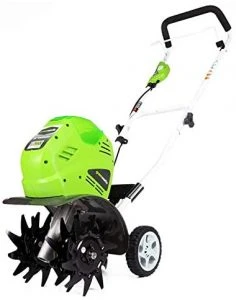 Purchasing an electric-powered tiller is a great option, but acquiring a cordless one is priceless. Although you need to buy a battery separately, the cost is still cheaper than cordless tillers, including the battery. It is the best tiller for roots, especially when rototilling hard grounds, mixing compost, and worm castings. The cultivator will not promise high speed, but its gradual quality tilling will impress you.
After buying the GMAX 40V battery, your equipment will be complete to give you are quality, stress-free experience. When tilling, the 10 Inch 40 V Cordless Cultivator mixes the farm soil and labels the ground enriching the garden for maximum yield. The steel-made blades give the machine capability to rock on complex grounds while still durable. 10-Inch 40V Cordless Cultivator from GreenWorks is the best tiller for breaking new ground without siphoning too much power.
Feature
G-MAX 40V Li-Ion Battery
18-10 inches tilling width
It weighs 34.8 pounds with a battery
Two years warranted

5. Mini Tiller Cultivator By Earthquake
If getting the best tiller for home gardening has been your bother, then Earthquake 31635 MC33 will give you long-lasting relief. This powerful cultivator with 33 ccs and a two-cycle viper engine is an excellent gardener option with medium or large gardens.
The equipment is one of the most versatile in the market; it helps mix fertilizers, weeding, soil aeration, and mulching. Since it is lightweight and compact-sized, maneuvering while working through close or delicate plants becomes easy. Additionally, the tides are strong, removable, and can work in both forward and reverse directions.
Working with Earthquake 31635 MC33 is excellent as you can control the digging pattern and spacing. Moreover, with control buttons located near the handles, you can make the adjustments without stability concerns that could cause bounce on crops.
Features
Feature 22cc and two-cycle viper engine
5-year warranty
Onboard wheels adjustment
Depth control button

6. Electric Tiller for Breaking New Ground
This is a top-rated instant starting tiller and cultivator in the market. You do not need any experience to start the equipment as its engine runs at the touch of a button. The direct functionality of Sun Joe TJ603E makes it the best tiller for women.
The tiller only weighs 27.1 pounds and comes with collapsible handles. These are some of the reasons why transporting and storing the farm tool is not a big deal. Designed with six steel tines, it can serve you for a long time without failing in performance. Mobility while using direct benefit of the fact you can adjust the wheel up to 3 positions.
The 12 Amp motor operating at a speed of 340RPM will never disappoint you. The versatile tiller and cultivator are an attractive option for your small garden. For efficiency and durability, the equipment features 6 inch angled tines and a 120V operating engine.
Features
12 amp engine motor
16 inches depth and 8 inches width
Weighs 27.1 pounds
Feature 6 steel tines

7. Cordless Electric Tiller/Cultivator By Earthwise
Every passionate gardener knows that the most crucial thing to check when shopping for a tiller is not entirely speeding or power efficient. Instead, the keyword is investing your money in a cultivator or tiller to prepare the perfect soil. The ideal soil has properties that boost the crops' thriving, like aeration spaces, level, well mixed, and much more. Earthwise TC70040 is a cordless electrical tiller that comes with a 40-V battery included and a fast charger.
The gardening machine features adjustable tines, managing weeds in extensive gardens, flower beds, and lawns. A significant reason considering Earthwise TC70040 as the best electric tiller for the hard ground is its versatile design. You can remove weeds while plowing the soil. In addition, it features an ergonomic grip for snag operation.
Features
40V lithium-ion battery
Faster charger
Ergonomic grip handles
Four steel tines

8. Schiller Grounds Tiller Cultivator
If you are not an experienced gardener, you may know how this equipment fits in this list of new groundbreakers due to its light nature. Schiller Grounds Care 7920 Mantis is the most recommendable option for cultivating or tilling your small raised bed garden. Consumer reviews further show that the equipment is perfect for high precision weeding over groundbreaking.
With safety control switches at the palm of your hands, it makes the cordless tiller user-friendly. Since handles are foldable, transporting and storing the equipment is just a breeze. The designer uses top-quality materials to manufacture the farm tool and hence confidently offers a 2-year limited warranty. Yes, the system may be lighter, but having a 2-cycle engine set over the tinder gives it good digging and rototilling power.
The tasks accomplishable by Schiller Grounds Care none of the light tools can perform. However, its gear design helps it break through tough soil, ranked among the best tiller for roots.
Features
Weighs 20 pounds
Two-cycle gas/oil mix engine
3-speed 540W motor
Handle carrying handy

9. Earthquake Front Tine Tiller and Cultivator
Versatility and durability are the key factors to check when shopping for a reliable tiller in the market. Therefore, Earthquake 20015 is a compact tiller that will help you perform various quality tasks in your garden for many years. By seeing this farm machine, someone may underrate its quality output until you get it running. The tool generates yields very great power.
Beginners or anyone can use the tiller without struggling as it features an easy to maneuver design. Having such a tiller at home is an enjoyable exploration due to the machine's flexibility; you can change directions and do various activities. The flexibility of changing from tiller to cultivator and vise versa makes it the best tiller for the vegetable gardens. Earthquake 20015 consumer reviews reveal that it is easy to assemble, use, and perform reliably in black and white.
Features
99cc 4-cycle Viper engine
5-year warranty
It just weighs 85 pounds
Adjustable width

10. Sun Joe Electric Garden Tiller/Cultivator
Factually, getting the best electric tiller for clay soil seems to be the rarest tool to find. The main reason is that clay soil has a strong bond; instead, the adhesive force between clay molecules is powerful. In addition, the type of soil often breaks the times and requires so much power to function effectively. TJ601E Tiller Joe 9-Amp is the option in the market to cultivate and till through clay soil. The tool features nine steel blades with the capability to cultivate 18-inches in width and dig up 7 inches deep.
What makes working with this tiller a breeze is that it has easy wheels contributing to portability. With foldable handles, the cultivator is compact, and storing is not a problem. This is because the tool is sharp and strong to work through all-terrain.
Features
Six steel tilling blades
9-amp motor
Foldable handle
Mobility wheels

11. Advanced Electric Garden Tiller By Tacklife
This is one very reliable and crucial with adjustable spades. The advanced tiller from Tacklife can help you create a garden width of your preference. The tool lets you vary the width between 12.5 and 18 inches. It's possible to remove two tines, and the remaining works still effectively allow spaces to cultivate muddy, hard soil, hence the best tiller for clay soil. Moreover, the garden tool comes with an ergonomic folding handle with an inbuilt anti-vibration system for user comfort.
The tiller dissipating power using a 13.5 amp copper motor and running at 380RPM is ideal for loosening the soil. Working with this quality, risk-free, and efficient engine, you will not experience common failures or disappointments. In addition, you can avoid accidental starts in the tiller since it incorporates brake switches and safety buttons.
Features
13.5 amp copper engine
Weighs 22 pounds
Comprise six steel blades for tilling
12.t to 18 Adjustable tilling width
12. Electric Tiller/Cultivator By Sun Joe
This model from the renowned brand Sun Joe has got a very great bargain in the contemporary world today. If you have a lawn or garden inactive for a long time and require perfect soil breaking, TJ600E can give you an ideal performance. The machine is both a teller and a cultivator. Moreover, it has a design that combines the performance of an electric-powered and the convenience of a gas-powered tool.
Unique enough, despite being a powerful cultivator and tiller, the tool weighs only 19 pounds. The device features tines which can are vital to cultivate 7 inches deep and 14 inches wide. With Sun Joe 4 angled steel tines, say goodbye to gardening stress, as it makes dirt removal, soil loosening, and planting effortless. The efficiency and automation in this tool work at the push of the button. Gardening is no longer labor-intensive, starts immediately, and requires less maintenance. Sure enough, when looking for the best tiller for rocky ground, look no further.
Features
Comprises 4 steel tines
6.5 amp motor
2-year warranty
It weighs only 19 pounds

13. Electric Tiller with 6 Manganese Tines
If you plan to invest in heavy-duty tools that are the best tiller for breaking new ground, the TACKLIFE model with six manganese blades is highly recommendable. This tool features durable blades that cut through considerable depth and width at a speed of 400RPM, Leaving the ground entirely even. Unlike other models that only show reliable performance on the soft grounds, TACKLIFE 16″ 12 Amp Electric Tiller tackles even the most challenging grounds.
Built with user-friendly designs and numerous safety features, everyone can use comfortably, from women, men, and even children. Moreover, the tool is multipurpose as it features adjustable tilling sizes. In addition, the six manganese steel blades offer deep crushing, soil turning while helping in trenching and deep cultivation. Further, handles are foldable for storage and portability convenience.
Features
Products weigh 22 pounds
Corded electric power supply
Powered with 120 volts
12 amps electric supply
It runs at 400rpm speed
14. Earthwise Corded Electric Tiller/Cultivator
Earthwise TC70065 features sharply designed blades that make tilling easy due to low friction edge. The tool crashes through soil faster, and the tines are strong to offer long-lasting service. Working in the garden using this lightweight corded tiller does not require much effort due to its light nature. Despite having comfortable, smooth grip handles, the cultivator is an economical alternative to gas-powered equipment and other firm equipment. Something notable to like in this model is that it tills a spacious width and depth, as it has dimensions being 52x12x17 inches.
Therefore if your main interest is getting the best tiller for a large garden, here is the right tool for the task. Gardeners are always doubtful and queen when investing in farm tools. While most focus on reliability features, the machine budget is a crucial checklist as well. The power, versatility, tolerance, and convenience have been driving various people to purchase Earthwise TC70065.
Features
Features 6.5 amp engine
Easy to maintain
Has 8″ depth and 11″ width
Comprises hardened steel tines
Soft ergonomic handles

This list comprises a collection of only exception gardening equipment in the industry, irrespective of their position. Therefore, Scotts TC70105S Outdoor Power Tools appearing at the 15th position doesn't mean it's inferior relative to the rest. The 10.5 amp tool is a piece of multipurpose equipment that performs almost all gardening chores. You can use the tool for cultivating or weed control in your lawn, garden, patio, or flower bed.
What makes this outdoor farm machine ideal is that it features four adjustable tines made of steel alloy, guaranteeing a lifetime service. When you acquire this best tiller for the small garden, you enjoy various versatility benefits.
Features
Powerful 10,5 amp electric engine
Versatile cultivator and tiller
Feature 4 adjustable tines
Inclusive of the flip-down rear wheel

Best Tiller for Breaking New Ground Buying Guide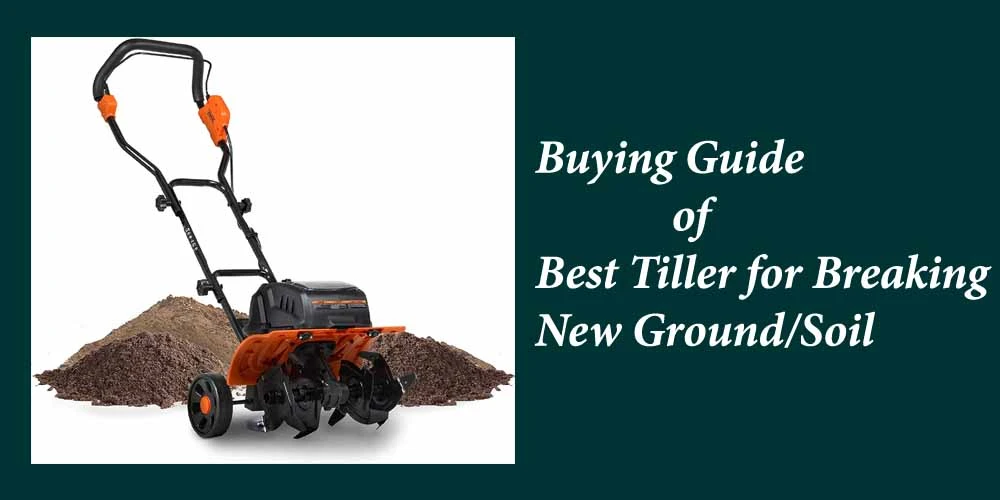 Tillers have a variety of designs to serve different purposes. Some are meant to cultivate sand soils, others clay soils, and much more. When buying the tiller that will fit your needs, you should consider the following factors.
Power Source
There are three tiller models available for the power source: electrical, manual, and gas-powered. It is wise to buy the kind of tiller that uses a readily accessible power source. For instance, purchasing an electrical tiller while your area or space you are going to have no power connection cannot work. Instead, consider the tiller that is economical and uses the cheapest power source.
Tines
Typically, there are two types of tines; rear and front tines. Both the tines are ideal for breaking new grounds; however, rear tines are the most reliable for heavy-duty tasks. Rear tines are heavier and thus need an engine to move. If you need to dig deeper and very dense grounds, consider rear tines.
Front tine tillers are lighter as compared to rear tines. If you are breaking new grounds that are not very tough, front tines can help. The front tines are ideal for a bit softer ground.
Garden Size
The power of the tiller you purchase depends on the size of the garden. If you are working in a large garden, you will need a heavy-duty tiller to till or cultivate within the shortest time possible. Therefore the garden size reciprocates to the kind of till/cultivator to buy. Hence, for a large garden, you will automatically need extra effort and a constant power source.
Engine
When looking for a potential tiller, the engine is a crucial factor. When it comes to the engine type, we have two types; the gas-powered and electrical engine. Your preference matters when choosing the tiller. However, electrical tillers would be better if it has a rechargeable battery rather than corded. Corded will not be reliable if the garden size is large and rechargeable has a limitation, where the charge may deflect before finishing the task.
In short, gas-powered tillers are the best choice. Something else to consider is engine location. Tillers whose engine is located over the tines translate to better digging results.
Soil
When buying a tiller, it is also useful to consider the type of soil. For hard soils like rocky ground, you need a heavy and bigger tiller capable of working there. Therefore, buying a tiller that can handle your tilling need is great rather than wasting your time and money purchasing a helpless machine.
How to Use a Tiller?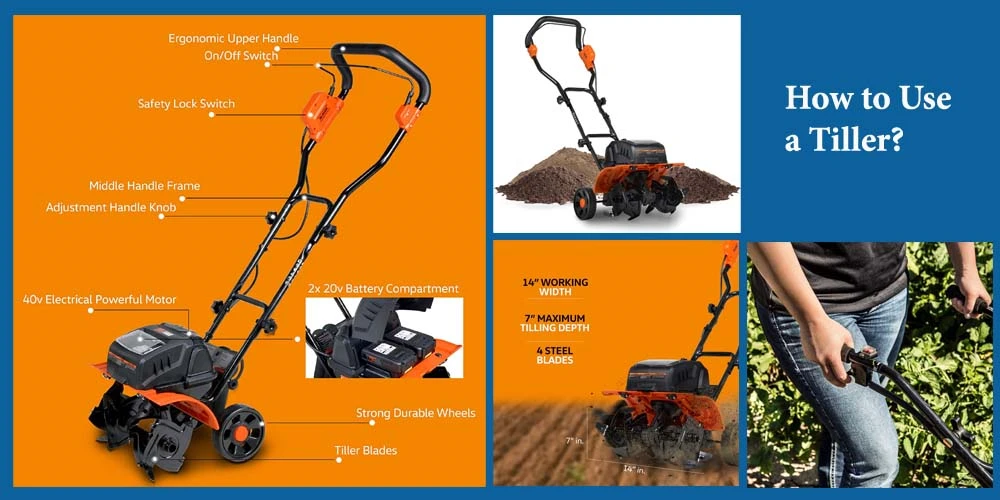 Weel, using a tiller is not a rocket science thing. Most of them don't need any skills, while others come with easy-to-follow user guides. Below are a stepwise guide on starting and using a motor-powered tiller.
Setting the adjuster depth and start the machine. Here, most tillers have a metal part that slides the midst of the adjuster up or down. On your first till, the adjuster depth should be up. Wearing protective and safety gears and Switch on the machine through the switch located at the engine is the case in most motorized tillers.
Pull the levers under the handles to till prepared soil. Pull back on the handles as you push down the tines to keep the tiller in place when tines are engaged.
Slightly tip forward the tiller. Raise the handles gently so the tines get downward to break the ground. Walk along as the tiller pulls itself ahead, and tines continue breaking the soil.
How Can You Use a Tiller for Removing Grass?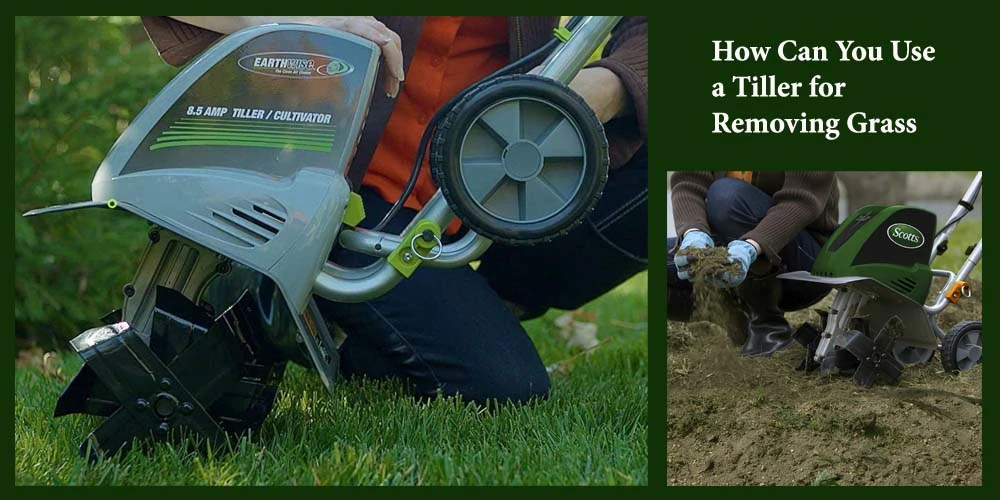 In this case, you start by digging the blades down into the bottom of the grass. The second step is setting the tiller and pressing the clutch lever, allowing the edges to dig first before moving forward. Let it explore until you are satisfied and the grass comes out entirely. This process should continue until the whole yard is done.
Buy on Walmart
LawnMaster TE1318W1 Corded Electric Tiller 13.5-Amp 18-Inch - Walmart Link
SuperHandy Tiller Cultivator Rototiller Electric Portable 40V 14" Inch Tilling Width 4 - Walmart Link
Sun Joe TJ604E 16-Inch 13.5 AMP Electric Garden Tiller/Cultivator,Black - Walmart Link
Sun Joe TJ603E 16-Inch 12-Amp Electric Tiller and Cultivator , Green - Walmart Link
Advanced Tiller, 18-Inch Electric Tiller, 13.5 Amp, Removable Blade, Adjustable Working - Walmart Link
Hattomen Electric Garden Tiller, 8.5 Amp Electric Cultivator, 14 Inch Tilling Width, 8 - Walmart Link
Cordless Tiller Cultivator - KIMO 7.8-Inch Electric Tiller Cultivator, 20V 280RPM Battery - Walmart Link
Buy on eBay
LawnMaster TE1318W1 Corded Electric Tiller 13.5-Amp 18-Inch - eBay Link
SuperHandy Tiller Cultivator Rototiller Electric Portable 40V 14" Inch Tilling Width 4 - eBay Link
Sun Joe TJ604E 16-Inch 13.5 AMP Electric Garden Tiller/Cultivator,Black - eBay Link
Sun Joe TJ603E 16-Inch 12-Amp Electric Tiller and Cultivator , Green - eBay Link
Advanced Tiller, 18-Inch Electric Tiller, 13.5 Amp, Removable Blade, Adjustable Working - eBay Link
Hattomen Electric Garden Tiller, 8.5 Amp Electric Cultivator, 14 Inch Tilling Width, 8 - eBay Link
Cordless Tiller Cultivator - KIMO 7.8-Inch Electric Tiller Cultivator, 20V 280RPM Battery - eBay Link
Conclusion
Ground tilling is the backbone of successful gardening. Plants growing in a properly tilled and cultivated yard receive all sufficient nutrients to thrive. To achieve this, you need to have the best tiller for breaking new ground. There are various features as a buyer you should look for when buying a tiller, including durability, capacity, toughness, and more. However, the tiller should be within a buyer's budget. However, if you carefully read and follow this suggestion when shopping for an ideal tiller, the experience will be enjoyable.
Recommendation