A stunning addition to your indoor or outdoor garden is also a benefit to your health and well-being! Hibiscus uses and benefits will surprise you and make you glad that you have this fantastic flower around to enjoy!
I know you have heard these lines before about excellent this, and fab that!
So when I tell you that one of the most beautiful flowers that you could grow and enjoy could also benefit your health in unexpected ways, there would likely be many sighs of. " Oh, yeah, right.. "
Well, after all, isn't that what you hear from the big pharmaceutical companies, too, along with that extensive long list of side effects that come with their miracle drug treatments.
So, when I say Hibiscus uses and benefits for your health and wholeness, you will be hesitant.
You should be! Your well-being should never be quickly changed by one article read on the internet. Research, explore and consult until you know all there is to know and feel that it is "right" for you.
Knowledge is a powerful treatment as well.
Top Hibiscus Products by Editors' Picks
Hibiscus Uses and Benefits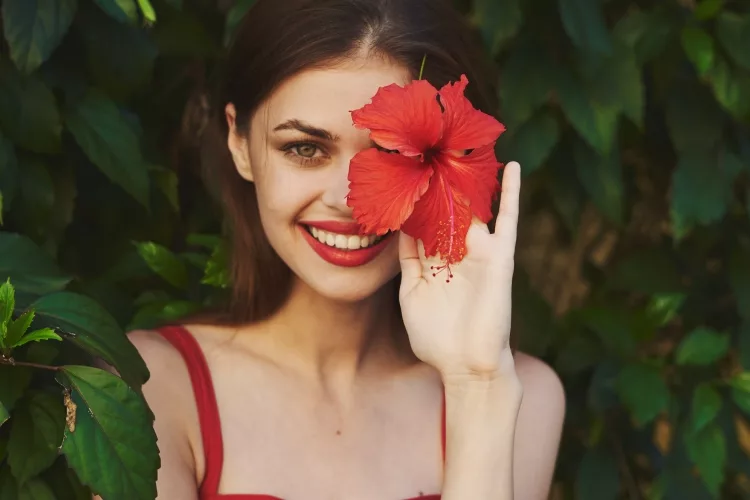 Hibiscus for Weight Loss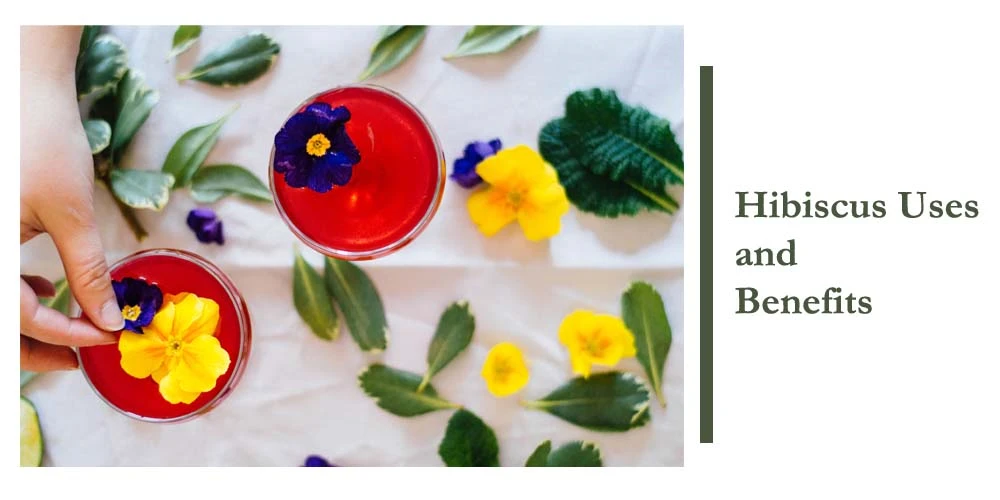 I bet you did not know that hibiscus is often found in natural weight loss supplements.
Why?
Hibiscus contains a natural enzyme that inhibits and blocks amylase production ; This is the enzyme that helps transform the starches that you consume into sugars. Sugars absorbed by the body can then result in increased insulin production, resulting in stored fat production.
Simply hibiscus helps reduce the absorption of carbohydrates.
It has also shown indications of increasing metabolism and combating insulin resistance.
Watch the video that I have shared. It contains a lot of beneficial information about hibiscus and its uses and benefits for helping you lose weight.
Hibicus Products
⇓ Below you can find some options to get pre-packaged hibiscus products to get you started. Follow the links to learn more! ⇓
1. Organic Hibiscus Powder for Hair, Skin, and Health


Hibiscus for Disease and Medicinal Usage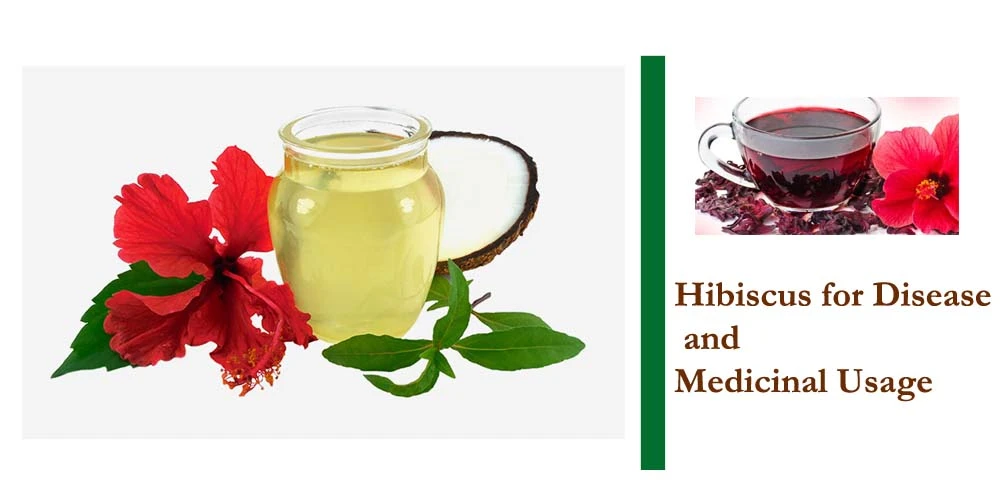 Cholesterol
Hibiscus tea and supplements have been looked at in conjunction with raising HDL, good cholesterol levels, and mixed results. 2013 independent study showed no significant impacts on cholesterol levels. A 2014 study, including clinical trials, found it improved HDL levels and decreased bad cholesterol and triglyceride levels.
Blood Pressure & Cardiovascular Health
From the notes of a 2010 study published in the Journal of Nutrition, it was shown that lowered blood pressure was reported in people with mildly elevated BP and those at high risk of high blood pressure from the consumption of hibiscus tea. In the six-week study, those participants given the actual tea saw a significant reduction in their systolic blood pressur e compared to those who received a placebo.
Fever
In Egypt, people have long used hibiscus as a natural way to lower body temperature and alleviate fevers. Besides, its antibacterial analgesic and antiviral properties assist even further in making this an effective way to combat the causes of why the fever is occurring.
Urinary Tract and Bacterial Infections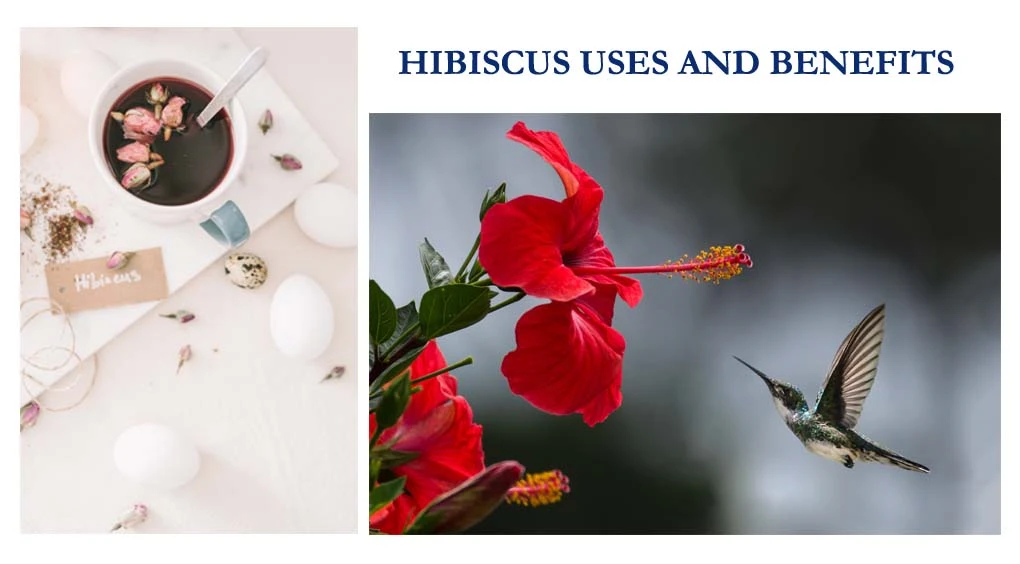 The hibiscus plant is said to have strong antibacterial properties in addition to antifungal properties as well. This is likely to be rich in the compound gossypetin, which is very effective against UTI-causing bacteria. In a study of women receiving 200 mg of hibiscus extract, they were shown to have 77% less occurrence of Urinary tract irritation and infection.
Besides, Hibiscus has shown to
Cancer-fighting Properties - slows down cancerous cells' growth by inducing apoptosis, commonly known as programmed cell death.
Aids Menstruation - can stimulate menstrual flow, alleviate cramping and reduce hormonal swings.
Natural Anti-depressant - Calms the nervous system, and the richness of flavonoids has been shown to soothe depression.
Topical application of Hibiscus for Skin and Hair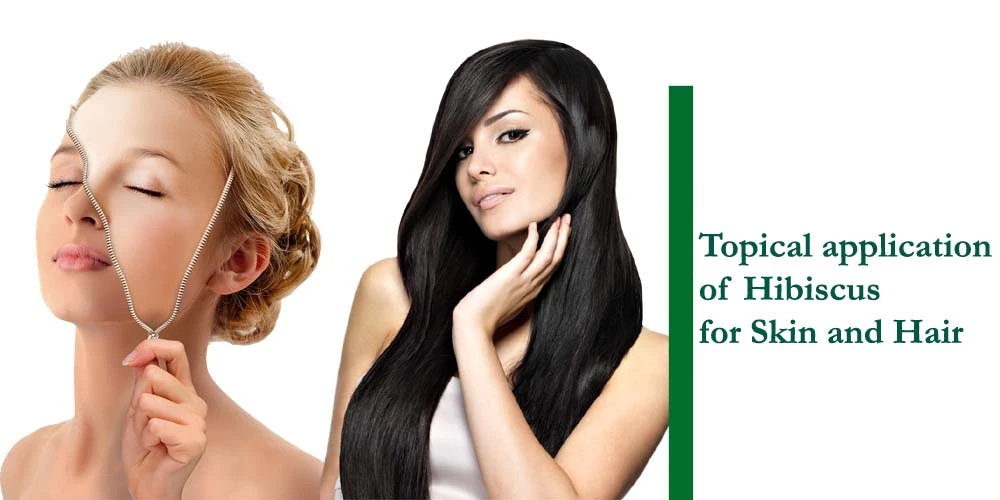 Y ou can find hibiscus as an ingredient in several natural products designed for the skin and hair. This pretty flower is rich in amino acids and alpha hydroxy acids. This, in combination with vitamins A and C and other nutrients, makes it highly beneficial to your hair and skin.
It brightens skin, remoisturizes, and depletes free radicles. In your hair, it can restore greying hair, stop hair loss, restore silky shine, reduce frizz, and adds volume.
Hibiscus has strong antibacterial properties, making it beneficial to treating scalp disorders and acne on the skin.
As you can see, the stretch of hibiscus uses and benefits reaches beyond physical ailments and can aid with regular skin and hair treatments as well.
Wound Care
With its strong antibacterial properties, hibiscus leaves have been used fresh and dried as wound care. Mint leaves, or powder can be pulped and turned into poultices and applied to heal wounds and skin injuries.
Cleansing and Exfoliation
Saponins are found in the hibiscus and are a natural surfactant that can cleanse your skin without soap and lye like traditional soaps. Therefore, hibiscus has long been used flowers and leaves to create shampoos, cleansers, and exfoliators in places like India for a natural way to cleanse and shine the hair and skin.

The above shampoo and conditioner set is a good example of a hibiscus product as one of the main ingredients to treat the hair. You can click the image if you would like to learn more.
Hair Growth
The leaves of the hibiscus plant contain oil that, when extracted or combined with another carrier oil, such as coconut oil, then applied to hair, can stimulate hair growth.
Regular use of shampoos and conditioners rich in hibiscus can prevent hair loss long term.
Edible Parts Of Hibiscus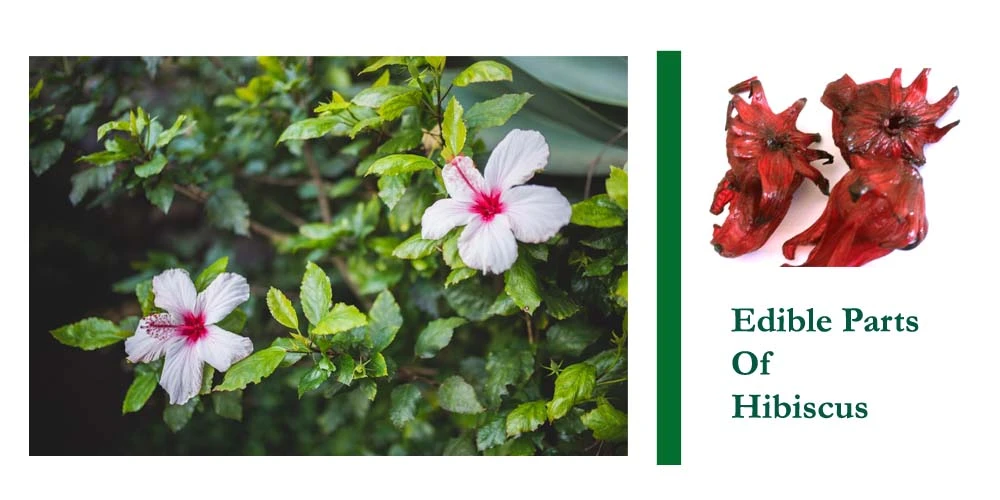 I t is essential to know whether or not hibiscus and its parts are edible before considering it can be used for any consumable purposes. There are two main types of hibiscus, tropical and hardy. There are many hybrids designed to manage size, zone hardiness, color, shape, and flower formation from these two main types.
Are all types and hybrids edible? The common consensus is yes; they are; however, I highly recommend you research your specific hybrid type to be sure.
Flowers, leaves, and the "fruit" of hibiscus called calyxes are the edible and used portions of the plant. Calyxes are a seedpod produced by the plant that forms at the base of the flower.
Typically, the tropical variety referred to as Hibiscus sabdariffa or Roselle is grown for its many calyxes(fruit). It is used in producing hibiscus teas, supplements, and powders. It does not mean that it is the only type you can use, but it is the standard variety chosen.
Flowers
They are used fresh or dried for later use.
It can be used in teas, juices, and beverages. It has a tart lemony flavor that has been compared to the taste of cranberries.
The red type tropical hibiscus is the known variety for this purpose, but it has been said that other combinations may be used but check for edibility and flavor.
Leaves
Leaves can be used fresh and dried.
Young fresh leaves can be consumed raw in salads and as a garnish. They are tarter and more astringent than the flowers.
Leaves can also be dried into powder to add to teas, drinks, skin, and hair care aids.
Calyx
Used dried
Calyxes are harvested from the spent flower when the petals have fallen away or easily pull from the calyx's end. Seeds are removed.
They are left to dry for a week or more until no moisture remains.
These are used to make teas and ground into powders for other medicinal purposes
most hibiscus uses and benefits are derived from these "fruits."
Hibiscus Side Effects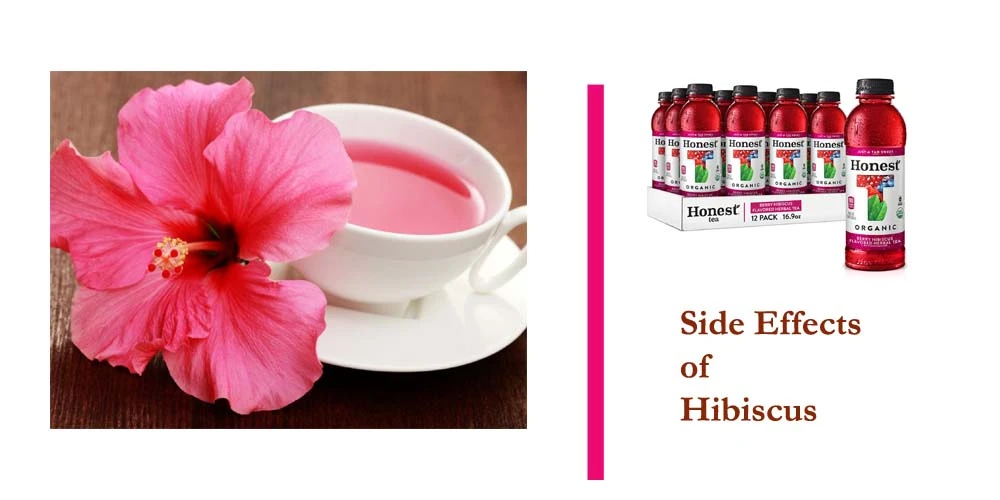 A ny medication or treatment, even of an herbal type, can cause possible side effects and interactions with current medications. It is ALWAYS necessary to consult a medical professional before starting any medical treatment, including herbal remedies.
Hibiscus is considered likely safe for herbal usage and consumption. Its claims have not been evaluated by the FDA (Food and Drug Administration). There not any known side effects of using hibiscus in controlled medicinal amounts.
Uncommon side effects that are not usually reported from use may include stomach pain or nausea, gas, constipation, painful urination, shakiness, headache, or ringing in the ears.
Hibiscus may lower blood pressure and maybe a concern for those who already have lower blood pressures or in combination with blood pressure-lowering medications.
If you take medication for diabetes or have lower blood sugar levels, you may need to take precautions when using hibiscus to decrease blood sugar levels.
The lasting effects of acetaminophen can be decreased when taken in combination with hibiscus.
Particular caution is always needed when pregnant or nursing, including alternative medicines or herbals as a dietary supplement. It should not be used as it stimulates menstrual flow during pregnancy.
It is not recommended for children.
Over usage and high dosage can adversely affect the liver.
Learn More on WebMD here
Adding Hibiscus to Your Garden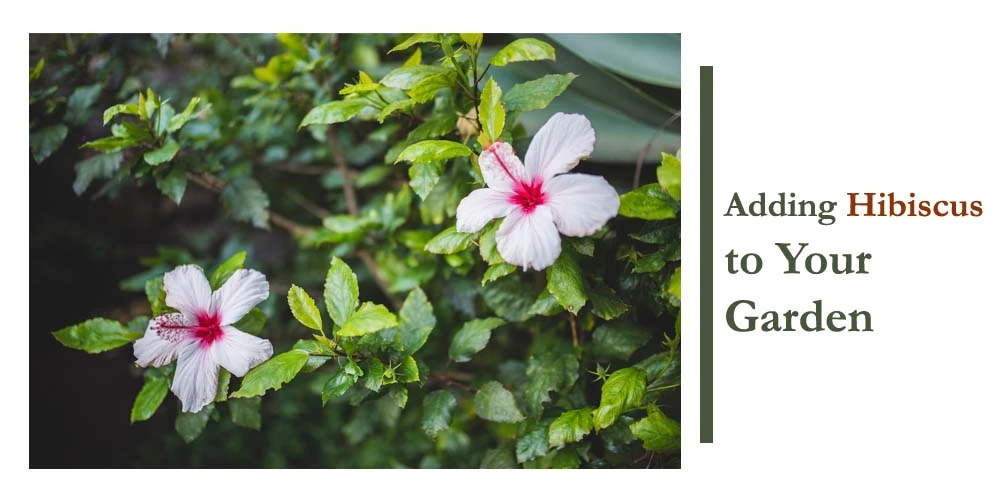 Hibiscus is a beautiful addition to your garden, either indoors or out. In a previous article, I recently wrote on the Can Hibiscus Grow Indoors; you can learn how to grow your own.
Hibiscus is available in many forms for purchase dried, supplement, in premade tea bags, and more. However, the pleasure in growing this magnificent flower and the benefits of fresh make it a worthy addition to your indoor herb gardens.
⇓ You can get started with some starter plants or seeds listed below. ⇓
Are you currently using hibiscus to treat a medical, skin, or hair issue? I would love to hear from you! Let's start a conversation and add to the list of Hibiscus uses and benefits for others to explore.
If you have any questions or comments, please drop them below!
Happy Gardening!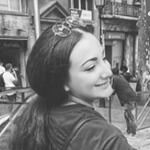 About Christina Lopez
Christina Lopez grew up in the beautiful city of Mountain View, California, where she spent eighteen ascetic years as a vegetarian before stumbling upon the exquisite delicacy of a strange chicken thigh. She's been a city finalist competitive pingpong player, an ocean diver, an ex-pat in England and Japan, and a computer science doctoral student. Christina writes really late at night as spending most of her daytime enchanting her magical herb garden.
Comments for "Hibiscus Uses And Benefits"