Welcome to the revolutionary world! Nowadays, you can grow all kinds of vegetables, herbs in your greenhouse with or without a backyard. Moreover, there are various types of best small greenhouse that you can fix indoors, on the balconies, patio, or backyard. Therefore, you can grow your fresh green veggies and spices all year round against weather limitations.
The greenhouse structures reviewed in this article are ideal for both beginners and professional gardeners. The collection features the top 25 best mini-greenhouses that are weather resistance, durable and reliable. Hence, it should be straightforward for you to pick the one that solves your growing needs.
Editors' Picks for Small Greenhouses
25 Best Small Greenhouse Reviews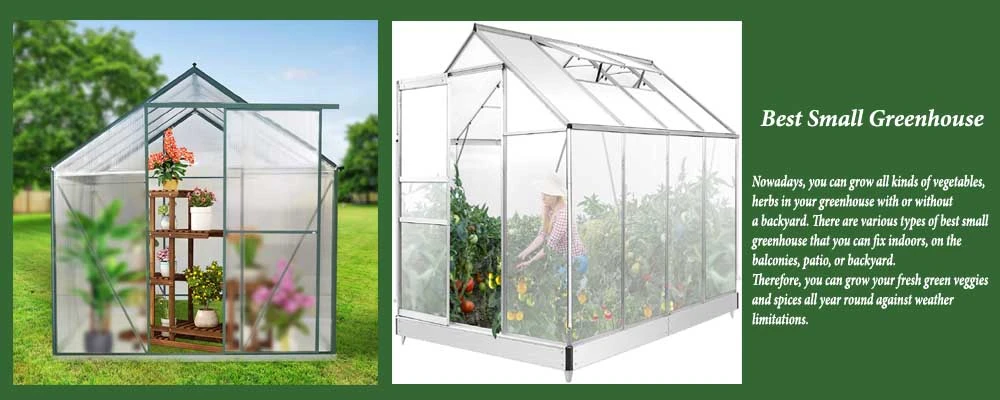 1. "Home-Complete" HC-4202 Walk-In Greenhouse
HC-4202 is a small walk-in greenhouse that can be set outdoor or indoors. The structure looks smart with eight shelf design to give ample room for trays, planters, and pots. Erected with steel frames, the home-complete grow room can perfectly fit perennial and seasonal herbs, flowers, and veggies.
The greenhouse is small; hence you can easily fix it indoors without causing possible cluttering. The equipment includes PVC cover to counteract UV radiations, thus blends well on basements, decks, and patios. Hobbyists take the greenhouse installation project as a DIY, particularly because no special tools needed when setting up.

2. SV SCOOL VALUE Portable Mini Greenhouse
SV SCOOL VALUE Greenhouse uses steel pipes as poles to erect a strong structure. The walls feature plastic covers that offer protection during stormy or windy weather. This best small portable greenhouse comprises 3 tier, 8 shelves stands. The grow room measures 56''x56''x76'', a perfect size for outdoor and indoor gardening.
The model uses pe material instead of PVC since pe is a non-toxic and odorless option, thus environmentally friendly. With zippered roll-up door, it is easy to access and allows air circulation. So this greenhouse creates an ideal environment that ensures quick and healthy growth.

3. Koksry Portable Greenhouse (56″×30″×76″)
The small indoor greenhouse is structured to fit any strategic place. It is intended to protect seedlings and plants from hostile climates like rain, wind, storm, and much more. Actually, the use of eco-friendly polyethylene (PE), which is a polymerized thermoplastic resin, guarantees perfection. The pe is an odorless, non-toxic material neutral with ideal chemical stability and resistance to corrosions of all kinds.
The system adopts extraordinary quality tubular steel to ensure a stable foundation and support in wind or storm. Additionally, the structure helps hold trays and other light items to hang safely.

4. "Ohuhu Mini" Greenhouse for Indoor & Outdoor
If you fancy a portable but heavy-duty small home greenhouse, then Ohuhu is here. The green mini greenhouse features a 4 tier stands for holding growing plants. The system creates sufficient room for the plants through blooming, sprouting, and fresh vegetables. Additionally, the grow room offers suitable seedlings, young plants, and flowers while extending the growing season.
The steel tubes ensure rock-solid stability thus can support a 23.4lb weight comfortably. The strength created supports seed trays, plants grow lights, and pots. In addition, all parts of the greenhouse are detachable for easy movement with season shifts.

5. Nova Mini Walk-In Greenhouse (57″×57″×77″)
Nova Mini Walk-In Greenhouse is a portable option designed perfectly stable and durable. The system is built with super quality metal frames that are powder coated hence can hold as many seed trays as possible. Further, the grow room can fit indoor or outdoor space without altering the quality of production.
The production is constant through all seasons. It is easy to set up the small indoor greenhouse kits as no tools whatsoever are needed. The 8 shelves space created is sufficient for supporting herbs, flowers, vegetables, and other plants.

6. Deluxe Greenhouse 56″ W X 56″ D X 77″ H By Gosunny
The strength of these best small greenhouse kits is attributed to the use of heavy-duty powder-coated steel. The system may look small but is constructed with 12 wired shelves, which offer sufficient space to place the planter pots. The green pe cover is reinforced and connected with quality ties extending durability.
The grow room can be kept indoors or in the garage and sustain your growing through hot summer and cold winter safely. There is no PVC in its construction, thus creating a quality condition for seedlings, young herbs, and flowers.

7. "Tooca" Portable Mini Greenhouse 3-Tier (27″ X19″ X 50″)
The conducive environment created by this best greenhouse for small gardens protects the plants from excess heat and frosts. Thus the internal condition gives the plants a head start and extends the growing period. Additionally, when the greenhouse structure is utilized outdoor, it protects the plants from pests' destruction.
The size and construction of the 3 tier growing room make it ideal for kids to participate in the gardening fun. The sturdy greenhouse uses iron frames treated with spray paints to prevent rust. The zipping design is intended to provide easy access and ventilation.

8. 'Best Choice' 4-Tier Mini Greenhouse
The pe covers utilized in the structuring of this greenhouse protect ultraviolet radiations from penetrating the room. Moreover, the internal environmental condition has constant humidity and facilitates germinating seedlings. There are 4 zippers designed to allow 2 access options suitable when doing gardening projects.
The system is designed with a set of powder-coated steel shelves with PVC joints to guarantee many growing seasons to enhance durability. So, when looking for the best small greenhouse for an early garden start, the best choice product is a reliable option.

9. "Pure Garden" 4-Tier Greenhouse
This greenhouse product features metal and PVC material that measures 27.5''x19''63 ft in overall dimensions. Well, the system utilizes rust and corrosion resistance iron tabular frames. In addition, the iron poles offer protection against the effects associated with exposure to bad weather conditions.
The small winter greenhouse has a structure that helps it fit patio decks and other minimal space, while the 4- tiers help maximizes the growing area. In addition, the zippered PVC cover traps heat, thus protecting the delicates plants during hostile weather status.

10. "Tooca" Mini Greenhouse for Raised Garden Bed, 71" X36" X36"
Are you looking for the best moveable greenhouse for a small garden? Tooca mini greenhouse is the most reliable portable grow room for indoor and outdoor patios, backyards, gardens, etc. The dual roll-up zippers ensure access convenience when watering is needed and facilitate ventilation.
Following the manufacturer's manual, you can install the structure effortlessly within 10 minutes. Thus, the greenhouse has multiple applications, ideal for indoor and outdoor utility whether on patios, balconies, etc. The structure is firm as it uses iron metal frames treated with spray paint to prevent rust and corrosion.

11. "Topline" Outdoor Mini Garden Greenhouse 47 X 23 X 23.5
Topline Mini Greenhouse is designed using steel alloy, plastic and polyvinyl chloride materials that give the system strength to endure weights for years. The structure guarantees bearable environmental conditions for plants to thrive all year round. The greenhouse frames, covers, and setup are among the best DIY small greenhouse plans that ensure perfect resistance to adverse weather.
The structure preserves heat and traps sunlight for plants to grow healthy in all stages throughout the year. You can set up the system easily as no skills or tools required when assembling. The dual zipper window enhances accessibility convenience when doing gardening projects like watering and allows ventilation.

12. "Topline" Outdoor Greenhouse - 27″H X 19″W X 27″L
The small portable greenhouse helps preserve heat and sunlight while preventing possible weather damage to plants. The mini greenhouse maintains a steady internal environment that is suitable for plant seeding and growth. Herbs, vegetables, fruits, and flowers can grow healthy without season changes or weather fluctuations.
The design is simple to erect yet effective in terms of quality. Beginners can install the structure; no skills or tools are needed as long the user follows a simple included manual. In addition, the greenhouse uses durable plastic connectors and sturdy steel tubing, thus making the whole structure long-lasting.

13. Eagle Peak 61" X 28" X 79", 2 Tier 4 Shelves
The small greenhouse ideas are extensively applied when designing this walk-in grow room. The structure model makes it easy to assemble and dissemble to enhances movement where necessary. What makes installation effortless is because all parts of the structure are detachable, so all you do is ensure all joints are fixed as directed, leaving no gaps.
The transparent green covers are water and UV-resistant but trap heat and temperatures to maximize performance through growing seasons. The greenhouse has a unique design with roll-up zippered windows, ideal for convection and air circulation. Moreover, the windows have mesh to filter away pests; hence the plants grow well throughout the season.

14. "Eagle Peak" Portable Walk-In Greenhouse 8′ X 6′
You can assemble your eagle peak immediately you take it out of the box as there are no skills or tools required to install. Similarly, dissembling to store or transport, it glides smoothly. It is easy to work with this small outdoor greenhouse at any time of the year, irrespective of the season changes.
Although regarded as small, the greenhouse is spacious enough that you can walk in comfortably and execute gardening projects as usual. The structure further features mesh reinforced fabric walls to prevents pests, insects, and other crawlers from entering.

15. Nova Microdermabrasion Mini Greenhouse, 4 Tier
Among the many varieties of grow tents in the market, this small indoor greenhouse retails at a reasonable price. It is a 4 tier option that measures 27''x16''x16'', portable, and most recommended when starting seedling or tendering young plants. Many consumers prefer nova to help extend the growing season by generating fresh green veggie all year around.
The grow room features strong metal-built shelves to hold seed trays, pots and grow light effectively. In addition, the greenhouse is designed with a roll-up zipper style to enhance the convenience and allow proper airflow. Good enough, the green-colored tent adds an aesthetic touch of green to your home.

16. "Palm Springs" 2 -Tier Mini Greenhouse
Real and true buyers value quality over quantity or price. Good enough, palm springs has beauty, quality and sells at a pocket-friendly cost. This compact design grow room is space convenience thus can easily fit in small areas like balconies, patios, and yards.
The best small greenhouse includes 2 steel shelves with 13 height boost and can support a weight of 11lb maximum. With the two-tier grow room measuring 37.5''x27''x19'' inches, it is easy to assemble and dissemble comfortably. The whole tent uses a clear PVC cover that you can monitor growth just from outside. However, the tent features a roll-up zipper for access and preventing pest entry.

17. "Lejoy" Garden Greenhouse 56″W X 29″ D X 77″H
The 2 tier grow room is ideal and quality for growing plants of various lengths. The design with a waterproof PVC cover ensures a good amount of sunlight can penetrate. While at the same time, the covers ensure no entry to crawlers, preserves heat, and prevent frost effects. Wherever you keep the structure both outdoor or indoor, it will boost the normal growth irrespective of the season.
The size is compact, but as the best small greenhouse, its walk-in design facilitates the cultivation. Greatly, the roll-up zipper makes accessing a breeze and allows sufficient room for air circulation.

18. "Nova" Mini Walk-In Greenhouse 3 Tier 6 Shelves
This Nova tent model measures 55.9l x 28.3w x 75.59h inches, ideal for a small space. The tent is designed of quality covers, 3 tier and 6 shelves thus space can fit the flower pots and other seed trays. The controlled internal conditions make the tent ideal for growing healthy crops, fruits, and vegetables throughout the years.
The portable walk-in plan is made of pe fabric non-woven cloth. This allows proper ventilation and serves various needs in any weather. Assembling the greenhouse is effortless, with no skills required and no tools.

19. "Seven Colors" Reinforced Mini Greenhouse 35.4 X 70.8 X 39
The seven colors is a mini-arc greenhouse structure for multipurpose uses. The grow room features clear covers that protect the plants growing inside through the year. The system is recommendable for both indoor and outdoor growing. The steel frames erecting the structure have powder coatings to enhance strength, resists aging and weather situations.
Particularly, the covers allow penetration of good light wavelengths while keeps away destructive UV rays. In addition, the PVC film is water-resistant, preserves heat, and thus helps extend the growing period.

20. "Outsunny" Portable Pop-Up Walk-In Greenhouse, 8′ X 6′ X 8′
The roofing of this greenhouse is special in design and aesthetic, with 2 windows facilitating accessibility. If you want the best moveable greenhouse for a small garden to keep flowers, fruits, and herbs thriving, Outsunny is the solution. The foldable designed grow room protects the crops from extreme weather ability.
The structure is designed with 2 roll-up doors, a mesh observatory window to help control without interference and allow airflow. This pe cover is fully watertight, prevents UV, and offers perfect stability extending to the ground preventing runway water accumulation.

21. "Outsunny" Garden Portable Pop Up Greenhouse,7′ X 7′ X 7
The outsunny pop-up greenhouse can give you a thrilling new experience. The structure offers extraordinary against runway rainwater, excess light, bird pests, colds, and extended the growing season. With edges, you can extend UV resistance and allows the growing of tropical plants comfortably.
Further, this option fits as the best small portable greenhouse that is not only easy to assemble but also practical and convenient. The design with zippered side door makes sense of perfect beauty and technology. Moreover, it is easy to reassemble when transporting and stable to stand in stormy or windy climates.

22. "Gardman" 4-Tier Mini Greenhouse, 27″X 18″X 63″
The 4 tier mini greenhouse from Gardman is the best greenhouse for a small garden that you can fit in your shed or garage space. This alternative can give your young plants and seedling an early start boost. Gladly, the structure is modified using a clear polyethylene cover and roll-up zippered door to facilitate accessibility.
The strong tubular steel frames strongly support keeping the tent tight even when loaded with seed trays, grow lights, etc. You do not need backup when connecting and setting up the structure. You only need to follow the manufacture's manual and do it perfectly all by yourself.

23. "Palram" Hybrid Hobby Greenhouse, 6'X4'X 7.'
The Palram uses polycarbonate design to deliver the best. On the sides, there are clear panels to make observation a breeze while having a diffused overhead sunlight for amazing plant growth. It is one of the best greenhouse kits with a percentage light transmission of between 70 and 90.
The grow room includes built-in gutters, lockable hinged doors, and manual vents that ensure better performance. Additionally, the structure features aluminum frames that are rust-resistant and galvanized steel base to enhance stability.

24. "Home Complete" Mini Greenhouse (19" X 28" X 4")
The home complete greenhouse is meant to sustain the crops throughout the year. Whether it is winter, summer, or spring, the outer climate does not affect this ideal grow room. It has a unique design with wheels for mobility. Thus you can change the location at will, even if you want it outside the daytime.
The system is built with a sturdy tubular steel frame hence stable to support the planter pots and seed trays. This grow room is affordable with removable shelves, thus the best greenhouse for an early garden start. Further, zip through polyvinyl cover makes it easy to access when doing projects.

25. "Erommy" 84″ X56″ X 77″ Mini Walk-In Greenhouse
Whether you want to do indoor or outdoor gardening, Erommy 2 tier, 6 shelves mini walk-in greenhouse is the solution. The strong structure with a double layer net frame can hold up to 11lbs and is ideal for cultivating fresh veggie and blooming flowers all through. In addition, this best small greenhouse features a heavy-duty transparent polyethylene cover to allow sufficient nourishing light.
The grow room is built with a roll-up zippering style for comfortable entry when needed and for enhancing ventilation. Assembling is another thing encouraging gardeners to take this option as no skills or tools are needed. Plus, all the connectors are marked with corresponding letters; therefore, even beginners can install the structure without a manual.

Small Greenhouse Buying Guide
You do not go o the market blindly and hope to land equipment that will fit your project, but planning before will help land the best option. There are loads of factors to consider in a market situation depending on your pocket and intent. Following the bellow highlighted tips, your search for the best small greenhouse will be a breeze.
Greenhouse Size
There are various types of mini-greenhouses in the market; all you do is plan what size your available space can accommodate. This is a golden tip because some homeowners want a grow room size that can fit indoors. At the same time, other growers want a kind that can be placed in the back yard, patio, or balcony. So basically, the size to invest is partially dependent on your available space and what to grow or the quantity to cultivate.
Material
The quality of small greenhouses depends on the material the structure is built of. For example, the grow room frames may be tabular aluminum or steel material. At the same time, the siding can be something like plastic film, glass, or polycarbonate panels. Different materials have varying costs, which are directly proportional to the quality. For instance, the plastic film may be more affordable to buy yet is easy to tear and cannot withstand a heavy storm or strong winds. Similarly, polycarbonate materials make them more durable, resistant to tearing, and better UV filtration than plastic, though they also cost more.
Breathability/Ventilation
Ventilation has a great effect on the health of your plants growing in the greenhouse. It is the breathability that regulates internal temperature and humidity. In addition, ventilation is the main property that helps maintain constant internal conditions, ensuring growing seasons are extended without limit. So makes sure to check that the greenhouse has reliable ventilation, be it a window or vent.
Resistance to Weather
The geographical location or landscape may keep your home climate fluctuating or varying, which may probably affect the thriving of the plants. Although you will cultivate matters if you can afford to ensure the greenhouse you are buying is weather resistant. Let the structure be strong enough to stand the storm or wind without collapsing. The structure should have a constant internal temperature, allow quality light to enter as needed, and prevent fros from burning the plants.
Buy on Walmart
VIVOSUN Mini Lean-to Green House, 39.3x78.7x82.6-Inch Portable Wall with PE Cover and - Walmart Link
Home-Complete HC-4202 Walk-In Greenhouse- Indoor Outdoor with 8 Sturdy Shelves-Grow - Walmart Link
Mini Greenhouse-4-Tier Indoor Outdoor Sturdy Portable Shelves-Grow Plants, Seedlings, - Walmart Link
Mini Greenhouse, Walk in Greenhouse with PE Cover, 3 Tiers 4 Shelves Indoor and Outdoor - Walmart Link
EAGLE PEAK Mini Garden Portable Greenhouse 71'' x 36'' x 36'' with Zipper Opening for - Walmart Link
Outsunny 15x7x7ft Walk-in Tunnel Greenhouse Portable Garden Plant Growing House with Door - Walmart Link
Indoor Greenhouse - Greenhouses for Outside, Mini Greenhouse Kit, Green House, from Our - Walmart Link
Buy on eBay
VIVOSUN Mini Lean-to Green House, 39.3x78.7x82.6-Inch Portable Wall with PE Cover and - eBay Link
Home-Complete HC-4202 Walk-In Greenhouse- Indoor Outdoor with 8 Sturdy Shelves-Grow - eBay Link
Mini Greenhouse-4-Tier Indoor Outdoor Sturdy Portable Shelves-Grow Plants, Seedlings, - eBay Link
Mini Greenhouse, Walk in Greenhouse with PE Cover, 3 Tiers 4 Shelves Indoor and Outdoor - eBay Link
EAGLE PEAK Mini Garden Portable Greenhouse 71'' x 36'' x 36'' with Zipper Opening for - eBay Link
Outsunny 15x7x7ft Walk-in Tunnel Greenhouse Portable Garden Plant Growing House with Door - eBay Link
Indoor Greenhouse - Greenhouses for Outside, Mini Greenhouse Kit, Green House, from Our - eBay Link
Conclusion
Every gardener will admit that the hardest part of greenhouse gardening is buying an ideal structure that is weather resistant. Most options in the market will lure buyers but later perform poorly, especially during extreme climatic situations. The best small greenhouse should be affordable, weather-resistant, durable, and allow easy access to care for the plants.
Luckily, all the greenhouse structures discussed above are built with the intent to solve these predicaments. Therefore, they are designed with a roll-up zippering style for access and ventilation convenience.
Recommendation