Top 10 Plants that Grow Well in Marshy Areas
reviewed by Christina Lopez
They say, "If you want to be happy for a lifetime, be a Gardner."
Plants around you can have a direct effect on your mood, and if you believe otherwise, you are much mistaken! Never underestimate the power of a colorful and fresh pot in the corner, changing the ambiance.
The wild shrubbery bushes of nature or the simple pleasure of plant-scaping inside homes and throughout the communities can vitalize the body and mind. Plants are said to advance health, happiness, mindfulness, and productivity.
However, it is important to know what type of plants can grow best in your environment. You may havea favorite plant that you want to adorn in your backyard, but it refuses to bloom in the conditions you offer. So if you have an area of the garden that is producing puddles and is always damp when it rains, here are some plants that will happily sprout and thrive in a boggy, moist, and marshy piece of land. These plants will grow where many others won't!
Hosta
Hostas are hardy perennials, perfect for growing in shadedmargins. They are available in many different shapes and sizes. Famous for their dark green foliage,the plants also produce lovely flowers from early summer to fall in diverse colors of pink, blue, and white. Hostas are generally easy to care for, short in height with a broader spread, but you must ensure its protection from slugs and snails.
Astilbes (false goatsbeard)
Astilbes (false goatsbeard) bloomsin the shady, woodland garden where their pink and white blossomgives the most serene effect.The plant is most prominentbecause of its clouds of flowers that dancein the air. Astilbes can grow up to 4ft. in height and remain attractive all season long.
Bleeding heart
Bleeding heart (Lamprocapnos spectabilis)is a species of flowering plant in the poppy family,Papaveraceae. It is a heart-shaped flower with white tips, hanging from extended flower stems, supported by the soft, green foliage. Bleeding hearts bloom in late spring to early summer and can only grow insufficiently moist soil.
Hydrangea
Known as the perfect shrub for a damp garden,the bunch of flowers are green-white and emerge from early summer. The white flowers turn into a glorious crimson by the end of the season in early fall. Hydrangea is available in distinct types, each with its unique qualities, the leaf stems are mostly short and closely connected to the main stems, but it can grow as tall as 15ft and cover up a large space of the garden.
Siberian flag iris
A small delicate flower, usually in violet-blue with narrow green leaves, makes it one of the most graceful plants.An abundant display of Siberian flag iriswith its long-lasting bloomscan bring an elegant charm to the endless summer garden. Comparatively smaller in height, it appreciates shade and is intolerant to drought.
Caltha palustris (Marsh Marigold)
Usually, it blossoms in the woods in the early springtime and dies back over the hotter months. These plants work well around damp and boggy parts of the garden, especially on the borders of ponds.They can even grow in puddles and standing water. Marsh Marigolds can grow 1 to 2 feet in height.They're generally low-maintenance but must be protected from the scorching heat of the sun in any case.
Persicaria affinis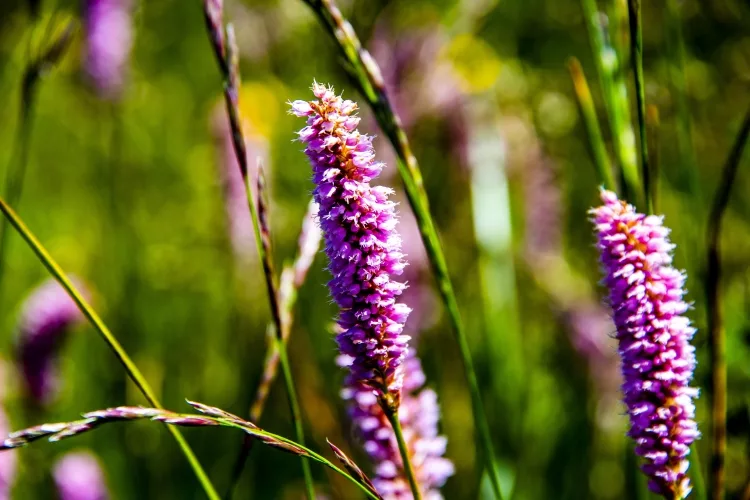 Persicaria affinis is also known as the 'knotweed'with narrow green leaves and densely packed lollipop spikes, tall with pale pink-colored flowers that sway wonderfully in the breeze. The plant can grow up to 2ft and grows best in water-retaining soil.
Candelabra primula
They bloom in mid-to-late spring to early summer,probably the best way to bring intense color to your damp garden areas. Candelabra primulas self-seed freely and reproduce abundantly; a mass in Candelabra primula can bring a cheerful color splash to the summer garden.
Cordyline Australis
With an appearance similar to a small palm tree, cordyline Australis are ever-green plants, which give a coastal garden atmosphere. They can also be planted indoors but must be prevented from cold and dry weather.
Pigsqueak (Bergenia Cordifolia)
Tall stalks that flowerin the most beautiful shades of pink-purple and big fleshy leaves on the bottom make a dense groundcover. The lush foliage changes its color to crimson and bronze in the fall season. The plant reaches around 1 to 2 ft in height and spread. It not only tolerates wet soil, it grows well in the shade.
Recommendation: