How to Move Pot Plants from Outside to Inside?
reviewed by Christina Lopez
The summer season is a feast to the eyes of plant lovers and gardeners. All the heavenly Begonias, Hydrangeas, Gladiolus, and Black-Eyed Susans planted inside some beautiful patios and designed into intricate landscapes is a marvel in itself. Or the gorgeous countryside houses complete with angelic hanging baskets of Lobelias, Chrysanthemums, Painted Lady, and Dwarf Lavender.
Move Pot Plants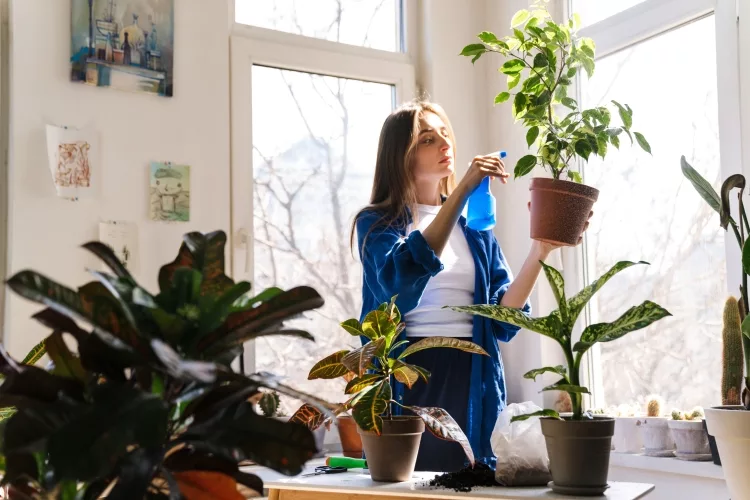 In short, nature is at its finest in summer. But what about winters? Many plants flower and produce fruit in winters too, including Snowdrop, Witch hazel, Winter Heath, and Apples, Plums, Tomatoes, and Figs, etc. However, most of the plants cultivated in gardens and patios are brought back indoors in extreme winters.
It is a common practice that many small plants like shrubs, vegetables, etc. are first potted in containers and placed inside the house till the shoot starts to grow. It is better to place containers with seeds and other cuttings inside to care for them better and water them effectively at regular intervals. Also, we can deal with the extremes of temperature outside in this way.
Acclimate your plants appropriately before moving them outside. An important tip is to gradually move the plants to sunnier locations inside the house before planting them outside. Also, place the plants behind a shield outdoors that prevents them from breaking due to increased winds.
On the other hand, as the winter approaches and summer ends, plants need to be re-potted indoors for growth and survival. It is necessary to understand which plants we should bring back inside to nurture further and which ones could be left outside to compost in the harsh weather. Some plants like Brugmansia that become better with age must be brought in to enjoy their divinity.
Individual bulbs like Elephant Ears, Dahlias, and Cannas get more prominent and multiply with time, so it is wise to plant them indoors in winters. Therefore, after you let your beautiful ferns and philodendrons 'vacation' outdoors in summer, it is time to bring them back in by the end of September. However, more effort and concentration are involved in this transition than what meets the eye.
While some types of plants can keep up with drastic changes in light and temperature, others may throw the botanical equivalent of a temper tantrum by withering, turning yellow, wilting, or even dying. To cater to these problems, we should note some tips and precautions to bring outdoor plants indoors during the winter.
First of all, wash your plant with a fair amount of clean running water for a few minutes to wash away any insects or insect eggs. Then spray it with an excellent insecticidal spray to prevent any further insect attacks. It is also an important step to clean your windows both inside and out so that the plant can receive maximum sunlight when placed near one. Next, prepare the re-potting mix and ensure that it is potting soil and not garden soil. Now, re-pot if it is required to do so.
Also, be sure to get rid of any pests near the plant. Turn over leaves to check the undersides and look closely along the stems. Once your plants are back inside, think of a large bright corner to place them. It's finally time to adorn that floor to ceiling window that you always wished for! If your home does not have an ideal spot, then use grow lights as a rescue. Carefully manage their intensity and seek professional help to do so.
The intensity of light is equally decisive in a plant's growth as temperature intensity. It should be well-known whether a plant is a short-day, long-day, or neutral-day plant.
Temperature maintenance is also vital in this process. We should always bring the plants inside before the night temperatures drop below 45 degrees F. Extremes of temperatures can disrupt the natural processes of photosynthesis, respiration, germination, and pollination that require exclusive conditions to function.
Provide adequate humidity by a humidifier. If it is not unavailable, make natural humidity trays. Place a few pebbles in a tray and fill the tray with water just below the pebbles' level. As the water evaporates, the plant will receive natural humidity. You can also take cuttings from annual flowers to propagate them in the next season.
A pivotal precaution is to water the plants only sparingly and avoid over-watering. Always check the soil before watering. If it is moist, the plant is perfect to go for another couple of days. Water succulents less often than other plants. If the weather outside is cloudy and less sunlight is available, it is ideal to not water on that day because the plants will not dry out in time.
Ultimately, the hard work will pay off, and you will get to enjoy your beautiful plants once again in spring when the night time temperature remains more than 45 degrees.
Recommendation:

Best Solar Fairy Lights in the Market